Three days before the leaders' summit on 15 October, a senior Irish official was asked if he expected a dramatic moment in the Brexit saga. It was, after all, the date Boris Johnson had set as the deadline for a deal.
"There have been a lot of expectations that there would be a big drama moment this week," he said. "The mood is that that is unlikely. But you never know."
That caveat proved correct.
After EU leaders gave a cautious, if not lukewarm verdict on where the negotiations were going, Boris Johnson declared the talks all but dead and told Britain to prepare for a No Deal.
There followed a stand-off that lasted a week as London refused to resume negotiations. Then on Wednesday both sides jointly published a ten-point Organising Principles paper setting out an intensified talks schedule.
"Negotiations will take place daily including weekends, unless both sides agree otherwise," the statement said.
The stand-off was over, but has it brought a deal any closer?
Observers on both sides of the Channel believe everything hinges on a prime minister who is notoriously averse to making up his mind.
It is worth looking back over the past ten days to disentangle British tactics from strategy, and genuine emotion from theatre. There we may find some clues to the endgame.
The entire stand-off revolved around that six-paragraph statement by EU leaders on 15 October.
The statement failed to say the negotiations should "intensify," only that they should "continue". Leaders then called on the UK "to make the necessary moves to make an agreement possible".
This angered the UK. David Frost, the chief negotiator, tweeted that the text was "disappointing." The idea that only one side should move was a strange way to negotiate.
1/3 Disappointed by the #EUCO conclusions on UK/EU negotiations. Surprised EU is no longer committed to working "intensively" to reach a future partnership as agreed with @vonderleyen on 3 October.

— David Frost (@DavidGHFrost) October 15, 2020
However, Michel Barnier, the EU's chief negotiator, was simultaneously telling a post-summit news conference: "Our team will continue intensive discussions over the coming weeks," a clarification echoed the following day by European Commission President Ursula von der Leyen.
Then Downing Street delivered a far-from-diplomatic public message to Mr Barnier: "Only come to London next week if you are prepared to discuss all issues, on the basis of legal texts, in an accelerated way, without the UK being required to make all the moves.
"If not there is no point in coming."
This had actually hardened Johnson's initial statement. Meanwhile, Barnier and Frost were to speak by phone that Friday afternoon. According to two sources it was a difficult call which "soured the atmosphere considerably".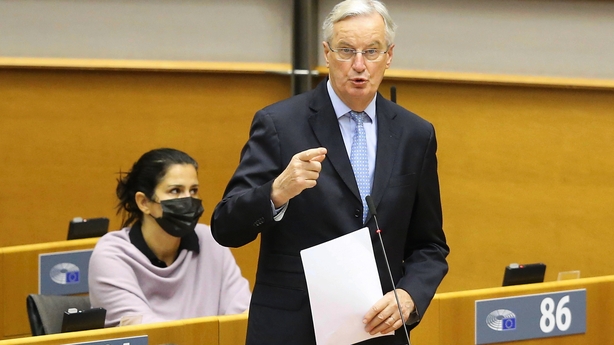 It's understood that Frost demanded that an EU figure, of a higher authority than Michel Barnier, disavow the statement by EU leaders the previous day. This was an impossible demand for Barnier to meet.
After the call, Downing Street repeated there was "no basis for negotiations in London as of Monday".
If this was a deliberate hardball strategy, one source familiar with Downing Street thinking ascribes it to a triumvirate of Frost, Dominic Cummings and Oliver Lewis, the latter two being former Vote Leave colleagues.
"They are the three who are really running the trade talks back-strategy and tactics," says the source. "Throw them off kilter. Whatever the EU's analysis is, defy it. That's the way these guys like to operate."
However, a senior well-placed UK source has a different view. There is a spectrum within government between those who really want a deal and those who are relaxed about No Deal. Cummings, according to this analysis, is not closely involved and is prepared to leave things to Frost, who, despite some of his public utterances, is in favour of a deal, or at least is looking in both directions.
Either way, the tactics certainly unsettled EU officials. One said that they had seen Frost's tweet criticising the summit conclusions, but felt that "things would be ok" so long as they didn't tell Barnier not to come to London. Another official thought Barnier would go to London the following week, but that they would have to "work through" the UK response in the meantime.
In reality, it was never confirmed that the EU's chief negotiator would travel to London on Monday. In the normal course of events a negotiating session can be set up at short notice. It was assumed that, because the negotiating time left was so short, Frost and Barnier would set one up when they spoke by phone on Monday.
There were certainly signals from London that talks would continue. On Sunday, the Cabinet Office Minister Michael Gove told Sky's Sophie Ridge that the door to continued negotiations was "ajar" but the EU had to fundamentally change its approach.
However, the next day, at 3.34pm, Gove took to the House of Commons to repeat Johnson's basic charge: the EU was dragging its feet, refusing to give the UK the "Canada-style" free trade agreement (FTA) it had promised, refusing to accept the UK was going to be a "sovereign and independent" nation, and refusing to exchange legal texts.
Almost at the very moment Gove stood up to speak, Michel Barnier issued a tweet repeating that not only would the EU "intensify talks in London this week", it would do so "based on legal texts".
???????? I just spoke to @DavidGHFrost.

As stated by President @vonderleyen on Friday, I confirmed that the EU remains available to intensify talks in London this week, on all subjects, and based on legal texts.

We now wait for the UK's reaction.

— Michel Barnier (@MichelBarnier) October 19, 2020
Gove somehow learned of this while still at the Dispatch Box. At 3.53pm he told Labour's Rachel Reeves MP: "I now believe it is the case that Michel Barnier has agreed both to the intensification of talks and to working on legal texts - a reflection of the strength and resolution that our Prime Minister showed."
However, Downing Street was still not budging. Number 10 "noted" Barnier's offer, but the EU also had to recognise the UK was a "sovereign equal" and that movement needed to come from the EU side as well. As such "the UK continues to believe there is no basis to resume talks".
On Tuesday another Frost-Barnier phone call was scheduled. "The UK are now in the therapeutic phase," complained one EU diplomat, "meaning they had a call yesterday, they'll probably have another call today, then hopefully they'll have enough fig leaves to get back to the table."
The call duly came early afternoon. A short time later Michel Barnier was back on Twitter . "I spoke again to David Frost today. My message: we should be making the most out of the little time left. Our door remains open."
On Wednesday morning Michel Barnier delivered a speech to the European Parliament littered with words the UK wanted to hear. The talks would intensify on the basis of legal texts; both sides would have to compromise; he acknowledged the sovereignty of the UK in the negotiations on no fewer than five occasions.
Downing Street described the speech as "significant". The week's third phone call, shorter this time, took place on Wednesday afternoon. Barnier and Frost agreed to resume talks the next day.
Meanwhile, at London's request EU and UK officials had been busy drafting a joint statement on how the last phase of the negotiations would be managed.
The most difficult political areas - the level playing field, governance, fisheries, energy, the trade in goods and services - would be given special treatment by Frost and Barnier, who would be in contact every day while their negotiating teams worked through the various files every day, including weekends if necessary.
Did Johnson's hardball approach pay off?
Debate continues over why the UK reacted like it did. Was this genuine anger, or a contrived piece of theatre to mask the fact that Boris Johnson had pinpointed the summit as the deadline for an agreement and failed to get one?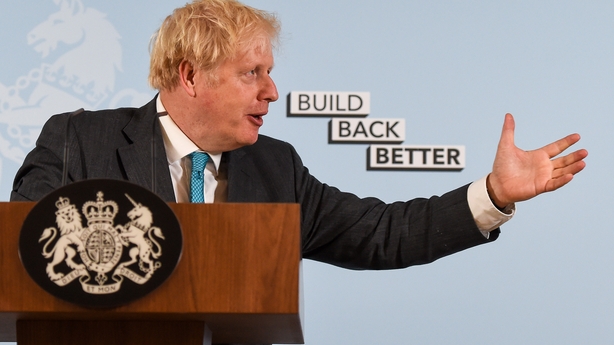 EU figures say the gains were negligible, when measured against the lost negotiating time. One senior EU diplomat points out that the word "intensify" had been used by both sides after the High-Level Conference in June, after the phone call between Johnson and Von der Leyen on October 3, and by the German Chancellor Angela Merkel and Dutch prime minister Mark Rutte after the summit.
On why the European Council put the onus on the UK to move first to get a deal, the diplomat points out that the original summit draft put the onus on Michel Barnier to intensify negotiations, and that member states wanted to balance this in the new and final draft to put pressure on the UK side.
"It was not the case that [EU leaders] wanted to downgrade the pace or intensity of the negotiations whatsoever," says the diplomat. "It was simply that we have to adjust correctly the semantics of what we're doing and that we'll continue to [negotiate]."
However, London takes a different view.
One senior source says there was genuine disappointment at the leaders' statement. The source likens it to the summit of December 2018, when Theresa May came to Brussels hoping for concessions after she pulled a vote on the Withdrawal Agreement knowing it would not get through the House of Commons.
On that occasion leaders refused, and May was desperately disappointed. Moreover, the suspicion was that this time around the EU was deliberately running down the clock so that, as in October 2019, Johnson would be given a perilously short amount of time to make a difficult choice.
"You could argue it was only a word here and there," says the source. "But there was a sense in London that the Commission - having told us for ages the clock was ticking - were now trying to play this game of allowing it to slow it down and hoping there would be a rerun of last year and we would be under time pressure."
London also drew comfort from the fact that the Commission was now publicly acknowledging that both sides would have to move.
However, while Johnson had said the EU had to "fundamentally" change its approach, the EU did not change Michel Barnier's negotiating mandate. One official also adds that the recognition of British sovereignty was not new: "Michel Barnier has been banging on about that for years, that we accept UK sovereignty."
That leaves the significance of pushing the EU to start work on joint legal texts.
"It's true the EU has refused to work on joint texts until now," says one EU source close to the negotiations.
This is down to the EU's insistence on parallelism: nothing is agreed till everything is agreed. Once both sides start drafting a text together, then individual files get closed off, and leverage is lost, is the theory. The EU has been keen that fisheries, in particular, does not get isolated at the very end.
There is a further sensitivity for the UK in these negotiations when it comes to legal texts. When Theresa May negotiated the Withdrawal Agreement, she was obliged to work off the EU's draft as the baseline legal text. That's because it was an "EU" treaty since it flowed from Article 50 of the Lisbon Treaty.
While the Withdrawal Agreement was jointly drafted in the end, in reality it was an uphill struggle for the UK to forge it in its own image.
Now both sides are negotiating an international treaty. The UK has been keen to stamp its identity on it this time around.
Each started out with their own draft legal text - the UK's published on 27 February, the EU's on 18 March - with the idea that they move towards a joint text at the end of the negotiations.
However, although the EU has resisted joint drafting so far, both sides have still been testing each other's positions across all eleven negotiating "tables".
This has involved EU and UK officials informally drafting and refining their own texts, running them past their opposite numbers, getting their reactions, comparing notes and then redrafting their own texts (or not) accordingly.
This has been productive in that the less contentious areas are effectively ready to go - just not jointly written and jointly closed.
"A lot of the text is nearly there," says the source, "but [the EU side] draw the line at co-drafting. You need co-drafting to get to a [joint] text. Until now there were respective texts that were being updated in the backrooms, but that's different from having a joint text that is jointly owned.
"Both sides know where they can go. They know their margin of manoeuvre, but they haven't been putting that on the table."
---
Podcast: Brexit Republic - Talking Again
---
Now that the EU has agreed to start that joint drafting work, those cards will start appearing on the table quickly. This will be seen in London as a victory, and has been acknowledged as such in Brussels. However, more than one EU diplomat believes it makes little difference.
"The biggest step is that Barnier has indicated he is now willing to start talking about the joint legal text," admits the diplomat. "That is a big step. But I think it makes eminent sense because time is running out. At a certain point, if you want to give a deal a chance you have to work on text anyway."
Another diplomat says: "The Brits may accuse us of parallelism. What they are doing is holding up progress on fish because they want to chip in for ten other things. Where is the parallelism there?"
None of this, of course, narrows the huge gaps in those critical issues, fisheries included, but also the level playing field and governance.
On Wednesday night, Paulina Demjek Hack, a director of the European Commission's negotiating Task Force, briefed diplomats from member states on the resumption of talks and the ending of the stand-off.
"There was a fair degree of caution," says one diplomat present. "The gap on the various issues between both sides is fairly wide and [member states] were saying there still may not be an agreement. Both sides are going into this with a certain degree of caution. It's good they're talking again, but the gap is still pretty big."
The UK is still going to come up against an EU side determined - perhaps even more so - to make the UK's zero-tariff, zero-quota access to the single market conditional on level playing field guarantees, especially on state aid.
Furthermore, even though joint drafting will now begin, the principle that nothing is agreed until everything is agreed is enshrined in Wednesday's Joint Statement that has kickstarted the talks.
So, while the less contentious areas can probably be jointly drafted quickly, it's only when work starts on fisheries, the level playing field and governance, that the hard grappling will begin.
"There's a lot of [non-contentious] stuff the UK can build on," says one member state official. "Not accept lock, stock and barrel, but in areas like goods and services, police and judicial cooperation, participation in EU programmes [such as Erasmus and the Horizon research and development programmes].
"We have proposed texts there and if the UK wants to change them that's logical. But I think with a bit of hard work, bring the lawyers in and you can thrash that out in a couple of days."
However, the official adds: "Getting the texts on the level playing field, governance and fisheries - that will take a bit of time. That will touch on our interests as member states. That will be an interesting experience."
Ultimately, to the EU what matters now is what political choices the UK is prepared to make.
"Do you want to work with us on achieving high standards in the future?" says one diplomat. "Do you want to get a stable and sustainable agreement on fish, where you get market access in return for us keeping a large chunk of our current fishing rights? If it's a political choice, solutions are in reach."
Will Boris Johnson make that political choice?
Well placed observers of Johnson's instincts suggest he wants to avoid making such a choice until the last minute, and that he has given David Frost a licence to test the hardball approach "almost to destruction" in the belief - on Frost's part - that the EU will eventually take a softer line on the level playing field and state aid.
"Johnson temperamentally doesn't want to have to choose between two sub-optimal outcomes," says Paul McGrade, a former Foreign Office and European Commission official and currently senior counsel with Lexington Communications, a political consultancy in London.
"The psychological temptation of going with the Frost line is that you don't have to choose."
So, if David Frost's instincts are correct then, according to this analysis, Johnson could avoid making the most difficult compromises on the level playing field; the EU will blink, in other words, if the UK plays it hard.
Officials in Brussels insist that while on fisheries the EU will compromise on its outright maximalist starting point of keeping the status quo, in terms of access to UK waters and quota shares, it will not blink on the level playing field.
The current position on state aid is that Michel Barnier has proposed a "toolbox" with four elements: high level "principles" both sides sign up to, the UK creating a robust and independent competition authority, a dispute settlement mechanism, and the ability for either side to retaliate "autonomously" if arbitration is proving too slow.
David Frost has signalled that the UK will consider something beyond how state aid is normally dealt with in a standard FTA, but most observers believe London wants to limit any constraints on a future UK government's right to subsidise a sector which it feels needs it.
EU member states, on the other hand, will want to ensure some constraints apply, and that European companies will be able to take action through the UK courts if they feel those subsidies unfairly discriminate in favour of a British company at the expense of a European rival.
A view gaining traction in London is that fish will be the hardest issue.
"[French president] Macron and fish are the harder part," says one British source. "That's more binary and tied up with domestic politics. With the level playing field there are so many variables you can work with that any good negotiator could construct something that can be presented to both sides as a reasonable outcome."
Both sides have two, maybe three weeks to get to that reasonable outcome.
---