For a second evening in a row, phones pinged simultaneously across Washington DC with an alert from the city's mayor warning that a 7pm curfew would be enforced.
The sound of beeping phones could barely be heard over the chants of protesters who had gathered once again outside the White House.
It has become a familiar scene over the last week but there was a difference today, a big difference in the form of a tall, metal fence that had been erected around the White House perimeter to keep the demonstrators back.
Donald Trump has vowed to use far more than railings, threatening to deploy the US military to restore order.
He has also turned to an even higher power.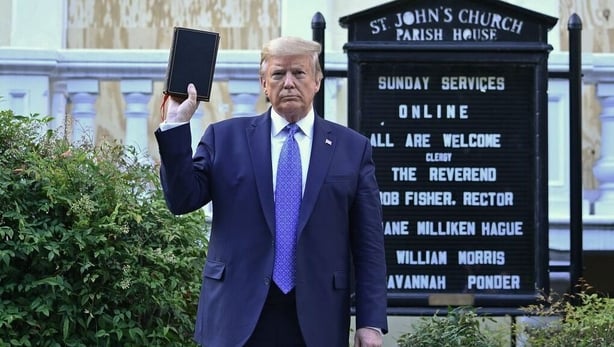 After protesters had been cleared from in front of the White House on Monday night, President Trump held a bible aloft outside St John's Episcopal Church.
The Bishop of the Episcopal Diocese of Washington wasn't happy.
Reverend Mariann Budde said Mr Trump had held up the bible "as if it were a prop or an extension of his military and authoritarian position".
There would be a visit to another holy place the following day with President Trump and First Lady Melania paying their respects at a shrine to Saint John Paul II.
That too, however, was met with criticism from church leaders.
Catholic Archbishop of Washington Wilton Gregory said he opposed letting the president visit the site.
"I find it baffling and reprehensible that any Catholic facility would allow itself to be so egregiously misused and manipulated in a fashion that violates our religious principles," he said.
When he returned to the White House following the visit, Mr Trump signed an executive order on religious freedoms.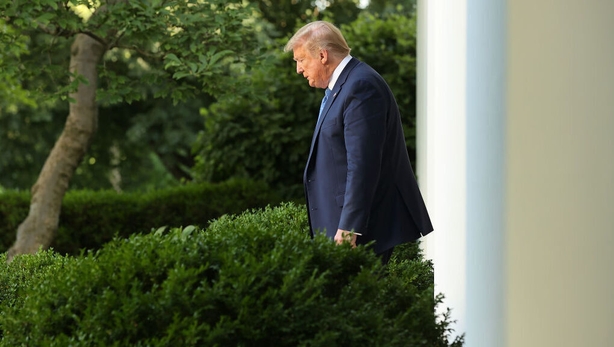 Lots of people turn to religion at times of crisis and he knows that this current stance will appeal to the conservative Christian voters who helped him win the presidency.
Election 2020 is now just five months away and when it comes to retaining the White House, in God he trusts.
---
Read more:
Violence spreads in US as Trump faces anger for ordering force
The view from outside the White House
Latest US stories
---