The UK has now left the European Union. There is little time to draw breath - the work of forging a new relationship will now begin in earnest.
"We'll be ready on 25 February to sign off our mandate for Phase II of the negotiations and we'll get down to work the day after," the EU's chief trade negotiator, Phil Hogan, told RTÉ News on Wednesday.
There have already been skirmishes and shadow boxing over how the trade negotiations will pan out: How long will a free trade agreement (FTA) take? What will it look like? What are the trade offs between the UK moving away from the EU's regulatory sphere and accessing to the single market?
Concepts like level playing field, non-regression clauses, dynamic alignment and governance have crept into the lexicon, but beyond the cottage industry of trade experts (whose day has surely come), these are confusing and sometimes politically charged terms.
The battle over barriers
Taking a step back, it is clear this will be a free trade agreement like no other.  
Unlike every FTA the EU has negotiated, this is about adding trade barriers, not taking them away.
Boris Johnson believes some of those barriers will be worth it if it frees the UK's hand in negotiating other trade deals around the world.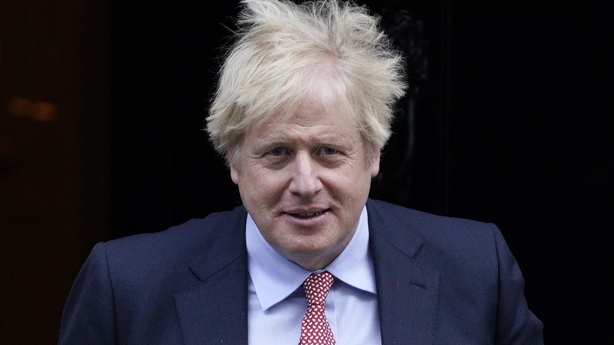 That said, from Johnson's point of view a successful FTA would be the ultimate vindication of Brexit.
For the EU, by contrast, any sense that the UK can leave the club and still enjoy hassle-free access will fatally undermine the European project.
Yet, the EU knows that because of the size of the UK economy, its geographical proximity, and the legacy of 47 years of British membership, neither side can afford to turn their back on the other simply to prove a point.
So, ahead will be a bruising set of negotiations across multiple areas, most of which won't be done in time for the 31 December deadline.
What are the dominant issues?
Let's break down the most important elements.
The European Commission and member states have been preparing for the future relationship even before Theresa May triggered Article 50 back in March 2017.
In the past month alone there have been 50 hours of seminars, detailed explorations of all aspects of the future relationship: trade, fisheries, energy, science and research, security and defence, data protection, financial services, intellectual property, public procurement, transport, judicial and police cooperation and cyber security.
But the two dominant issues have been - and will be  - what are called the "level playing field" and "governance".
Both are key to understanding the EU's approach.
The document repeatedly makes clear that a level playing field is a red line for the EU.
Level playing field, or LPF, simply means that the EU does not want to be undercut by a UK that reduces its labour, social, environmental, taxation and state aid standards in order to gain a competitive advantage.
---
Read more:
Brexit - What changes and what stays the same?
Von der Leyen contradicts Johnson on Brexit checks
The UK's rocky road to Brexit
---
Governance is about how both sides will make sure the other is playing by the rules and how quickly a complaint can be settled.
On 27 January, the commission produced a detailed internal synopsis of the seminars.  A blunt document, it is the best guide to understanding how the EU will approach the negotiations.
One striking thing is how it acknowledges certain realities; the EU accepts the UK will end free movement of people, that it wants an FTA that will allow it to diverge from EU rules.
The document accepts the UK will be out of the single market and customs union, it will not be a "rule-taker" (i.e., that it will not agree to be bound by EU rules if it is not making those rules), and that it will not extend the transition beyond 31 December. 
The document repeatedly makes clear that a level playing field is a red line for the EU.  
British officials respond with two complaints: The UK has no intention of lowering its standards, and the EU does not make such demands in other FTAs.
EU officials dismiss this.
"Compared to Canada, we are so enmeshed in each other's economies," says one senior commission figure. "And there isn't an ocean in between."
"What we're talking about with the UK is going naked. We're saying: 'zero tariffs, zero quotas.' You're defenceless at that point."
Furthermore, the EU says it's offering a zero tariffs, zero quotas free trade agreement, something no other third country has been offered. 
Officials say this is not just an academic point when it comes to a level playing field.  The actions the EU would normally take to defend against "dumping" - i.e., the lowering of standards - will not be available in this context.
"What we usually do is use tariffs as a line of defence," explains a senior EU source familiar with the preparations.
"We have specific standards for our textiles industry, for example. We have very, very high tariffs for textiles which means that anyone [from a third country] who pays their workers very badly, who pollutes, who uses too much water etc, will get hit with the tariff line. 
"What we're talking about with the UK is going naked. We're saying: 'zero tariffs, zero quotas.' You're defenceless at that point."
For that reason, the EU will regard level playing field provisions as an absolute prerequisite.  
"The ambition and credibility of LPF guarantees are necessary for the [European] Union to grant market access under an FTA," the commission document states firmly.
 
If both sides don't see eye-to-eye on this, then tariffs will enter the frame.
That will mean interminable and detailed haggling and trade-offs between one product line and another. The trade deal would then almost certainly not conclude by the end of the year.
EU officials say WTO safeguards lack teeth and fail to provide quick remedies for an aggrieved party.
The question for the UK is whether it will regard signing up to level playing field provisions is a price worth paying in order to avoid the cliff-edge that scenario would create.
Or, how it will express its attitude to diverging from EU rules in the negotiations.
"What does divergence mean?," says one EU diplomat. "Is it the actual political choice, or is it the possibility to take a different path and then face the political consequences?"
As explained in a previous blog, figuring out what is unfair competition and what is a legitimate UK government policy will not be easy.
Reacting to unfair competition
Furthermore, the EU is insisting on being able to take action against any unfair competition more quickly and more robustly than the mechanisms provided for in standard WTO-approved trade deals.
EU officials say WTO safeguards lack teeth and fail to provide quick remedies for an aggrieved party. 
"It's got to be swift," says one official.  "You can't be in a situation where progress is going to take forever, and meanwhile the sector in question is being undermined, and by the time you get justice that sector has gone under."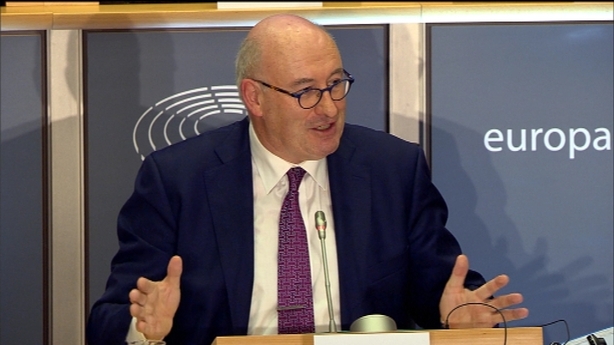 Phil Hogan is expected to insist that the UK accept - as a bare minimum - so-called non-regression clauses as the baseline in how the level playing field is addressed.
These are binding promises that both sides will not reduce standards below what they are on Brexit day.
The EU is then expected to "build" on non-regression clauses so that in some sectors, there will be tougher and more specific demands on the UK. 
On fisheries, for example, the EU wants to maintain access to UK waters as part of a long term agreement.  In essence, member states with significant fishing industries are seeking a similar quota share as they currently enjoy under the Common Fisheries Policy (CFP).
However, the way UK boats fish, what kinds of nets they use, whether they have a discards ban, could all give the UK fleet a competitive advantage, so in this scenario the EU would want a deeper "level playing field" stitched in.
Different countries, differing approaches
While the European Commission and member states have largely seen eye-to-eye on the level playing field issue to date, in the coming weeks national capitals may push the commission to go further in some sectors, or take a more relaxed approach in others, as the date for the formal negotiating mandate to be adopted approaches, on 25 February.
According to officials familiar with the situation, France has pushed hardest for strict non-regression clauses, even what is called "dynamic alignment" (the UK keeps its standards in lock step with the EU).
Other member states have taken a more relaxed approach. It's understood, however, that the European Commission warned member states that because of the integrated nature of EU supply chains, if an example of unfair undercutting has been felt in a sector in one country it can very quickly be felt elsewhere.
"Things spread very, very quickly in the single market," said a source familiar with the seminars. 
However, climate change could also prove a real source of tension.
Boris Johnson has proclaimed the UK's intention to aggressively lower carbon emissions outside the EU.
The EU, for its part, is embarking on its own ambitious plans to become "climate neutral" by 2050 thanks to its signature European Green Deal, by infiltrating emissions reductions efforts across multiple policy areas.
As this is a long-term and holistic approach, the EU may push for more than a straightforward non-regressions clause, and instead look for something close to dynamic alignment.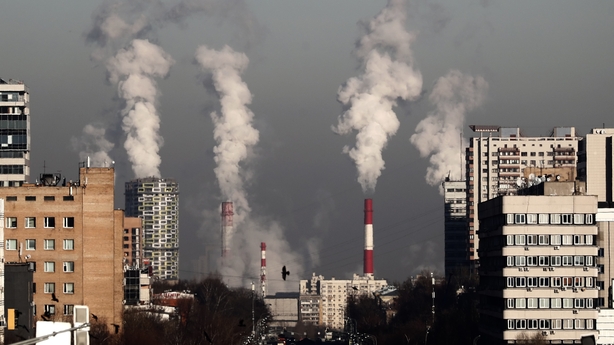 "Can we afford to think that if we just go for non-regression that that's going to be a stable, sustainable basis for the relationship," asks one EU source, "and we're not going to be frustrated a few years down the line because we're on the cusp of a big change, i.e., the Green deal?"
This does not mean the EU will insist on dynamic alignment on carbon emissions regulations.
Indeed, how the green issue is handled could be reflected in an increasingly pragmatic approach by Michel Barnier and his team.
Risks to future relationship
While the EU's internal preparation document is stern in warning the UK that it cannot expect to have similar access to the single market as before, officials stress that the EU will not want to set the future relationship up to fail.
In other words, demanding dynamic alignment, or threatening that the whole relationship will fall if the UK is in breach of one aspect of it (as per the guillotine clause in the EU-Switzerland relationship), will just mean the relationship becomes fraught and unstable.
"What we need are guarantees that this will be a healthy basis in the long run," said an EU official.  "By questioning whether non-regression will be enough means we want guarantees to make that a credible option. Which is very different from saying we want dynamic alignment.
According to one source: "This is about both sides feeling they have the right assurances and that it's even-keeled ... [it's] about finding a sweet spot that works for everyone."
"The question is: are there other ways we can make it more credible?  Or is there something between non-regression and dynamic alignment, which is more dynamic but which doesn't mean the UK becoming a rule taker?" 
This is reflected in the European Commission's seminar slides.  
Both the level playing field and dispute resolution mechanisms must be "credible and effective" and there is a "need to provide for rules, guarantees and enforcement structures which are fit for the long term".
According to one source: "This is about both sides feeling they have the right assurances and that it's even-keeled. Both sides accept there will be friction but that we [also] want to be ambitious. So this is about finding a sweet spot that works for everyone."
Concerns over setting new standards
While this may appear conciliatory, soundings from British officials suggest there is a sizeable gap in interpretation when it comes to standards and the level playing field issue.
The first point is that the EU is using a set of non-regression clauses that Theresa May signed up to in the original Withdrawal Agreement as their starting point in approaching the whole level playing field issue.
To London, this is unacceptable. Sources point out that Boris Johnson resigned over Theresa May's approach to the future relationship so he cannot be expected to simply duplicate that approach.
Secondly, the UK appears to favour a more evolutionary approach to the level playing field.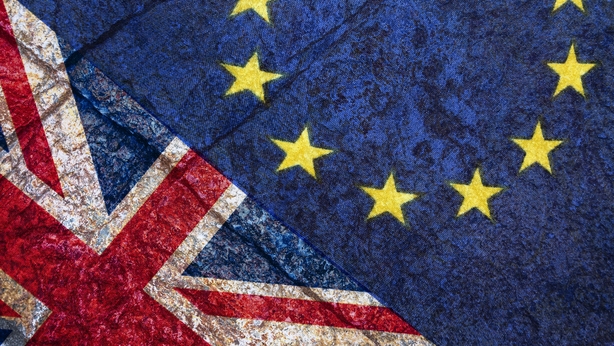 In other words, London would prefer the emphasis to be on addressing any concerns that arise in the future via dispute resolution panels and other mechanisms, rather than nailing the UK to a prescriptive set of obligations from the very outset.
British sources say the EU is basing its approach on a presumption that the UK will lower its standards, and in so doing, is pricing in a high degree of divergence in the future.
This, they say, could bring about the very effect they are trying to avoid: by presuming the UK will lower its standards, the EU is threatening to increase trade friction, but that in turn could force the UK to lower its standards. 
London believes that standards and regulations are a movable feast
"The risk is that because of the economic consequences," says a source, "there will be a business model which moves away over time more than they otherwise would.  You almost risk pre-empting the outcome."
For this reason, the UK will push for the safeguards of a normal FTA which they feel are sufficient, and will provide sufficient flexibility.
All told, London believes that standards and regulations are a movable feast: Across the globe, there are shifting approaches and standards-setting, so why not make it a collaborative process in which the EU and UK work together to establish regulatory norms for future-oriented developments such as Artificial Intelligence, for example?
Sources suggest the EU should take a "practical" approach so that high standards can be jointly agreed and that "we learn from each other through some good regulatory competition."
However, the EU will insist on its own regulatory autonomy.
Regulatory co-operation is a key issue
Beyond that, it's important to make a distinction between the level playing field and another phrase we'll be hearing a lot about - regulatory co-operation.
In its internal document, the European commission states: "Regulatory co-operation does not replace LPF.  [The European] Union [will] preserve its regulatory autonomy".
So what is the difference?
To the EU, a level playing field is simply about avoiding unfair competition and lowering standards in order to gain a commercial or trading advantage over the EU.
Regulatory co-operation, on the other hand, is about product safety, about ensuring that a product does what it's supposed to do.
On a very basic level, if the UK wants to trade with the EU after Brexit its manufacturers will have to meet EU product standards.
That does not mean the UK will necessarily have to be bound by the rules of the single market.  But it does mean a new layer of complexity for British companies.
Some British politicians have said that because the UK will be aligned with EU regulations on day one, then mutual recognition of each other's standards should not be a problem. 
However, mutual recognition is often misunderstood.
In the EU single market, there are certain regulations and directives that harmonise standards across the board, so that the same rules apply in every member state.
But  these rules don't cover everything that is manufactured or grown.
The EU will push hard on a level playing field and on a robust governance regime, but will be more pragmatic over time on regulatory cooperation in selected areas.
Following a landmark European Court of Justice ruling in 1979 over the production of the fruit liqueur Cassis de Dijon, it was established that if there are no harmonised EU rules in a given sector, then one member state has to automatically recognise the standards of production for that sector in another member state.
This kind of "mutual recognition" means there is no impediment to the movement of goods within the single market. It is unique in the world and it will not be on offer to the UK.
Trade deals outside of the EU
However, the EU does have Mutual Recognition Agreements (MRA) negotiated with New Zealand, Australia, Japan, the United States, China, Canada and Switzerland.
These mini deals cover a small number of areas and product lines. How it works is that the EU sends its standards to the country in question and then declares that the laboratories in that country are deemed appropriate to test for EU standards in a particular sector.
For example, in the EU-Canada trade deal (CETA), the EU recognises that a designated list of Canadian laboratories are qualified to test certain goods to EU standard levels.
These goods include electric and electronic equipment, radio telecoms equipment, electromagnetic toys, measuring instruments, hot water boilers, safety devices, gas detectors and ear muffs, among others.
That means a Canadian ear muff manufacturer can get their ear muffs certified in Canada without having to go through the expense of getting them certified in an EU member state.
The UK will have to negotiate MRAs where the EU deems it appropriate, but it is almost certain that with Boris Johnson's self-imposed deadline of 31 December, they will not be ready by then.
In more sensitive areas, the EU is unlikely to enter into mutual recognition agreements.
Switzerland was granted an MRA in the production of pharmaceuticals, vaccines, medical devices and so on which can be sold directly into the EU single market. As such it has been able to develop a lucrative pharma industry.
For that reason the EU may be reluctant to hand such a gift to the UK. "We've given it to Switzerland and it's become one of the ten countries of choice for pharmaceutical testing," said one EU official. "We're not quite sure we want the UK to be able to pump up all that business. It's quite a juicy business."
Single legal base for all future agreements
To sum up, the EU will push hard on a level playing field and on a robust governance regime, but will be more pragmatic over time on regulatory cooperation in selected areas.
A sign of how robust it will be was reflected in an arcane legal move by the European Commission this week, ahead of presenting its draft negotiating mandate next Monday.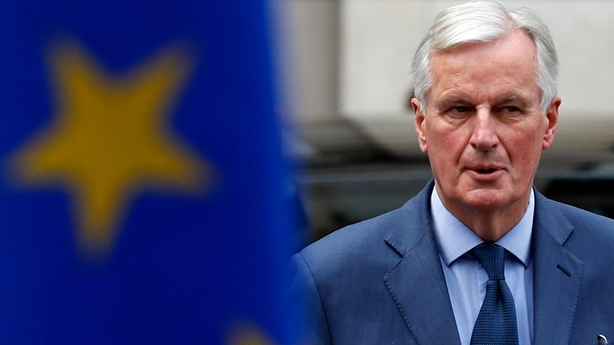 Michel Barnier, the EU's chief negotiator, told member states the EU would use Article 217 of the Lisbon Treaty as the legal base for the future relationship negotiations.
This is the legal base used for any "association" agreement the EU negotiates with a third country.
Why it is significant is that there will be a single legal base for all and every element of the future relationship with the UK. That means that whatever level playing field and governance regime is hammered out by both sides, it will run through all aspects of future co-operation.
In other words, even if it proves impossible to get a deal done this year beyond a bare bones free trade agreement, then any future side deals - such as on data protection, research and science, Erasmus, security and so on - will still come equipped with the same level playing field conditions and the same governance rules.
That not only avoids the messy web of legal agreements the EU has with Switzerland, it will also facilitate trade-offs in key areas.
It will also facilitate what is called "cross-retaliation".
If, for example, the UK were to begin restricting work or tourist visas for, say, Bulgarian and Romanian nationals, the EU would have the legal base ready to retaliate - not necessarily by restricting visas from UK citizens, but in some other sector where the UK has an interest.
The EU will watch Boris Johnson's statement carefully next week for any clues as to how the UK will approach all of these issues.
British officials say they are ready and impatient to get the negotiations started. They say the mood is already different with the passage of the Withdrawal Agreement and the long bitterness of the divorce receding.
The EU is also in a confident mood. 
"It's a different game now," said one EU diplomat. "We know how to play this game. It's an important process and the UK will be an important partner. But we are in more charted waters."