On Tuesday, European Commission spokesman Margaritis Schinas was pressed by Irish Times journalist Paddy Smyth to spell out what would happen at the Irish border if there was no deal.
"You'd like to push me and speculate on what might happen in a no-deal scenario in Ireland," said Schinas. "I think it's pretty obvious - you will have a hard border.
It was instantly awkward for the Irish Government. Dublin has relied for more than two years on the EU's unequivocal promise that everything would be done to avoid the return of a hard border.
A spokesman said: "We will not accept a hard border on this island and therefore we are not planning for one."
Were the commission's remarks calculated? Margaritis Schinas is famously unflappable in massaging away unwelcome questions.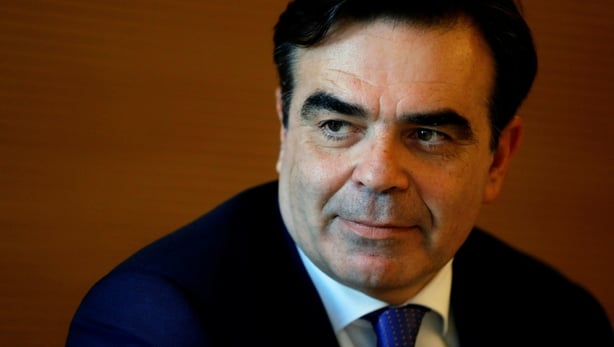 "It would be surprising if someone like Margaritis would improvise," says one EU source.
"It may not so much have been about trying to encourage the Irish to be a bit more 'reasonable' about the backstop, but rather encouraging them to get real about preparing for all the stuff that will happen in the event of no deal. It was more of a nudge than a warning shot."
Another EU official has a different view. "My feeling is it wasn't planned and that it was his response to a barrage of questions. He possibly said more than he intended to say about it, but nothing that hasn't been said in private - repeatedly."
London believes the remarks were prompted by Dublin's stonewalling on contingency planning.
"It was inevitable they would do this at some point," says one source, "because the Irish Government was ramping up its no deal preparations, publishing papers and leaving this gigantic hole on the main question. It wasn't going to be sustainable.
Irish officials were taken aback by the remarks, but did not infer much beyond a spokesman being under pressure. One source pointed out that Mr Schinas had said that he was "speculating".
On Thursday night Commission President Jean-Claude Juncker phoned the Taoiseach to reassure him of the EU's continued support.
But it was a rare misstep which has been pounced on by Brexiteers and put Dublin on the defensive. All this when anti-backstop forces in Westminster appear to be recovering their self-confidence, and the first hairline fractures have appeared in the EU's unity.
The border remains the focus of a maddeningly intractable piece of circular geometry involving Europe, Ireland and the British government.
Ireland's strategy has been to avoid a hard border by convincing the EU to make it a precondition of Britain's withdrawal. Britain's resistance to that precondition could bring about the hard border.
This paradox forced Ireland into saying it has no contingency plans as a way to keep pressure on the UK, but also to avoid the obvious political risk at home.
Contingency planning would leave Leo Varadkar exposed to attacks from Sinn Féin and Fianna Fáil.
Yet, the claims that Dublin is not making contingency plans also plays into the hands of the DUP and assorted Brexiteers who have claimed that because Dublin and Brussels weren't serious about erecting a border, even in the event of no deal, the backstop was unnecessary and a trap to keep the UK in a permanent customs union.
For the EU, an open border is incompatible with the internal market and would not be accepted by other member states. The UK, having become a third country, could produce unregulated goods to be pumped into that market through the backdoor of an open border.
Before we look at what may happen at the Irish border, let's look at what will happen at another border, Dover-Calais in the event of no deal
First customs.
The rules governing tariffs and quotas on goods coming in from, and going to, a third country are enshrined in the Union Customs Code, a vast body of legislation, which all member states are obliged to apply.
French officials will not just be responsible for customs. They are also obliged to ensure that trucks comply with upwards of 60 different pieces of EU legislation, from ethical logging standards, to the safety of children's toys, to the range of sanitary and phytosanitary (SPS) checks that apply to animal and plant products.
There are also security checks (bombs, drugs, weapons), as well as checks for excise and VAT.
The volumes on the Dover-Calais crossing are huge: 2.6 million lorries by ferry in 2017, with a further 1.6 million using the Channel Tunnel.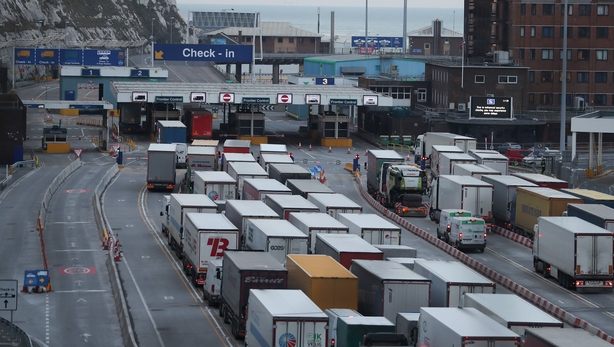 It is not feasible to inspect every lorry. However, every lorry must have a customs declaration. In many cases, the declaration will already have been lodged electronically at the point of departure.
By the time the truck arrives in Dover, or Calais if it's coming from mainland Europe, the customs authorities will have assessed the declaration and, if everything is in order, given the green light.
All of that depends, of course, on the UK and EU clearance systems. The UK agency (HMRC) was phasing out its CHIEF IT system when the referendum happened. It has decided to retain and expand CHIEF, while at the same time trying to roll out its replacement.
Even with pre-clearance the driver will have to present the customs declaration at the port, and that will in itself cause delays. Customs must be satisfied any duty has been paid and that the other EU rules have been complied with.
Physical inspections of trucks are carried out on the basis of a risk analysis done on the pre-lodged declaration. And there are random inspections.
Officials preparing for no deal on the EU side are concerned about the readiness of traders to cope with customs declarations, and the readiness of ports to check those declarations.
There are also concerns about whether ports have the manpower and space to carry out thousands of random and targeted inspections.
On the UK side, some companies already trade outside the EU so are familiar with customs formalities. HMRC estimates that there are 140,000 companies who only trade with the EU. These are the companies they know about, identifiable because their turnover is above the VAT threshold of £85,000.
There are a further 100,000 companies that they don't know about. Trucks turning up in Dover without a customs declaration will add to the challenges.
Could Calais simply wave stuff through? The EU customs code says member states bordering third countries must ensure an "adequate degree of control."
That suggests a degree of discretion, but not unlimited. Member states are obliged to ensure that goods flowing to its consumers are safe, and that customs duty is collected. The UK, even as a member state, has already been taken to the European Court of Justice over the flooding into the single market of billions of euro worth of allegedly undeclared Chinese clothing and footwear via Felixstowe,
It is also the case that between 15-20% of the EU budget comes from duties collected on imported goods. If a country is in breach of its obligations, either in collecting that duty or ensuring the safety of products coming in, they are subject to ECJ court action and potential fines.
What happens when we transpose Dover-Calais to the Irish border?
It is clear that this is an extremely sensitive issue.
From the beginning the EU has given virtually unqualified support to Ireland's case that Brexit would bring about an upheaval and disruption that threatened the Good Friday Agreement.
EU leaders prioritised three issues in the divorce negotiations, and one of them was Ireland.
Despite relentless British objections, the EU insisted that avoiding a hard border, protecting north-south cooperation and the all-island economy required a legally-binding backstop in the divorce treaty, and not the future relationship treaty, which was London's preference.
The backstop, however, can only be in place if there is a Withdrawal Agreement. So if there is no agreement, there is no backstop.
One official says: "This is a horrible, horrible problem, and I don't know what they're going to do about it."
Officials say there is "no way" the EU can start insisting that Dublin close some of those crossings in the event of no deal.
Yet, under WTO rules the EU and UK will jointly have to define their trading arrangements and their only land border.
"Of course, there it's far more complicated," says one senior official, "because you don't have a body of sea between you on the land border. There is the political commitment to ensure you have no hard infrastructure which then raises the question: how are you going to manage your responsibilities if you have a completely porous border with no infrastructure on it? It's a contradiction in terms."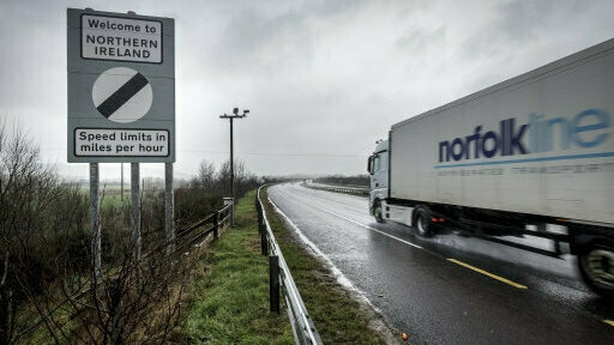 Officials say the Union Customs Code is a fairly binary body of law which does not permit much scope for clever interpretation.
Nor can they invent solutions "upstream" of no deal because that means having a negotiation with the UK which, under the terms of Article 50, is not allowed (because the negotiation is only about a Withdrawal deal).
While Brussels can anticipate - and talk about - the volumetrics of the Dover-Calais crossing and try to prepare accordingly on the EU side, the 500km Irish land border, with its 200 crossings, is an entirely different creature.
In the wake of Tuesday's remarks, Michel Barnier scrambled to repair the damage - if that is the right word - but only raised further questions.
"We will have to find an operational way of carrying out checks and controls without putting back in place a border," he said in a speech in Brussels.
However, in an interview with Le Monde, he added: "We would be obliged to carry out controls on goods arriving in the Republic of Ireland. My team have worked hard to study how controls can be made paperless or decentralised, which will be useful in all circumstances."
What was he referring to?
Most observers suspect he was referring to the provisions within the Withdrawal Agreement on managing goods moving from Great Britain to Northern Ireland in a backstop scenario, in other words the "dedramatised" light-touch checks which the commission had highlighted last autumn as a way to make the backstop less intrusive.
Was he now suggesting this method would simply be transposed to the island of Ireland. Whereas the concept of "away from the border" in the Withdrawal Agreement referred to the Irish Sea (checks would happen "in the market", in other words away from Liverpool Port), could this mean away from the land border?
EU sources say that in a no deal scenario such an interpretation cannot be excluded.
The European Commission has already notified other member states about no deal planning using a set of six principles, including the insistence that preparations must be unilateral and in the EU's interests.
"You can use the spirit of the backstop," suggests one source, "and the kind of methodology it foresees: decentralised, de-dramatised checks, but on things you can do unilaterally, trying to mitigate as much as you can, but with the same principles which are being applied to other member states."
What would performing checks "away from the border" mean on the island of Ireland?
Again, this is in the realm of speculation.
For customs, it could mean mobile units scanning barcodes on consignments that have been pre-cleared.
But the same formalities in Dover-Calais would also apply, and that means land banks and infrastructure so that trailers can be inspected on a random or targetted basis.
And since customs only make up 35% of the controls that normally arise at an EU-third country border, all the other SPS and safety checks that Ireland, as a member of the single market, would be obliged to apply somewhere, and would pose a monumental challenge.
Take meat exports. If the UK is a third country, under EU rules any consignments of beef, lamb or poultry would have to come with an EU certificate, from an EU-approved abbatoir, staffed by an EU-registered vet.
Some 20% of beef and lamb and 50% of poultry consignments are inspected, and inspections can be intrustive, with consignments sent to laboratories where necessary.
All told, there would be a formidable array of checks and controls on meat alone. Could they be done away from the border? When it comes to live animals, it's been suggested in the past they could be carried out on site at a meat plant.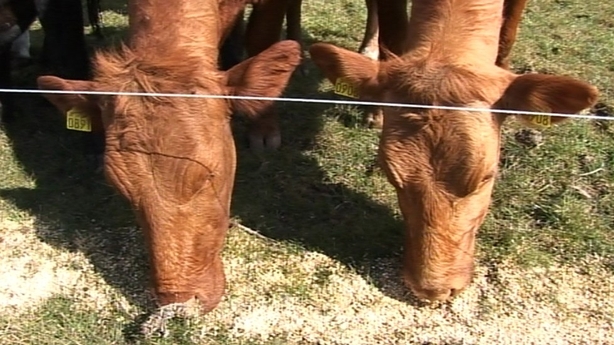 Say the plant was in Co Meath. That would remove one piece of border infrastructure. But what if a consignment of UK animals were found to have foot and mouth? Identification at a border inspection post (BIP) would prevent the Irish herd being contaminated.
Controls at the abattoir would avoid border infrastructure, but identification of the disease there would lead to headlines about an outbreak of foot and mouth in County Meath.
All told, the removal of Northern Ireland from the EU in a no-deal scenario would give rise to all of the disruption to trade and agrifood supply chains that have been chronicled and quantified far and wide since the referendum.
As for the preservation of North-South cooperation, the mapping exercise carried out by the European Commission, Ireland and the UK revealed the extent to which it depends on, or is underpinned by, mutual EU membership. All of that would be up in the air if there's a hard border.
All of this would be a monumentally bitter pill for Ireland to have to swallow.
While maintaining the line that it is not planning to erect a hard border, Dublin has pushed back on two fronts.
The Government is adamant that the UK has "solemn responsibilities" to ensure that, even in the event of no deal, there will be no return to a hard border.
"The United Kingdom is a democratic state," says a senior Irish figure. "It's a permanent member of the Security Council, says it abides by and respects the precepts of international law, so we will absolutely insist that the British government has these responsibilities, and these responsibilities do not evaporate in the even of no deal."
But what role would the UK play in managing the Irish border in such a scenario? Privately, over the past year, Irish officials have said the Joint Report of December 2017 commits the UK to avoiding a hard border in all circumstances. Their British counterparts have said their commitment would be to the Good Friday Agreement, and not the Joint Report.
British officials are dismissive of the idea that the Joint Report can be somehow salvaged and applied unilaterally by London if there's no deal.
They acknowledge that if the UK wants to establish a trade relationship with the EU once the dust of no deal has settled, that the Irish border question will loom large, even as a precondition for talks.
But the acrimony and recrimination from a no deal scenario blamed on the backstop would, according to one UK source, cast it in such a poisonous light that it could take years for the issue to be revisited.
However, a no deal situation could be so corrosive to the UK economy that an entire rethink cannot be ruled out either.
For now Dublin believes that the UK would be back seeking a trade relationship.
In Davos, the Taoiseach said: "We would end up in a situation where EU and Ireland and the UK would have to come together, and in order to honour our commitment to the people of Ireland that there be no hard border, we would have to agree on full alignment on customs and regulations, so after a period of chaos we would perhaps end up where we are now, with a very similar deal."
The Taoiseach also raised the prospect that the UK could be hobbled in its future trade deal ambitions if there was an ambiguous situation in part of its territory. The same issue, it should be said, would be a problem for the EU as well if there was one part of its single market frontier was suspect.
There is also the question of the Irish American lobby. In a recent article for Buzzfeed, former Clinton White House attorney Brian O'Dwyer wrote: "As Irish Americans who have been deeply involved in Irish affairs, who lobbied long and hard to convince President Clinton to appoint Sen. Mitchell as his representative in the peace talks, we watch with great concern as politicians in London consider policies that would upset the peaceful resolution reached by all sides two decades ago.
"We are prepared to bring that same kind of pressure if a post-Brexit UK seeks a trade deal with the United States without keeping an open border between the two Irelands."
As we accelerate towards 29 March the Brexit crisis is escalating on many levels.
As the Financial Times columnist Robert Shrimsley has noted, this is a game of chicken in which some of the participants are genuinely not afraid of the crash.
But this has been a bruising week for the Government and the commission for the simple reason that those who have always hated the backstop have been gifted an unexpected away goal.
Michel Barnier's comments about using decentralised solutions to avoid a hard-border have allowed numerous Brexiteers to crow that the backstop was a hoax all along.
Here was the EU's chief negotiator, whose officials had ridiculed the technological solutions to avoid a hard border as "magical thinking", apparently recommending the same approach post-no deal.
That conveniently ignores the fact that the backstop was enshrined in a negotiated treaty, whereas trying to pick up the pieces in a chaotic no deal situation will only provide limited mitigation, and will always be second best.
It also ignores the fact that the Irish protocol was not just about preserving cross-border trade and maintaining alignment on the likes of agrifood rules. It was about preserving the hearts-and-minds achievements of North South cooperation, reconciliation and the maturing notion of an invisible, irrelevant border.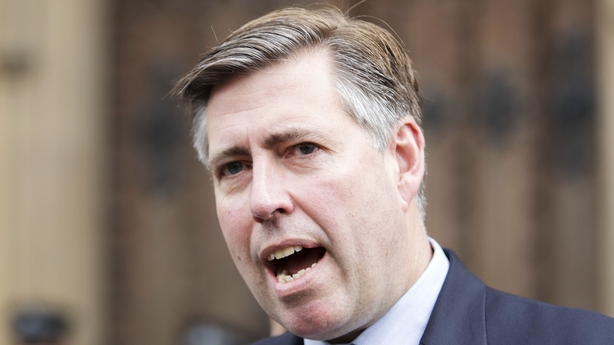 Next week all eyes will be on the amendment by the chairman of the backbench 1922 committee Graham Brady, which says the House of Commons will accept the Withdrawal Agreement if the backstop is removed and replaced by an alternative method of avoiding a hard border.
There are signs that it could command a growing level of support among the Tory backbenches and the DUP, and it could give Theresa May an option to return to Brussels promising that this time she can deliver Parliament.
On Wednesday, Schinas, the Commission spokesman, issued a clarification.
"The EU is determined to do all it can, deal or no deal, to avoid the need for a border and to protect peace in Northern Ireland. The EU is fully behind Ireland and has expressed, on numerous occasions, full solidarity with Ireland. That has not changed. We will also continue to remind the Government of the United Kingdom of its responsibilities under the Good Friday Agreement, deal or no deal."
The misstep (or whatever it was) over the Irish border and no deal has put the wind in the sails of Brexiteers who may well believe the Prime Minister might just pull it off.
Officials believe, however, she will resist making another bid to change the backstop if it is simply undeliverable.
The EU, for now, remains fully supportive of Ireland's position.