In July 1947, Frederick Boland, the Secretary General of the Department of Foreign Affairs, travelled to Paris to take part in a joint conference.
Its aim was to figure out how European countries should spend the $13 billion Marshall Plan ($140bn in current terms).
The US intended the plan to shore up crippled post-war economies to prevent them falling into the Soviet sphere, but in Ireland's case Washington was keen that the country could provide badly needed food for Europe's hungry masses.
Ironic, then, that Leo Varadkar opened his speech to the European Parliament by recalling Ireland's presence at that conference in Paris, at the very time when Brexit threatens Ireland's food exports and Irish producers are looking to continental markets.
Back in 1947, the Paris conference involved 16 countries, including Ireland. It gave rise to the Organisation for European Economic Cooperation, which later became the OECD.
Since Ireland didn't join the EEC until 1973, this was a convenient name-check for a Taoiseach who is presenting himself as more pro-European than any of his predecessors.
The message was, we weren't with the Six at Messina, but we were with the 16 in Paris (the OECD does not have any formal link with what later became the EU).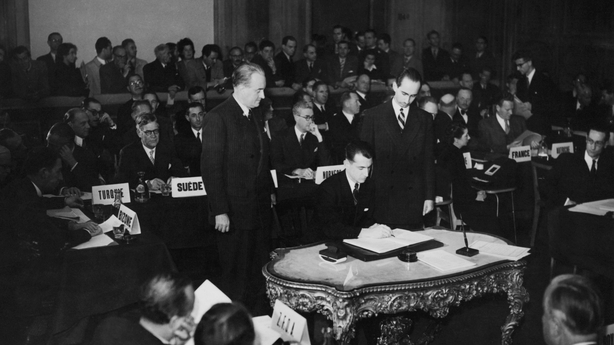 Today's wide-ranging speech sets out a vision of the Future of Europe, which is at times bold, and at other times reflective of centre-right orthodoxy on the prevailing European issues (migration, security and defence, the euro, the single market etc).
But this is a key moment for Ireland's place in the EU and Mr Varadkar's address will have been carefully calibrated on several levels.
Ireland's Brexit exposure and its prominence in the negotiations have to be managed correctly.
The implied veto in phase one will be carried over into phase two, but Dublin will have to ensure that the support of member states and the European Parliament continues, and that the Irish issue does not become an irritant when countries start to assert more self-interest during the trade negotiations.
Mr Varadkar thanked the parliament, the Barnier task force and member states for making Ireland a priority in the negotiations, but was also quick to remind his audience that the protection of small countries goes to the heart of the EU's self-proclaimed principle of solidarity.
With the December European Council breakthrough still fresh in the memory, and indications that London clearly interprets its requirements differently, the Taoiseach was quick to assert Ireland's demand that the UK abide by its guarantee of no hard border.
"As the negotiations move forward," he told MEPs. "We will continue to rely on your support and solidarity as we work to ensure that what has been promised in theory is delivered in practice. There can be no backsliding."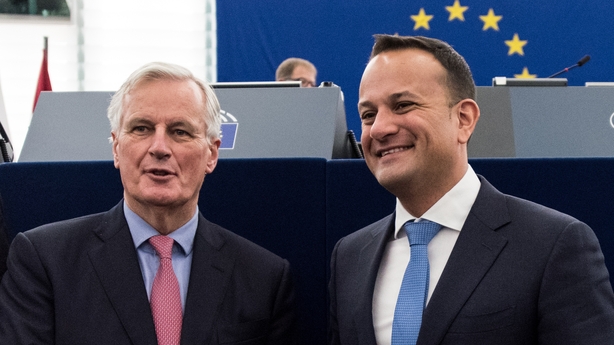 There was also an uncompromising message for unionists and Brexiteers, who have been angered by what they see as a United Ireland agenda being pursued by Dublin in its quest to keep the North close to the Single Market and Customs Union.
"The majority of people in Northern Ireland voted to remain in the EU," he said.
"The majority of its representatives elected to the Northern Ireland assembly want to remain in the Customs Union and the Single Market; and it is likely that the majority of people living in Northern Ireland will remain European citizens after Brexit, because of their unique status as dual Irish/British citizens under the Good Friday Agreement."
Mr Varadkar prominently invoked the record of the former SDLP leader and MEP John Hume in fusing the notions of peace on the island and EU membership.
"In the European Union," he told the Strasbourg chamber. "John Hume saw a model and a vision for how a lasting peace, however improbable, could be fostered and built.
"And he saw how that model of people working together, with shared purpose and endeavour – spilling their sweat instead of their blood, as he put it - could provide inspiration in our own country.
"Today, a peace bridge crossing the River Foyle brings together the divided communities in John's native city of Derry, in Northern Ireland, a bridge that the European Union helped to build."
This is also a time when Ireland needs to build new alliances as the UK leaves. His most striking assertion was that Dublin would support both the controversial Spitzenkadidaten process and the notion, put forward by Emmanuel Macron, the French President, that there could be a "list" of European candidates which could be open to voters across the European Union. ("Let's get people in cafes in Naples and restaurants in Galway talking about the same election choices," the Taoiseach told MEPs).
The latter idea deals with the dilemma of the 73 UK seats that will be up for grabs, with President Macron suggesting a portion of those seats could form a common Europe-wide list, so Mr Varadkar here is clearly keeping his eye on converging with some – but not all – of the French President's vision.
The Spitzenkandidaten or "lead candidates" idea is an even bolder gambit. Championed by the former European Parliament president Martin Schulz in the 2014 elections, the idea foresaw the biggest political grouping in Strasbourg being allowed to secure the President of the European Commission.
At the time, this was seen as a power grab by the parliament (under the Treaties EU leaders appoint the Commission President). But when Jean-Claude Juncker was nominated as the European People's Party (EPP) Spitzenkandidat at a congress in Dublin, Angela Merkel was at first cool on the idea, but later u-turned when she faced a backlash in Germany.
Back then, most EU leaders vowed that it wouldn't happen again, but Leo Varadkar is now unambiguously supporting the idea, with unspecified safeguards (he first raised it in a Sunday Independent article on 10 December).
The issue has one obvious drawback: in its quest for new alliances, Ireland has been cosying up to the Northern European bloc that includes the Nordics, Baltics and the Netherlands. The Spitzenkandidaten idea finds little favour there.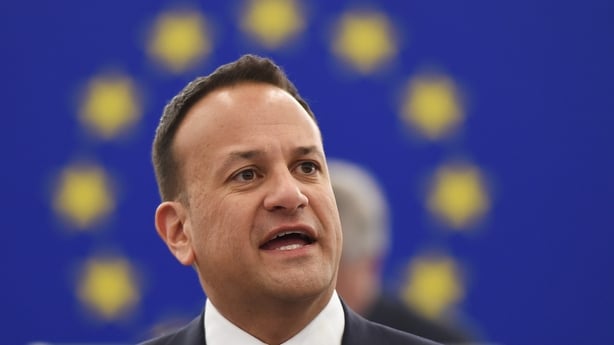 Having said that, Mr Varadkar is wise to get himself noticed. He is among a cohort of young leaders who are garnering more attention; his speech was laced with pro-European sentiment that went down very well in the Strasbourg chamber, not least of which was his assertion that, when he sits in the European Council, he is on an equal footing with the French President and the German Chancellor.
He feels emboldened enough now to be unapologetic about Ireland signing up to enhanced military cooperation through PESCO, yet was able to disarm the Belgian Green MEP Philippe Lamberts, who was scathing on Ireland's record in tackling climate change, by saying that he accepted Ireland was a "laggard" and had to do more.
Elsewhere, he was tacking to the right and left in the manner beloved of mainstream EU leaders. ("Let's put fire back into the engine of our social Europe by following through on the proclamation we issued in Gothenburg last year on jobs, employment rights, pensions and other things.")
On the Apple tax issue, the Taoiseach stuck to the party line that there was no special deal, but he was careful to appeal to those who have accused Ireland of being a tax haven.
"My strong view is that national taxes that fund national budgets should be determined by national parliaments and governments," he said. "Equally strong is my view that corporations should pay their fair share of tax. We cannot tolerate a situation where large companies can avoid paying any taxes anywhere.
"That's as true for American tech companies as it is for European car manufacturers, or for international aerospace and defence companies."
But there was no hint that the Government would shift its belief that the EU should not be tinkering with the corporate tax system at all; the problem of multinationals and tax erosion was being dealt with at OECD level, and that's where it should stay, he said.
This was a largely receptive audience. Fine Gael is in the EPP, which has the largest number of seats. When Nigel Farage of UKIP accused him of being more interested in the European project than Irish farmers (who, he suggested, would suffer if the EU took a hard line on trade talks), the Taoiseach used his trademark dead-pan delivery to remind Farage that around the table Ireland, a country of only four million, had the same rights and respect as bigger countries.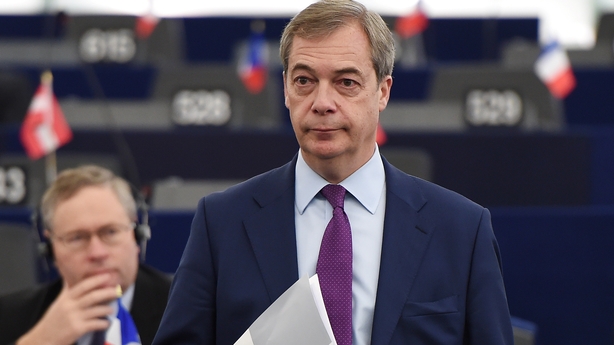 Overall, the speech was warmly received. Leo Varadkar asserted a more emotional attachment to the EU than his predecessor (he spoke of the "soul" of Europe). The EU is undergoing a difficult period, much less fractious than during the debt and austerity crises, but still a period in which leaders are less risk-averse in launching bold ideas and in which there is a certain fluidity (the improved European economy is a big help).
With Berlin still stricken by coalition talks, Angela Merkel will tread carefully, but the Taoiseach will be keen to show that Ireland is not a country convulsed by Brexit to the exclusion of all else.
On the next seven-year EU budget, Mr Varadkar was careful. With Britain leaving, there will be a €12.5bn hole in EU coffers. The commission is recommending, among other things, an increase in national contributions from 1% of GNI to 1.1%-1.2% over time.
The Taoiseach said Ireland, which is now a net contributor, would be open to paying more, but only for new initiatives, and on the condition that existing programmes, such as CAP, Erasmus, research funding and regional support through INTERREG, are ring-fenced.
There is a growing interest in Europe in Leo Varadkar, not least because of his background. Here is an English-speaking country, geographically a leapfrog away from the continent, whose European credentials are more prominent than they have been in years, and which continues to command the rhetorical (at least) support of member states and EU institutions as the wrenching effect of Brexit continues.
Today's speech will have made those credentials glow that bit brighter.