Social justice campaigner Sr Stanislaus Kennedy, who was awarded an honorary doctorate by Dublin City University, has paid tribute to the founder of the Sisters of Charity, Mary Aikenhead, whose example had taught her "a deep respect for the poor".
She told the conferring ceremony she was "an extraordinary woman who, 200 years ago, gave her life to the service of the poor and who pioneered new ways in health, education and home care".
The Corkwoman founded the Religious Sisters of Charity, the Sisters of Charity of Australia, and St Vincent's Hospital in Dublin.
In her address, Sr Stan (as she has long been known), who was born Treasa Kennedy in 1939 near Lispole, Co Kerry, also thanked her late parents "who worked hard to give us an education and who passed on to us their strong faith".
Describing the honorary degree as a great honour, she thanked DCU, a university, she said, she holds in the highest esteem. 
"I feel honoured and humbled and undeserving, and I accept this, not for myself, but on behalf of the hundreds of people who came to me seeking help, support and justice over the past nearly 60 years," she said. 
"And I accept it on behalf of the hundreds of people who helped and supported me and fought with me to give them what was their right. I was only one. I could have done little on my own.
"I got a chance in life. I only wanted to give that chance to other people."
Among others, she thanked was the late "extraordinary" Bishop Peter Birch, who during his stewardship of the diocese of Ossory from 1964 until 1981, had transformed the Kilkenny-based diocese "into a caring community where people cared and shared for each other and where no one was excluded".
She was referring to her appointment in the 1960's to work with Ossary's Diocesan Social Services.
Sr Stan said the bishop created "new innovative services, a living example of the living out of the gospel of Christ" and that people came from all over the country and all over the world to learn about the model church he created. 
"I learned all that from him. Above all, I learned the importance of being a voice of clarity for justice, for compassion and for human rights," she said.
In 1974, the Fine Gael-Labour coalition appointed Sr Stan as the first chairperson of the National Committee on Pilot Schemes to Combat Poverty, which was later put on a statutory footing as the National Combat Poverty Agency.
It was subsequently disbanded as an independent advocacy agency by the Fianna Fáil-led government in 2009 and incorporated into the Social Inclusion Division of the then Department of Social and Family Affairs.
Ironically, voluntary organisations and opposition TDs warned against the move at the time, highlighting that the agency was needed to help people who were beginning to lose their homes in large numbers as a result of the recession.
Sr Stan recalled her transfer from Kilkenny to Dublin where she first met homeless people "who really didn't want to be homeless, who were so because of circumstances beyond their control and whose deepest desire was to have a place they could call home".
She recalled founding and developing Focus Ireland, now the biggest organisation in Ireland in the fight against homelessness.
She said the charity could not have progressed without the help of hundreds of people who gathered around her.
Established in 1985, Focus Ireland now provides housing, support and advocacy and, its founder added, "gives people dignity, respect … restoring their sense of self-esteem".
She recalled another turning point in her vocation in 2000 when she first met immigrants to this country.
"(They) had been brought here to work during the Celtic Tiger years," she told the assembly, which included former US president Bill Clinton and Louth entrepreneur Martin Naughton.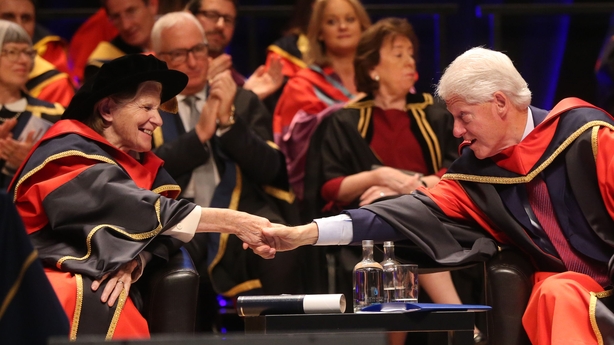 "They had no rights. They were totally at the behest of their employer. Their right to reside or work here was in the hands of their employer.
"There were literally no services for them, and again, with the help and support of many people, we set up the Immigrant Council of Ireland to promote and support the rights of immigrants and advocate on their behalf through our legal centre."
She said the Immigrant Council of Ireland has worked hard to reform the country's immigration system and now helps thousands of people to navigate it and gain their rights to live, work, make a home here if they desire, and make a big contribution to society.
"This included women and girls, victims of human trafficking who were trafficked here for sexual exploitation," she remarked.
She then recalled successfully piloting Young Social Innovators (YSI) in 2001 with Rachel Collier a former collaborator in Focus Ireland.
"We recognised the many young people in Ireland who wanted to be active citizens, but who did not have the opportunity to do so," she recalled.
"There was no structure, there was no leadership for them. Again with the help of hundreds of teachers, guides and volunteers we set up YSI, which now has over 6,000 young people every year engaging as active citizens, working for others in their community. They are the leaders of the future, promoting justice and human rights."
Looking back on her campaigning work spanning six decades, she said she realised it was not easy, particularly for the many helpers and carers who had joined her.
"I knew they needed support while they persevered to keep their vision, their spirit and their enthusiasm alive. I knew like (Kerry poet) Brendan Kennelly that
 'self knows that self is not enough,
the deepest pool becomes exhausted'.
She then recalled having had a dream of "opening a door somewhere in (Dublin) city where people could come to nurture their spirit and keep their flame alive". 
On a patch of land, one third of an acre in area, given to her by her congregation, the Sisters of Charity, but without any funds, she and Sr Sile Wall "found an architect, an engineer, a builder and a landscape gardener who turned that little patch of land into a beautiful place, a sanctuary, a place of beauty that spoke to the beauty within everyone, a place of peace that spoke to the people's inner peace, a place of stillness that spoke to their inner stillness, a place of love where people felt loved and cared for, a Sanctuary". 
In 1998, Sr Stan founded The Sanctuary in Stanhope Street in Dublin's north inner-city along with Sr Sile, a teacher of Mindfulness-Based Compassionate Living (MBCL).
Its website recalls that it has developed a range of courses and workshops in the area of mindfulness and meditation, yoga and movement, creativity and well-being.
"In particular, it has developed a range of programmes working with young people and those who are a vulnerable stage in their lives," it says, adding that it has "a complete programme of day, evening and weekend courses and workshops from both secular and spiritual perspectives".
The Sanctuary is located on part of the old Manor House site where Mother Aikenhead had established the first novitiate of the Sisters of Charity.
Alongside it, she also founded St Mary's Training School and Orphanage and a convent out of which nuns went daily to work with the sick and poor in the surrounding area which included the infamous Grangegorman workhouse and the adjacent Richmond Asylum for people adjudged to have  mental illnesses.
Sr Stan concluded her address by thanking her "little" (14-strong) Sisters of Charity community in Stanhope Street for sustaining her.
"Sile and Josie, and Tony and Johanne who often hopped in, they were always there for me, the good days and the bad days, and reminded me like Brendan Kennelly…To Begin Again
'Begin again to the summoning birds
to the sight of the light at the window,
begin to the roar of morning traffic …
Though we live in a world that dreams of ending
that always seems about to give in
something that will not acknowledge conclusion
insists that we forever begin.'"