Washington Correspondent Caitríona Perry takes a closer look at the ties between Russia, Donald Trump and his team.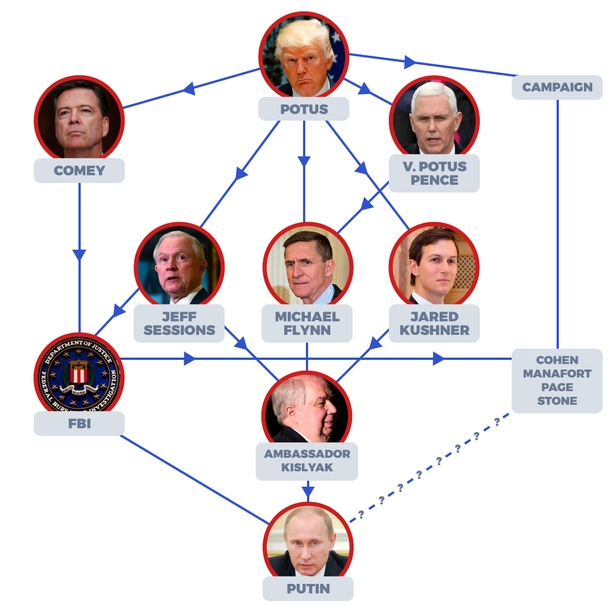 President of the United States - Donald Trump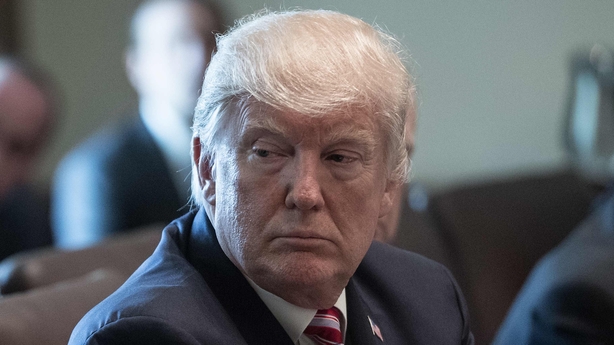 Fired FBI Director James Comey has given sworn testimony that as of the time when he was fired, Donald Trump was not under investigation by the FBI.
However he did warn that the FBI leadership had been loathe to say that publicly in case they ever had to walk back that position.
Donald Trump says he's never even met President Putin; the pair are expected to meet at the G20 summit in Hamburg in July.
On 26 January he was warned that the Department of Justice had concerns about contacts between his then National Security Adviser Michael Flynn, who was under investigation by the FBI.
On 27 January he called then FBI Director James Comey to come for dinner.
Mr Comey has testified that at this dinner the president asked him for his loyalty in a manner that Mr Comey said felt like a patronage scenario; that he could keep his job if he was loyal.
President Trump completely rejects that this conversation took place during dinner.
Vice President of the United States - Mike Pence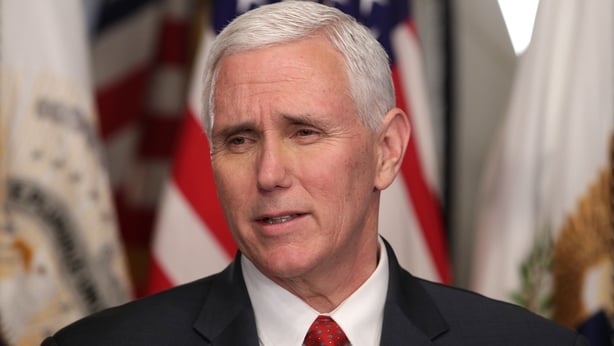 Donald Trump said he asked for the resignation of his National Security Adviser Mike Flynn because he had misled the vice president about the nature of his contacts with Russian Ambassador Sergei Kislyak.
The vice president gave a media interview on 15 January before the inauguration swearing that General Flynn had never met the Russian Ambassador, which is what Mike Flynn had told him.
This transpired to not be accurate. When the vice president found out he had been misled in this way, the president reached a decision that Flynn had to go.
The president and advisers in the White House knew that the Department of Justice had concerns about Flynn's version of events, 15 days before they told the vice president.
General Michael Flynn, former National Security Adviser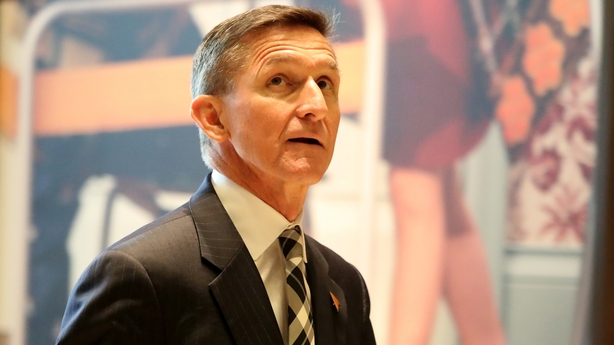 American officials say Mr Flynn was in contact with Russian officials during the election campaign and during the transition, specifically that he was in contact with Russia's Ambassador to the US Sergei Kislyak.
Fired FBI Director James Comey confirmed these contacts during his sworn testimony to the Senate Intelligence Committee last Thursday.
During the transition he swore to the Vice President-Elect Mike Pence that this was not the case, and the vice president did media interviews based on that information.
The Department of Justice had information to prove that Flynn had had contacts with the Russians, and so acting Attorney General Sally Yates then warned the White House that Mr Flynn was at risk of blackmail because he had misled his bosses about the nature of his contacts.
During one of those meetings with Ambassador Kislyak, Flynn discussed the possibility of the US dropping sanctions that had just been imposed by the then President Barack Obama.
It is not clear how much of these contacts he disclosed during subsequent discussions with the FBI.
General Flynn was paid $45,000 by the Russian State media Company Russia Today (RT) in 2005 for a speech he delivered in Moscow. President Vladimir Putin was present and the two men were seated together at a dinner. He was also paid for work by two other Russian businesses that year.
He did not declare these payments on a federal financial disclosure form.
Mike Flynn has been subpoenaed by at least two Congressional committees for documents relating to his time with the campaign and at the White House.
He was offered to give testimony in exchange for immunity from criminal prosecution.
Mike Flynn resigned at the president's prompting on 13 February. The now fired FBI Director James Comey alleges that the president asked him in a meeting in the Oval Office on 14 February to drop the FBI investigation into Mr Flynn.
James Comey, former Director of the FBI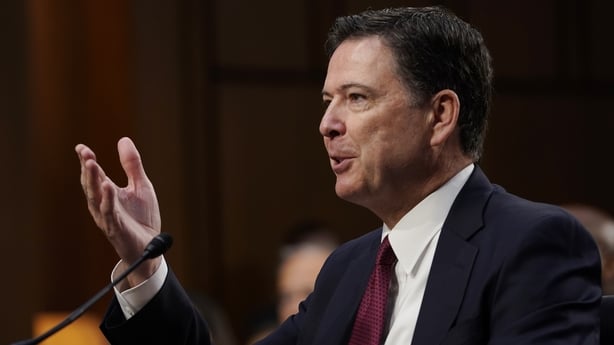 Following a lengthy career in the Department of Justice and the FBI, James Comey, appointed by President Barack Obama in 2013 was fired by President Donald Trump on 9 May 2017.
Mr Comey says he believes he was fired because of President Trump's frustrations about the Russia investigation.
Testifying before the Senate Intelligence Committee on 8 June, Mr Comey accused President Trump of being a liar; said he felt that his loyalty had been demanded from him in exchange for keeping his job, and that following a conversation in the Oval Office on 14 February 2017, he understood the president to be asking him to drop the FBI investigation into General Mike Flynn.
He also said the president had on another occasion asked him to do something to lift the "cloud" that the investigation was causing.
The Federal Bureau of Investigation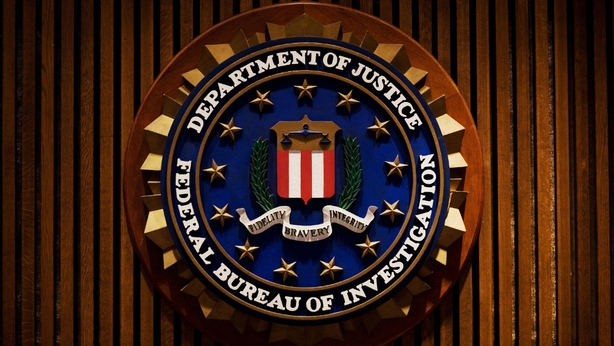 The FBI is investigating General Michael Flynn. The FBI is also carrying out an investigation into Russian interference in the 2016 presidential election and whether there was collusion with the Trump campaign.
Deputy Attorney General Rod Rosenstein had appointed a special independent counsel to lead the investigation - Rob Mueller.
Jeff Sessions, Attorney General of the United States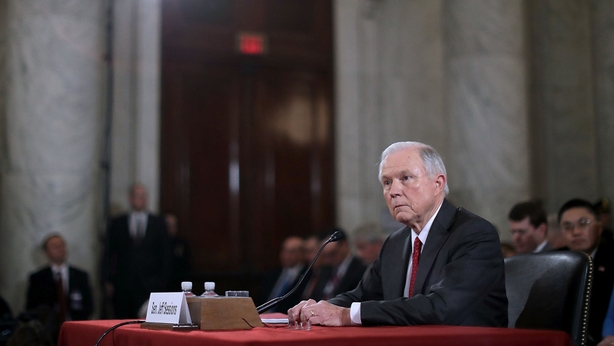 Former Alabama Senator Jeff Sessions was an early supporter of Donald Trump's on the campaign trail and travelled widely with him, as did General Michael Flynn.
Given that the campaign operation is under investigation, Mr Sessions recused himself from anything to do with the Russian investigation.
He has admitted to two meetings with Russian Ambassador Sergei Kislyak during the campaign. However he failed to disclose those during his Senate confirmation hearing for the position of Attorney General.
The FBI has been asked to open an investigation into the Attorney General to see whether he perjured himself during that hearing.
During his testimony last week, James Comey alluded to further classified information linking Mr Sessions with Russian officials.
Jared Kushner, Senior Adviser to the president, and his son-in-law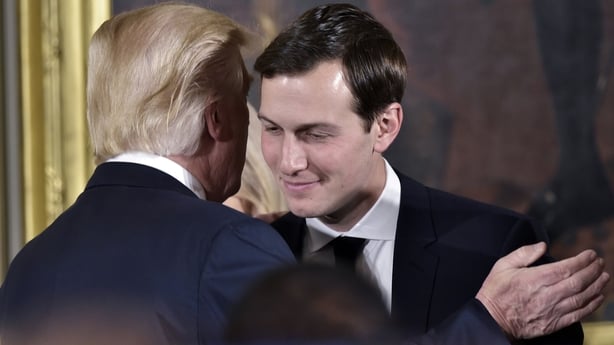 Jared Kushner has agreed to testify before the Senate Intelligence Committee but a date has not yet been set for that hearing.
Mr Kushner met Russian Ambassador to the US Sergei Kislyak at Trump Tower in December 2016. It's reported that meeting was held with the express purpose of establishing back channels of communications.
Mr Kushner also met Sergei Gorkov, the head of the Vnesheconombank, a state-owned bank subject to Obama-era sanctions.
When applying for security clearance at the White House, Mr Kushner did not disclose this meeting as he was legally obliged to do. His lawyer has since said it was omitted in error.
Sergei Kislyak, Russian Ambassador to the US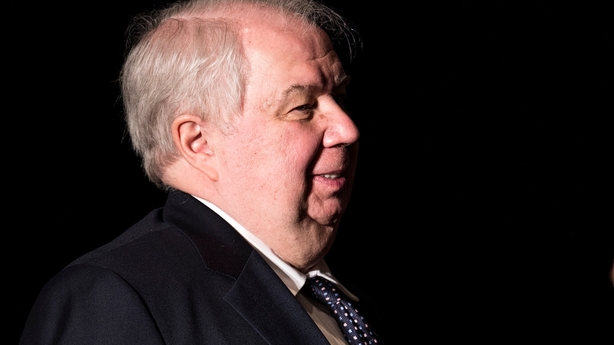 Sergei Kislyak has been Russia's Ambassador to the US since 2008. Prior to that he was Russia's Deputy Foreign Affairs Minister.
Mr Kislyak was present in the Oval Office meeting with Russian Foreign Minister Sergei Lavrov when President Trump is alleged to have shared classified information with the Russians - information the president later tweeted that he was entitled to share.
Ambassador Kislyak's term of office ends in July and it's believed he will take up a position in Russia's delegation to the UN.
US intelligence officials are reported to believe that Ambassador Kislyak is one of Russia's top spies, an accusation he denies.
Mr Kislyak was present at the Republican National Convention in Cleveland in July 2016, holding what he described as a "diplomacy conference".
It is not unusual for ambassadors from around the world to attend the selection conventions for both parties. In fact the US State Department supports such attendances.
Vladimir Putin, President of Russia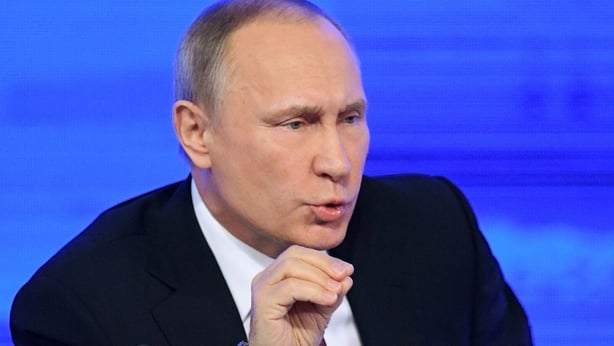 The Russian president has laughed off any suggestion that he interfered in the US 2016 presidential election.
The US intelligence community are in agreement, however, that President Putin himself ordered a covert international cyber campaign to assist Donald Trump and to harm Hillary Clinton.
Campaign associates under scrutiny: (These individuals are not part of the Trump Administration)
Michael D. Cohen - Personal lawyer for President Trump
Paul Manafort - former Donald Trump campaign manager
Carter Page - former foreign policy adviser for the Donald Trump campaign - subjected to a Department of Justice secret wire-tap in summer 2016
Roger Stone - former Donald Trump campaign adviser