The Garda Representative Association has begun its protest over Garda Commissioner Drew Harris' decision to change the garda roster next month.
Rank-and-file gardaí are refusing to take up voluntary overtime today because of the commissioner's refusal to defer the reintroduction of the so-called 'Westmanstown roster' prior to the start of talks between all sides.
However, Commissioner Harris insists he is ready and willing to begin talks on the issue of the disputed roster and the three other garda associations are prepared to enter talks.
The Taoiseach has told the Dáil that keeping the garda Covid-19 roster in place is not sustainable, but nor is the Westmanstown roster.
Leo Varadkar said a roster has to recognise work life balance and caring for families and he hopes the current dispute can be resolved without further escalation.
He added that the Minster for Justice and Minister for Public Expenditure are currently working on proposals to support garda recruits who face high costs while in training.
Today's action is the first of five Tuesday protests, which include Budget day and Halloween, two days with potential for sporadic public disorder and violence.
The GRA said this will culminate in a refusal by some GRA delegates to work the new roster and a withdrawal of labour on 10 November.
GRA members are refusing to take up voluntary overtime which, because of the decreasing numbers of gardaí, is used on checkpoints and patrols, to bring units up to strength, to staff stations and to increase visibility.
It is also used to cover the Dáil and police special events, as well as in major investigations and for court appearances.
In some areas, overtime has been used to fill as much as 20% of policing roles.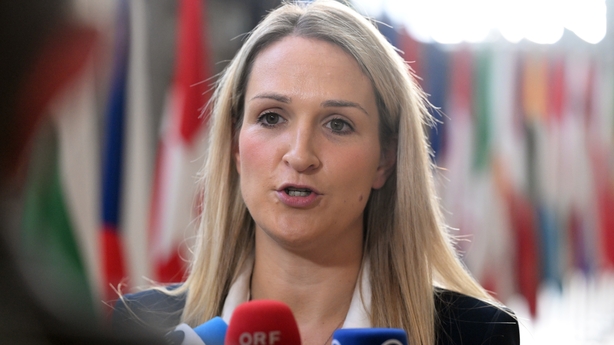 The GRA wants to maintain the system introduced at the start of the pandemic, which sees gardaí working four 12-hour shifts on consecutive days, followed by having four days off.
Management wants to revert to the previous regime, which involved six ten-hour shifts, followed by four days off.
The refusal by rank-and-file gardaí to accept voluntary overtime today has had no discernible impact on policing but has impacted in some urban and rural areas.
The protest began at midnight and a major protection post in Dublin had to be detailed to officers from regular units in local stations when those offered overtime declined to cover the post. This has reduced the number of car and foot patrols in this division.
In one rural station, three gardaí called in sick and no overtime replacements could be found. It meant the large station was staffed by one garda.
Court escorts in some areas have also been affected but this has been mitigated by the adjournment of a large number of cases because of a barristers' strike.
Garda Headquarters says it is continuing to provide a policing service and no damaging or dangerous consequences of the protest have been identified so far.
Minister for Justice Helen McEntee said she had been assured by the Commissioner that there will still be a full complement of gardaí and enough members to police the streets.
Ms McEntee said she will not intervene because it is not her role to tell gardai where, when and how they should be working or the commissioner how to run An Garda Síochána.
Commissioner Harris has said he and garda management are available for intensive talks.
He is meeting each of the garda associations separately this week, beginning with the chiefs association today. He is due to meet the GRA on Thursday.
Garda Headquarters has not drawn up any contingency plan for today as it does not believe one is needed, but said it was keeping the situation under review.
It also pointed out that the other associations do not see the planned reintroduction of the new roster as a precondition for talks and said that its only the GRA that is holding that position.
However, if a solution is not found, the GRA said its protest will escalate to some delegates refusing to work the new roster when it is introduced on 6 November and withdrawing their labour four days later.
Earlier the Dáil heard that morale in the gardaí is at a very low ebb as they try to keep communities safe.
Sinn Féin Leader Mary Lou McDonald said it was the culmination of a decade of under investment.
"What we need now is calm heads and leaders...what we need of course is a garda roster that works," she said.
Ms McDonald said there must be a restoration of trust, and standing back from this situation will not resolve it.
Speaking on Upfront with Katie Hannon last night GRA President Brendan O'Connor said: "People who have an interaction with the guards of a non-priority nature ... may see a slower response, or we may see less visibility in certain areas where there is a higher reliance on over time.
"Our members are simply saying is that the service is depleted because of recruitment and retention. The only reason it's functioning is because of our flexibility and commitment to go beyond the call of duty.
"We want to sit down, we want to solve this problem, we never wanted to be in this position. From our perspective the commissioner has put a pre-condition on these talks ... the return to an unpopular, dysfunctional roster that has been found ... to not serve the needs of the organisation or the public."