Barristers who work in criminal law are on strike for the first time in a dispute about the Government's failure to reverse cuts to their pay imposed in the aftermath of the financial crash.
The barristers were protesting outside courthouses across the country between 10am and 1pm today, including at the Criminal Courts of Justice in Dublin.
The barristers were joined by criminal defence solicitors, who also withdrew their services due to a failure to reinstate cuts to their fees.
The action disrupted proceedings to hundreds of criminal cases, as many had either already been adjourned as a result, or were adjourned by judges today.
The organisation representing the country's barristers said its members who work in criminal law had no alternative but to take this action.
Criminal barristers withdrawing their services for a day say no progress has been made in their efforts to get the pay cuts imposed after the financial crash restored.
Solicitor Emer O'Sullivan said delays in courts are "just going to get bigger" as a result of the strike action.
She said solicitors cannot wait until after the Budget to enter talks with Minister for Justice Helen McEntee.
Ms O'Sullivan told RTÉ's Morning Ireland: "Next week is too late, that's the problem … if she doesn't talk to us now.
"I don't think the nuances and the ins and outs of the actual money and spending of where it really needs to go will be apparent to her.
"She needs to listen and be told where it needs to be spent."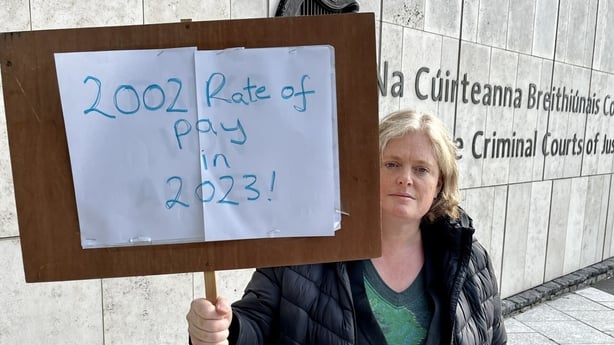 The Bar of Ireland said criminal barristers suffered two 8% pay cuts in 2009 and 2010 and a further 10% cut in 2011. It said they have not had their pay restored despite delivering reforms and flexibility.
They want a meaningful mechanism to be put in place to determine the fees barristers should get from the Director of Public Prosecutions (DPP) and under the criminal legal aid scheme.
The office of the DPP and the Department of Justice recognised in 2018 that barristers were entitled to have their pay restored, the Bar said.
Minister McEntee has previously made supportive comments in public about pay restoration, but the matter has not progressed.
At the weekend, Minister McEntee said she was engaged in negotiations on the issue as part of Budget 2024 discussions and could not say anything further in advance of 10 October.
Barristers at district court level, who have organised a number of previous protests, said they want a new system of direct payments to barristers rather than through solicitors for fees for district court work.
Criminal defence solicitors are also withdrawing their services. They said the country's 350 or so criminal law solicitors are working for rates of pay below 2002 levels in the district court.
They said the minister has refused to meet them to discuss the issue.
We need your consent to load this rte-player contentWe use rte-player to manage extra content that can set cookies on your device and collect data about your activity. Please review their details and accept them to load the content.Manage Preferences
Criminal solicitors say law students are no longer opting for a career in criminal law and this could have a knock-on effect on society if lawyers are no longer available to help those in need.
The Law Society, which represents solicitors, is urging the minister and the Government to take urgent action and make adequate investment in the criminal legal aid system.
The Bar of Ireland said up to two thirds of barristers who start working in the criminal courts leave the criminal bars after six years.
It said there were already reports of cases being delayed because barristers were not available.
As well as affecting the profession, Senior Counsel Sara Phelan said the issue will have a detrimental effect on those who have cause to engage with the justice system.
'Mass exodus from the profession'
Will Fennelly BL, a criminal barrister based in Co Laois, said he travelled to Longford today to stand in solidarity with colleagues.
"The entitlement to fee restoration was the subject of a review by the DPP and the Department of Justice under a process sanctioned by the Department of Public Expenditure," he said.
"That concluded unequivocally that fees should be restored to the pre-FEMPI (Financial Emergency Measures in Public Interests) levels and that has happened.
"The criminal bar in particular is slowly but steadily withering on the vine, young people are leaving it at an alarming rate.
"A recent survey by the Bar Council established that young barristers coming into criminal practise, within six years, two thirds of them have left.
"And anecdotally I would be confident that if you spread that out to ten years it will be a significantly greater proportion will have left also, either to go into civil practise or leave the legal practise entirely" Mr Fennelly added.
"This is the last resort really for members of the criminal bar. In terms of it being some sort of great gravy train, there's no money being earned here today by anybody, people are leaving the profession and we've simply got no option but to take action of this nature and possibly escalate it in time to come, we've got to wait and see," he said.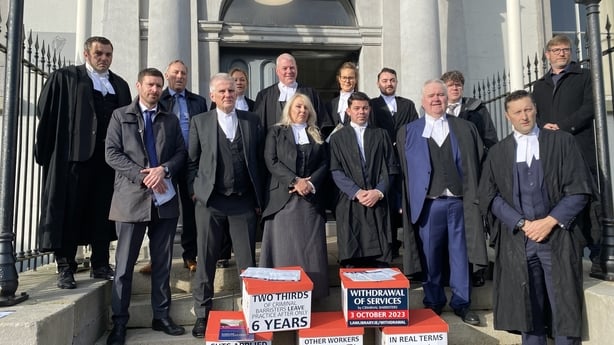 Willie Penrose, Junior Counsel who has been at the bar for 35 years, was also outside Longford courthouse this morning and said that a stand has to be made.
"Barristers and the criminal bar have been treated in a disgraceful manner by the Government," he said.
"Empty promises are no use, rhetoric is no use, commitments are no use, it's delivery."
The former Labour Party Minister and TD said he was in government at the time the cuts were introduced.
"I was there in Government when those cuts were implemented and there was always a deep seated commitment by government to restore any cuts that were implemented at the time, because everybody took a hit and barristers were no different.
"But since then everybody else, thankfully and rightfully, have had their pay restored, to the appropriate levels but we're around 45% in real terms behind where we should be.
"There's a mass exodus from the profession and criminal barristers - both the prosecution and defence - are fundamental to the administration of justice.
"There's a tug of war between the Justice Minister and the Public Expenditure - it's a game to them but it's real for people down on the ground here.
"A lot of young barristers have mortgages, young families and are paid abysmally. I would say to the Criminal Bar if this does not work there should be an all out strike"
Senior Counsel Dara Foynes said it's an "absolute shame" that it has come to this. Speaking in Longford she said that she along with her colleagues are simply looking for restoration of pay.
"We have been forced to take this drastic step which we really regret. I'm a long time doing this job. I absolutely see how difficult it it is for people starting off. There are already is a significant drop out of junior members of the bar".
"We've been driven to this. This is a vocation. We don't want to be here. We want to be inside looking after our clients," she said.
Barristers working at the criminal courts at Mulgrave Street in Limerick also took part in the nationwide withdrawal of services from the courts today.
Bar Council member on the South West Circuit, Cian Kelly, said they have been engaging with the Department of Justice trying to get restoration of barrister fees for a long number of years but with no resolution.
He said the median salary for hundreds of barristers across the profession is €46,000. He accepted there is a perception among the public that barristers earn very large salaries. This is the exception with many earning average annual earnings.
"We feel the low incomes is discouraging people from different socio-economic backgrounds coming into the profession, which is something we are very keen to push with the Bar Council.
"We want this profession to be open to everybody, but to do that people must be able to expect to make a decent living," he said.
Mr Kelly accepted that today's action will have an impact on the courts service which is already under huge pressure with large caseloads, and will put cases back, but he said they felt they had no alternative but to highlight this issue which has gone on for a considerable time.
Some 50 members of the Cork Bar joined their colleagues across the country for the strike action.
They gathered this morning on the steps of the Cork Courthouse on Washington Street to show their solidarity.
Senior Counsel Tom Creed said without the reversal of paycuts it will not be possible to sustain the criminal law side of the profession.
"We can't get the best people into the profession unless they pay reasonable rates and all we want is for them to restore it to what it was," he said.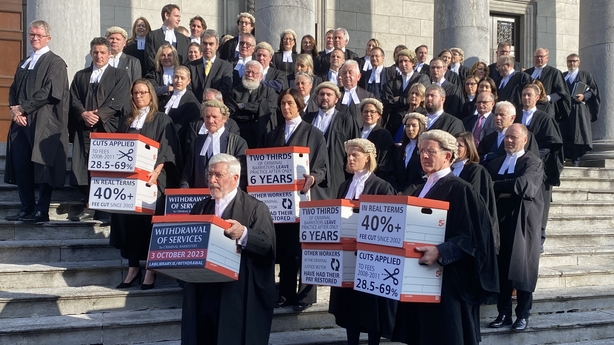 He said today's strike was unprecedented but it was necessary and prompted by frustration at the failure of the Government to reverse cuts to their pay imposed in the aftermath of the financial crisis.
Mr Creed said the fee rates were reduced by 8% in 2009, by 8% in 2010 and by a further 10% in 2011 bringing the fees back to 2002 levels.
"Everybody in the public service, even in the legal side of things have got their pay restored but the Department of Public Enterprise and Reform has refused to engage with us.
"All we want is some kind of mechanism that is time limited and binding that we can engage in," he said.
Additional reporting Sinéad Hussey, Cathy Halloran, Jennie O'Sullivan