The Citizens' Assembly on Drugs Use has begun considering recommendations to reduce the impact of illicit drugs on society following almost 200 hours of presentations and discussion.
As the fifth meeting of the assembly closes, members will now consider issues they have covered since they first met in April and agree on recommendations to submit to the Oireachtas.
The assembly has heard presentations on the criminal justice system, legalisation, decriminalisation, depenalisation, and the harms caused by illicit drug use.
It has also heard from people who have said they use drugs but do not experience harm.
The next stage of the Assembly will be agreeing on recommendations which will be voted on at the end of the month.
Those recommendations will form the basis of the Assembly's report which will presented to the Government.
Chairperson Paul Reid said while assembly members arrived at the process with different views, many had changed those views since the first sitting six months ago.
It is now crunch time for the 99 randomly chosen members of the public who were given the task to issue recommendations for the Government and the Oireachtas.
---
Read more: CMO expresses 'great concern' over cannabis use in Ireland
---
Assembly member Aveline O'Neill noted a 'weight' in the room in Malahide today, as assembly members moved to the next phase.
"Each week as we move further along in the process, the discussion that the table gets a little bit more...not aggressive, but a little bit more weighted," she said.
Ms O'Neill, who is among the younger cohort of members, described the process as enjoyable but challenging.
"I learned lots. There's been difficult days as well," she said.
"We've had lived experience stories, really hard-hitting stories from people with backgrounds that I never would have even realised before and we've had very information-heavy days.
"We've had experts, professors, doctors, so it's been well-rounded. It's been challenging".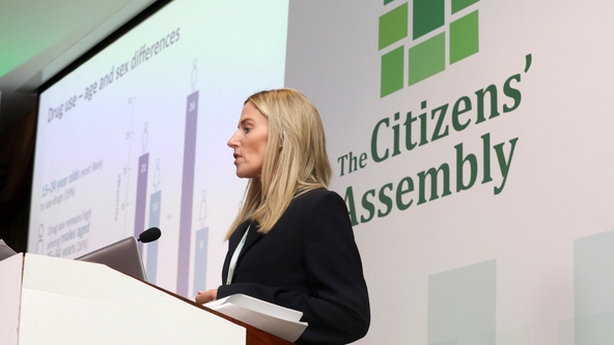 Few members had the additional challenge of having a newborn baby in tow, which was the case for Abigail Akin-Laguda who lives in Sligo.
Ms Akin-Laguda was keen to become involved because she works in mental health services in Sligo and has had a lot of first-hand experience in the area.
What she was less aware of was the amount of additional work members take on which lands as documentation in the members area of the website, which they are asked to read.
"Even though there's a lot being shared at the weekends, there's a lot more that goes outside of the weekends," she said.
"I suppose we didn't realise how big a commitment it was, but then again, I suppose it is a very big topic to deal with, so on the balance of it I think it's fair."
Her involvement in the Assembly has shown her that there are many services available, which she was not aware of, because she is based in the west.
"It's interesting to see how very different it can be depending on where you are, which on one side it's a bit sad, but on the other side it gives us the opportunity to actually support, you know, an all-island approach in terms of care and support," Ms Akin-Lagunda said.
"So, my views really haven't changed but my knowledge based on what's happening - the programmes available, the amount of voluntary work and a lot of good things that's going - and I'm taking that away with me."
Views change
Kieran O'Brien says his views have changed since he started the process back in April. He says he has moved from the view that the law should be liberalised to a society that intervenes before the harm is done.
"I definitely would have been kind of more about removing some of the laws," he said.
"But now looking at the overall context, I think that it's the law that is actually getting in the way of the process.
"The process might be more, in my view, about helping people before the fact - so prevention. Putting the money with young children and families in the communities."
For Brian Dolan, the Citizens' Assembly has solidified that successive governments have stagnated when it comes to problems around drugs use.
"I think we've kind of found out that the current legislation of criminalising drug users stigmatises them, creates shame, and it's something we absolutely need to get away from, as it's very damaging to the individual and society as a whole," he said.
In relation to recommendations, Mr Dolan referred to a presentation to the Assembly by Dr Ian Marter from Maynooth University, who told them to be bold and brave in their recommendations.
"Hopefully some of that will be listened to because it desperately needs to be", he said.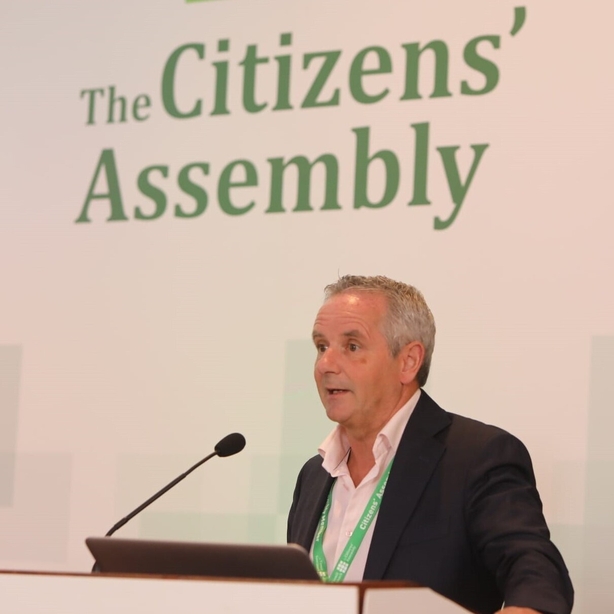 Assembly Chairperson Paul Reid commended the "work and commitment" of its members.
"Between now and October they'll be working collectively with us in designing the ballot paper, putting their input into the areas that they feel are important", he said.
There is no limit on the number of recommendations, however, Mr Reid has said he is keen they will be "very focused" to make an impact.
"We want them to make an impact and we want their recommendations to be adopted by Government and the Oireachtas", he said.
Asked what the former head of the Health Service Executive has learned about drug use, he said he was "really privileged" to chair the process and the assembly members.
Mr Reid said each assembly member had come with a different view but he said they were all learning and changing their views over the course of the process.
"I certainly am in that same process because you learn each more each time and your view does shift. So, nobody has fixed their view at the start of this and at the end of it," he said.