The Irish Government is 'unlikely' to expand defence forces participation in European defence capabilities cooperation until next year, RTÉ News understands.
The decision was taken following an evaluation towards the end of the summer of the State's current involvement in the EU's defence cooperation programme known as PESCO (Permanent Structured Cooperation).
PESCO projects are designed to facilitate greater collaboration between the EU's national defence forces when it comes to investing in and developing military equipment.
Ireland's involvement in PESCO has surged in the past two years, from a starting position whereby the defence forces were participating in one project and were observers in nine others, to the current level of involvement where there is participation in four projects and observer status in 21.
The four projects in which Ireland is participating focus on the upgrading of maritime surveillance, cyber threats and incident response information sharing, maritime drones for mine countermeasures and deployable military disaster relief capability.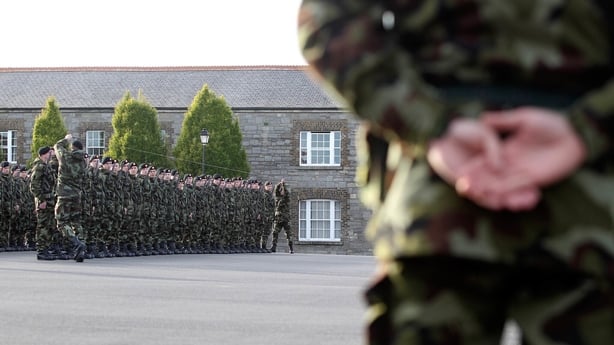 Since June, Ireland has joined two PESCO projects as an observer, one on critical seabed infrastructure protection, and another on a European network of logistic hubs.
The Government's approach is to enter projects as observers to test their value and feasibility, before deciding whether or not to upgrade to full participation, officials say.
It's understood that there had been an expectation that the defence forces would recommend moving from observer status to full participation in a number of projects following the review this summer.
"That has not happened," a source told RTÉ News.
It's understood that the Defence Forces, who provide the expertise on what capabilities are required, have recommended that Ireland withdraw as observers from one PESCO project, and remain in the other 20 for a further 12 months.
Despite the pause, there is an expectation that the Defence Forces will recommend to the government an upgrade to full participation next year in a number of projects. While observer status need only be approved by the minister, full participation requires the approval of the Dáil.
A number of collaborations to which Ireland had observer status are understood to have been slow to be fully operational following the Covid-19 pandemic.
The State's increased involvement in PESCO projects is partly linked to the capability gap as identified in the report of the Commission on the Defence Forces, including maritime security, say officials.
In its response to the report in March 2023, the Government recommended deeper involvement in PESCO projects.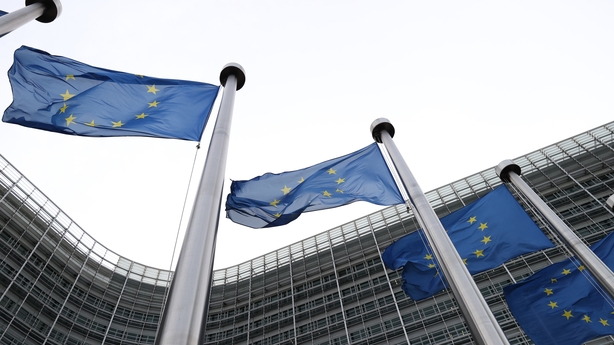 Following the seizure of €157 million worth of cocaine from the MV Matthew cargo ship by the joint Revenue, Garda and Defence Forces task force, Minister for Justice Helen McEntee dismissed suggestions that Ireland had become a soft target for drug smugglers given the shortage of naval patrol vessels.
"What's clear from this week's find is that Ireland is anything but a soft touch," Ms McEntee told RTÉ News on her arrival at a meeting of EU justice ministers in Brussels.
"This was an operation led by An Garda Síochána working collaboratively with our defense forces, our naval services, revenue, customs, but also with intelligence from our counterparts across the water and right across Europe. What it shows is that we are very much in the game, that we're very much part of a joint effort to take down these organised crime gangs."
PESCO projects, which involve individual member states coming together to develop military technologies, are coordinated by the European Defence Agency (EDA).
The EDA also runs its own joint defence procurement projects.
In July, the Government sought Dáil approval to participate in four EDA projects to procure chemical, biological, radiological and nuclear protective equipment, as well as soldier equipment, ammunition and other capabilities related to cyber defence.
That brought Ireland's participation in EDA procurement projects to 11. The State joined the EDA in 2004.
On Thursday, Tánaiste Micheál Martin met the chief executive of the EDA Jiří Šedivý, in Dublin as part of a routine tour of EU capitals.
It's understood Mr Martin discussed PESCO projects with Mr Šedivý during the meeting.
Following the meeting the Tánaiste said: "Engagement in EDA Projects allows access to training, information sharing and key technologies that we simply would not be able to achieve on our own. Ireland will continue to use all opportunities to enhance and develop Defence Forces capabilities through the EDA.
In a statement Mr Šedivý said: "My visit to Dublin is particularly important as the cooperation between the Agency and Ireland has been growing.
"Over the past few years, Irish participation and interest in the EDA has only increased and I believe there are further opportunities ahead to deepen the Agency's support to Ireland. The recent signature by Ireland to join EDA's ambitious collaborative procurement projects is a testament to EDA's tailored support on offer to all its member states."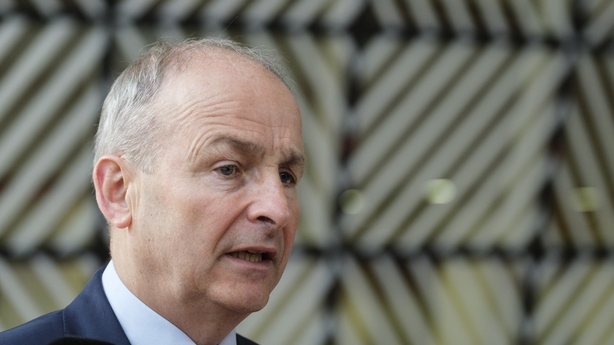 Member states participating in PESCO projects have agreed to meet 20 binding commitments.
These include increasing defence budgets in order to fill capability gaps, increasing collaboration with member states, and committing to "a future European Defence Fund in multinational procurement with identified EU added value".
In 2017, EU member states agreed to coordinate information on their defence capabilities in order to encourage more cooperation on planning and procurement.
Under the so-called Coordinated Annual Review on Defence (CARD), each member state would voluntarily set out where capability gaps existed and assess with the EDA and EU Military Staff where cooperation between member states might be appropriate and to help them meet their binding commitments.
However, in the most recent CARD report, approved by EU defence ministers in November 2022, it was found that most participating member states still implement their procurement plans nationally, with only 18% of all investment conducted in cooperation with other member states.
The report found that capitals tend to consider cooperation only if it is aligned with national plans, benefits national industry, or consolidates a strategic partnership and that cooperation was "the exception rather than the norm".
"Many member states regard European collaborative approaches as more time consuming and complex, and often opt for national solutions or non-EU suppliers. Cooperation primarily takes place among neighbouring member states in existing cooperation frameworks, while broader European collaborative approaches are usually not preferred," the report stated.
Furthermore, a report to member states by the EU's foreign policy chief Josep Borrell, published last week, found that while PESCO projects had "continued to demonstrate their value" in the light of Russia's invasion of Ukraine, structured cooperation among member states was "not yet used to its full potential."
Under PESCO, member states also produce annual National Implementation Plans (NIPs), to show how they are meeting their binding commitments.
In his report to member states, Mr Borrell said the national plans were "[beginning] to reflect the implications of the profoundly altered security environment across all five areas: spending, planning, operational dimension, addressing capability shortfalls and strengthening the European Defence Technological and Industrial Base (EDTIB)."
The Government approved membership of PESCO in 2017.
In 2021, the then minister for defence Simon Coveney told the Dáil that its objective was to "generate coherent defence capabilities which will be available to member states for national and multinational peacekeeping and crisis management missions and operations under UN, EU or NATO leadership."
A second strategic review of how PESCO projects have been operating across the participating member states will be published in November.