With this year's Leaving Cert results out on Friday there will be much talk about points and college places, but for many, an apprenticeship will be the path they choose.
That's what 21-year-old Ciara Harrington decided to do when she "followed her heart" to do a hairdressing apprenticeship.
"When I told a lot of my friends or some family members, they all thought, 'Oh, you're doing hairdressing?' and for me it was a bit frustrating," she said.
"Then I was a bit scared and I was thinking, 'Is it the right thing to do and not go to college?' But now I'm happy with what I chose. I am where I'm meant to be."
The National Hairdressing Apprentice Programme launched in 2019. It is the first nationally recognised hairdressing qualification in Ireland.
In its first year, there were 19 apprentices enrolled in the three-year course.
That number has already grown to 339 and the National Apprenticeship Office (NAO) said there is "huge capacity expected" for further enrollments.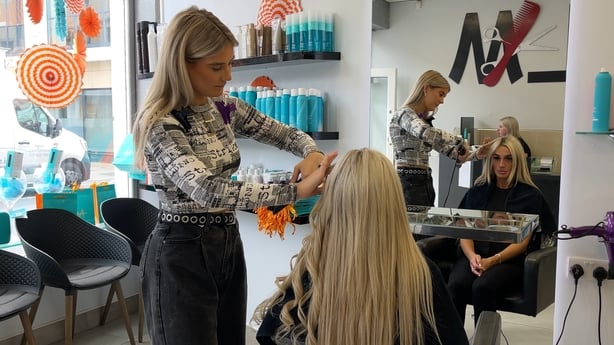 Ciara is a second-year student at Enniscorthy Community College. She finished school in 2020, but due to Covid-19, her year group did not sit the Leaving Certificate examinations.
"Predicted grades did help so much when it came to me because I didn't have the confidence to sit a Leaving Cert.
"Even my mocks, I couldn't make it through them. Teachers were with me trying to stop me from having panic attacks. I was there crying on my paper because I was like, 'I can't do this'.
"I wasn't a book person in school, I'm more creative. I did well in school when it didn't come to exams."
Ciara said she was encouraged to apply to study nursing in college, but "followed her heart" and chose to try hairdressing instead.
"When I was younger, I did a lot of sport and when we'd play matches, I'd do the plaits for everyone, the matching braids, that was part of the sport for me," she said.
Ciara's outlook was straightforward.
"I thought what's the worst in trying? If I don't like it, I can always go back to do something else," she said.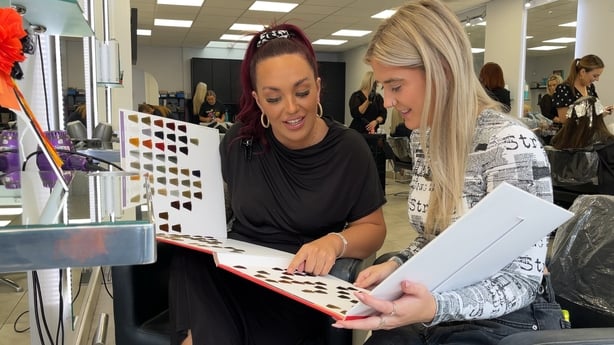 Ciara's mentor Alix Maher has been a hairdresser for 17 years.
"I don't even have my papers to say I'm a fully qualified hairdresser, so that for them is amazing.
"Hairdressing is an art form and wasn't seen that way for a long time so it's amazing now there's actual documentation to say that you've put in your time," she said.
"It's a college programme now. It's not just 'I'll finish school and become a hairdresser' it's now, 'I'm going to put in my time and become amazing'."
NAO Assistant Manager Damian Walshe said they anticipate the numbers enrolling to continue to increase.
He added that the course recognises prior learnings, so if an experienced hairdresser applied, they would not have to do the full three-year course.
Currently, there are 25,000 apprentices in Ireland across 72 programmes. Mr Walshe said they hope to have close to 100 courses available by the end of 2025.
"The apprenticeship model is relevant to every industry you can think of," he said.
"Until 2016, the only apprenticeships available were at Level 6, but now they range out to Levels 7 to 10 so that expansion across those education levels means you can get your degree or your masters through the apprentice model and not just in classroom-based education.
"We're focused on those progression routes for apprentices and we have those add-ons so they can continue education and employment and get their qualifications."
Ciara said the apprentice model suits her.
She said: "I'm doing my job and learning at the same time. I know I did what I should've done and I'm glad I didn't listen to people who said I shouldn't do it.
"I think it should be normalised to not want to do college and to follow what suits you.
"A lot of the people who doubted me in the beginning now want me to do their hair."