Ireland captain Katie McCabe and team manager Vera Pauw have thanked the hundreds of Irish fans who gathered to see them in Brisbane, saying the support they received in Australia had lifted their performance on the pitch.
The duo addressed the crowd from the stage in the official FIFA Fanzone in the city where Irish people who live in the city and those who had been visiting for the game were encouraged to congregate to celebrate the Irish team.
Players posed for selfies and signed autographs, as the crowd cheered and sang 'olé, olé' and 'Come on your Girls in Green'.
McCabe said the fans in Australia had been like the 12th player for the team.
"Your support in Sydney, Perth and Brisbane has not gone unnoticed," she said.
"We see all the craic outside the pubs. We see you having a laugh.
"We feel on the pitch how you cheer us on, keep singing and keep us going for 90 minutes long.
"It means a lot to us. You are our 12th player when we're out there. We love you so much and really appreciate everything you do."
Manager Vera Pauw appealed to the fans to keep up the support during the team's final World Cup game against Nigeria.
"We really feel like we're playing home here," Pauw said.
"Its unbelievable how loud you are in the stadium. So do that again tomorrow please.
"Because it does lift us up and does help us through the game."
Despite the fact that Ireland cannot progress further in the tournament, following losses to Australia and Ireland, fans in Brisbane say they are still looking forward to the game.
"I just think the legacy of this team is going to be an entire new generation of Katie McCabe's or Denise O'Sullivan's coming up through the ranks"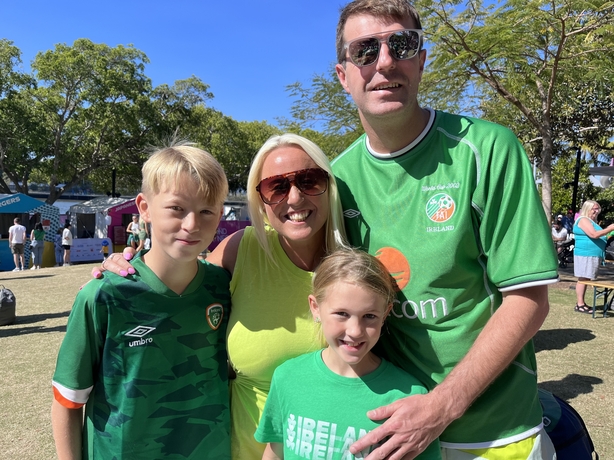 'Loved every minute of it'
Angela Welton and Jeff Hawkins from Edenmore and Harmonstown in Dublin, who travelled with their two young children from Ireland for the World Cup, said they hope Ireland can finish on a high in the tournament tomorrow.
"We've never been to World Cup before, but. It's amazing," Ms Welton said.
"It's brilliant. I loved every minute of it. They've done well. A little bit unlucky maybe in a couple of games.
"Hopefully they finish on a high against Nigeria but by the looks of the game the other night this could be the hardest game in the group."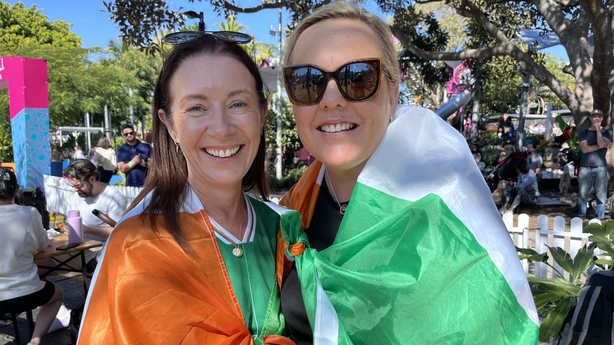 'It was magical'
Siobhan Fitzpatrick and and Adele Quinn from Tipperary have travelled to Australia with their daughters who play football for Cork City and Treaty United in Limerick.
Siobhan says the trip has been worth it to see the response of her soccer mad daughter.

"The excitement on her face," she said.
"She's overwhelmed by it all. She lives and breathes soccer.
"The amount of Irish fans and the amount of people that have travelled. It's amazing to see."

Adele says the tournament has produced some memorable moments for all the travelling fans and she is hopeful tomorrow might produce more.

"To watch Katie score the other night in Perth," she said.
"It was magical. So a win would just be amazing, to go home with a win would be a brilliant."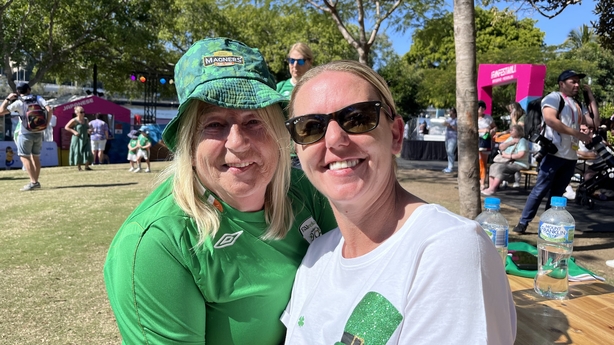 'Trailblazer'
Another mother and daughter who have watched the tournament with more than the average interest is Michelle and Theresa Kane from Finglas in Dublin who are both former Ireland internationals.
Theresa played for the team in 1972 and her daughter refers to her as a "trailblazer"

"As soon as they qualified we were on that plane," she said.
"It's absolutely fantastic to be here. It's a bit of history so they deserve every support that they're getting here today.
"You could just see a sea of green here today. It's brilliant."

Theresa said she never thought she would see an Irish team at a World Cup but that she is delighted to be here to witness.
She also said she takes some pride in paving the way for the team of today

"To see the children growing up and all the little girls that have a great interest in it now," Theresa added.
"They're an inspiration. An inspiration for the next generation and it's only going to get bigger and better.
"The FAI just have to invest, invest, invest. That's it."

Michelle also admits she is envious of the support the team has received when so many womens teams in the past were ignored.

"Definitely jealous," she said.
"I'd love to get my boots on and get out there. They're getting the recognition they deserve and its onwards and upwards from here.
"You can't take anything away from them, they fully fully deserve everything they're getting. Everything."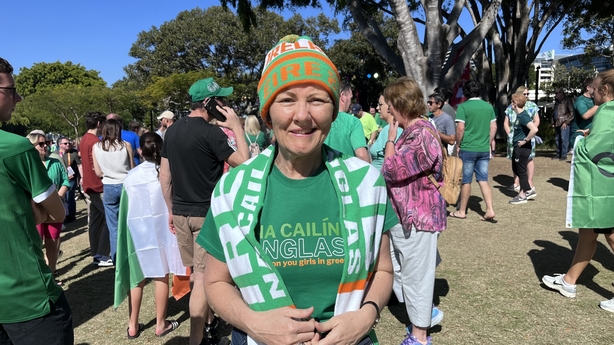 'It's very special'
For Irish people living in Brisbane, the presence of the Irish team and the fact their adopted city in hosting one of their World Cup ties has been important.
Brenda McKeon from Cork has lived in Brisbane for the last 15 years.

"I'm loving it," she said.
"Loving the vibe that's going on at the moment here with the team."

Lorraine McCann who has lived in Australia for 30 years and travelled from Sydney to Brisbane for the game, gets emotional as she speaks about the significance of this World Cup for older ex-pats here.

"We never got to have a World Cup at home," she said.
"My mam is gone now. But during the World Cups they used to send me parcels every time.
"So it's very special to have it down here, a World Cup. And for it to be the women."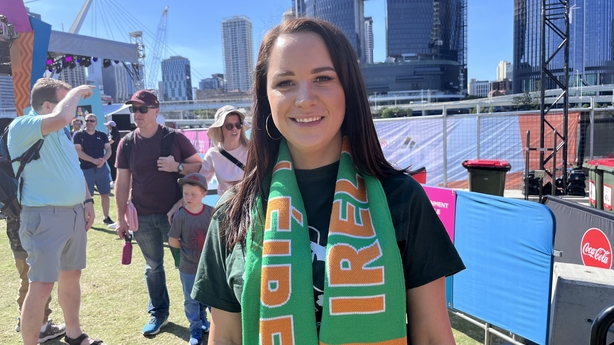 'Huge pride'
Nicola Holly from Tralee, President of the Irish Support Association of Queensland, said despite the results, the community are still looking forward to tomorrows game against Nigeria

"There's been a huge civic pride amongst the Irish community in Brisbane," Nicola said.
"The fact that we've actually hosted the team here over the past couple of weeks.
"And I think especially with the international border has been closed in Australia for so long, it's like Christmas, honestly, it really is.
"I think the fact that so many people came down here today is a clear demonstration of what it means to them.
"They're the only team that have come down to the fan zone and I think that's extraordinary itself.
"The fact that they took time out of their day, like their schedule is absolutely crazy. To the people here it means the world.
"The game tomorrow it's like the last hurrah because you know they're going back to Ireland this week. So it will be lovely to give them kind of a nice community send off."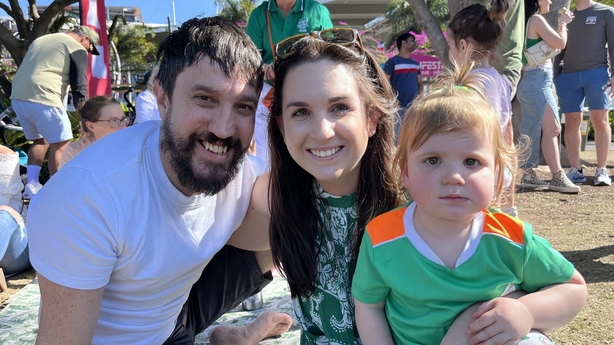 'Big for Brisbane'
Siobhan McDonnell from Brisbane sits in the grass with ber daughter Molly Ryan.
Her husband is from Dublin, her parents hail from Roscommon and she said the World Cup has been a landmark occasion for her native city.

"It's big for Brisbane to get big international events like this," she said.
"The Irish community in Brisbane always turn out in droves and it's great to see them do it for women's sport.
"We've been attending men's sport and Irish rugby matches in the league for years. So to get to support the girls in green is amazing.
"They've done phenomenally, look they had the group of death from the get go and they definitely haven't let the country down.
"I think everyone's just so proud to even qualify for a World Cup, it has been unreal."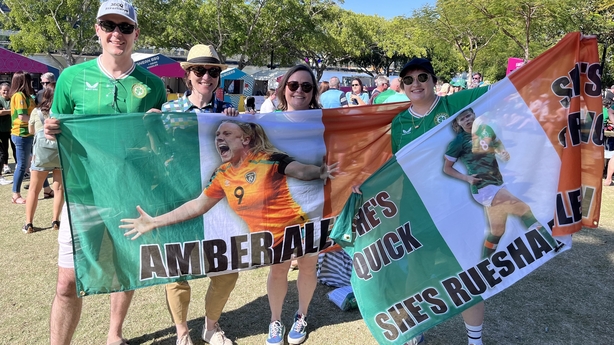 'Lasting impact on young women'
As Irish fans prepare to pack their bags to return home, many also spoke of the legacy this team has left for Irish football and for womens sport as a whole.
Jen Breen from Kerry, who travelled with her friend Rochelle McHugh for the tournament, says this event will have a lasting impact on young women in Ireland.

"I just think the legacy of this team is going to be an entire new generation of Katie McCabe's or Denise O'Sullivan's coming up through the ranks," she said.
"You have little girls that are at home now that are seeing Katie McCabe scoring a goal at the World Cup.
"You know, they're seeing that and they're going, 'I can do that now'.
"So I think it's up to maybe the FAI and different grassroots levels to just go with that now and get the girls involved.
"Obviously, it's really hard because Ireland is such a small country and we have so many different other sports that we play, but I think now's the time to get those girls involved and make sure that their talents are nurtured and that they're looked after."
Linda Gaffney from Dublin agrees.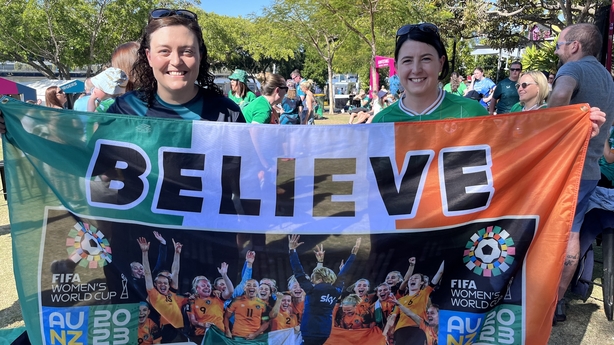 "I think that girls were pretty brave to stand up on that day a few years ago and ask for equal treatment and ask for the support that they deserve," she said.
"And now I think it's on all of us as the Irish public to get behind them and cheer on the phenomenal performances that they have put in so far.
"We're hopeful this will impact on every other sport in Ireland because we have some phenomenal female athletes, and they haven't always gotten the recognition that they deserve.
"So it's not necessarily just about football."

Lorraine Hession from Galway teaches in Dublin's north inner city.
She said there are a number of young girl in her school in Georges Hill who she believes will play for Ireland in the future.
This group have been the perfect role models for them," she said.

"They look up to the Irish players. They're an inspiration to them.
"And a lot of them are from areas in Dublin. They look like them. They talk like them and so they can relate to them.
"It's just brilliant for them."