It was the end of an era this week, with the closure of the last briquette factory in the country.
This week, after more than 60 years in production, the conveyor belts at Bord na Móna's Derrinlough facility in Co Offaly came to a permanent stop.
A factory that kept fires going in the hearths of many Irish homes is no more.
It was the last surviving briquette factory of four operated by Bord na Móna, the others being Lullymore, Co Kildare, Croghan, Co Offaly and Littleton, Co Tipperary.
Work began on the construction of Derrinlough in 1957 and was completed in 1959.
The factory, which cost £1.25m to complete, produced its first briquettes in December 1959.
The move to close the last remaining plant was brought about by a drive to lower carbon emissions.
While the closure was inevitable after a decision to end peat harvesting in 2021, it came sooner than people expected.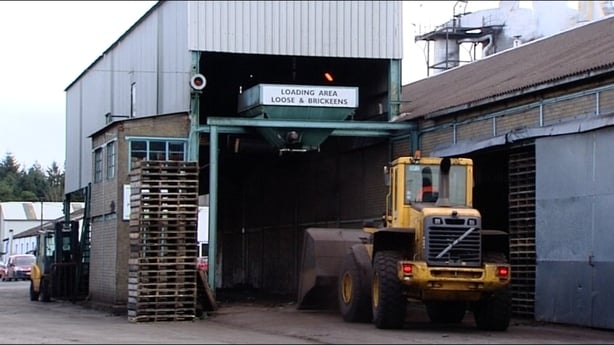 The plant was due to close in early 2024, but that date was moved forward due to maintenance costs and the quality of the remaining stockpiled peat.
"We all knew this day was coming but we were first 2030, then it was 2024 and then it was accelerated to June 1st, it's only sinking in with the workers now," said Ronan Boylan, who has worked at the Derrinlough factory for the last 14 years.
"There is a lot of upset and anger that it's come this quickly.
"This factory started in 1959. We have some third generations of workers here. Their fathers and grandfathers have worked here. We don't know what the future holds now.
"We've been listening to lots about Just Transition but there doesn't seem to be anything just coming here for workers on the ground."
"It's going to be a huge loss to the area," said Anthony O'Rourke, another worker.
"It's going to affect everyone. We're the ones who spend in the hardware stores, we spend in the shops. It will hit everyone," he added.
The Derrinlough closure marks the exit of Bord na Móna from the fossil fuels business.
For decades, however, it was a key component of Ireland's energy supply. Briquettes have been made in Ireland since the mid-19th century.
Production was ramped up to counter fuel shortages after World War II. At its peak, Bord na Móna was producing 280 million peat briquettes a year.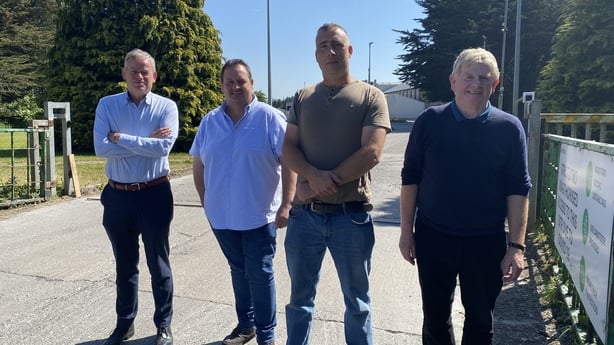 Pat Barrett has spent almost 48 years working in Derrinlough. He said he is worried for the younger men whose future is now very uncertain.
"We saw a lot of changes down through the years but now the factory is gone," he said.
"There's 62 people working here and we're hearing lads are being redeployed, but we're hearing they have to work more hours for less money. That shouldn't be the case. These lads have given their lives to this place.
"This Just Transition fund doesn't apply to Derrinlough seemingly, yet everyone and anyone is getting money from it, but when it comes to the nitty gritty, we're being left behind.
"At this stage of the game, the factory is closed, people don't know where they are going and as far as I'm concerned everything is up in a heap."
In a statement to RTÉ News, Bord na Móna has said that decommissioning of the briquette factory has commenced and will take a number of months to complete.
It said it is exploring alternative options for the future use of the site.
It said the closure of Derrinlough "marks the final stage of the company's wider commitment to cease peat harvesting in 2021, exhaust existing peat stocks for briquette production and complete its transitions from a traditional peat business to a climate solutions and renewable energy company".
The company added that it is "fully committed to supporting all impacted employees and has implemented a redeployment strategy to provide alternative positions and retraining opportunities within the wider business".
It said all impacted employees have now been redeployed across Bord na Móna's renewable energy, land and habitats and recycling businesses.
Bord na Móna said as part of its "Brown to Green" strategy it is now "entirely focused on renewable energy generation, recycling peatlands restoration, biodiversity and the development of new local carbon enterprises".
SIPTU and Bord na Móna are awaiting the outcome of an internal industrial relations process involving the Joint Industrial Council.
"We're waiting on a recommendation. I expect that early next week. Until then, we're still in limbo, trying to save as many jobs as possible through redeployment but there are issues with that and people being asked to work for lower rates and for longer hours and that has to be sorted out," said Adrian Kane, Divisional Organiser for Energy at SIPTU.
He said: "These people are paying the ultimate price in the face of the climate crisis. It's people in Bord na Móna and ESB who have lost their jobs.
"It's even harder to take when they see foreign briquettes coming into the country and that sticks in people's craw to be quite honest.
"But we will fight on to ensure people get decent redundancy terms and try get replacement jobs of an equal value to those that have been lost."
As the workers in Derrinlough plan their future, the plumes of smoke behind the evergreens on the Cloughan to Birr road will no longer be seen, the Irish peat briquette now consigned to history.