Farmers and agricultural operators are being urged to remain vigilant using heavy vehicles on public roads as silage season is now in full swing.
With good weather continuing, this weekend is expected to be one of the busiest for cutting and moving silage to farmyards.
Road users are also being urged to be aware of the chances of encountering large machinery over the next few weeks.
The first job of the day for Kildare based agri-contractor Michael Quigley is to put warning signs on the roadside, by the field gates where he and his drivers are drawing silage for a local farmer.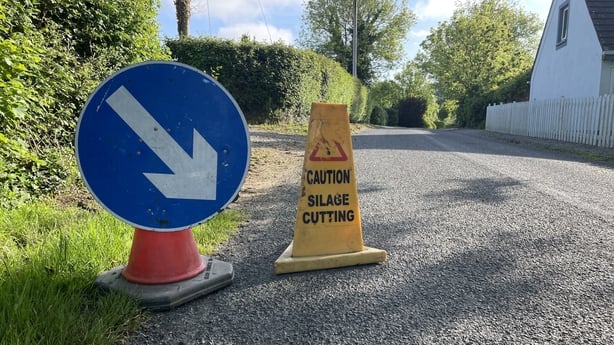 After a wet spring, which has left contractors still catching up on delayed planting, and first cut silage now flush in the fields, it's an extremely busy time for Mr Quigley but caution in his work is key.
"We put up cones and signs on the road and we try and have trailers well lit up with beacons. The drivers are experienced and aware of what's going on. You always have to watch out for the unknown. We are always on the road.
"The roads are very busy now no matter where you go. I suppose tractors and trailers do hold up traffic but we have to do our job too and we're trying to be as safe as we can on the roads," he said.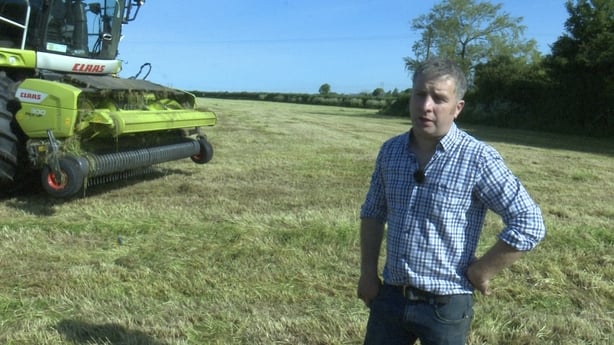 Driving large machinery, such as tractors and trailers up to 20 tonnes in weight when fully loaded, requires skill and experience and Michael's drivers have been with him for years.
However, he said that other road users need to be aware and prepare to give way to agricultural machinery at this busy time.
"If you see a tractor or a trailer, just be aware, you don't know where he is going to turn in or where he is going to come out of. Just be aware it's silage time, the silage is in full swing this week, last week and next week. It's the busiest time of the year for contractors," he said.
The safety message for all road users is being reiterated by State agencies and the Government. Collisions with large machinery take place every year and smaller vehicles invariably come off worst in those events.
The Minister of State with responsibility for farm safety Martin Heydon is urging all road users to be patient during this busy period.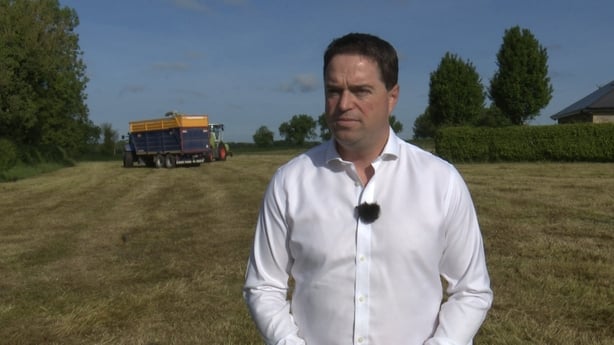 "The general public need to be aware and to allow for the fact that it is a really busy time.
"Farmers and contractors are very conscious of other road users but there will be that little bit of extra activity on the roads, particularly on rural roads and we want to make sure we get through this season with everyone remining safe, by everyone slowing down, and making sure we have proper signage at work locations."
In recent years there has been controversy when videos showing young men engaging in dangerous behaviour while using agricultural machinery were posted on social media.
That practice is illegal and Minister Heydon emphasised mobile phones should never be used while driving any vehicle or machinery.
"The rules of the road apply to everyone, we have a zero tolerance for use of phones while driving. It's an exciting time on farms with silage season but we have to keep safety foremost in our mind, identify risks and mitigate them," said Mr Heydon.
Michael Quigley agrees mobile phones and making videos should be left aside when driving machinery.
"There is a lot going on when a driver is driving his tractor and he should concentrate on what he is doing. There is no point being on the phone, or putting all this stuff up on TikTok. It's not in order," he added.