Climate change is not a future problem for the idyllic, tourist hub of the Seychelles islands. It is jeopardising land and lives right now across the African nation.
Rising and rougher seas could put most of the country underwater in a matter of decades and changing weather patterns could leave the rest uninhabitable.
Those living on the islands off the Kenyan coast are already noticing the difference.
"Our fence lines ... we've had to move two metres in because we've lost two metres of land. We're got major erosion on the beaches," said Lisa Laporte-Booyse, marketing manager Chalets d'Anse Forbans on the main island of Mahé.
While Lisa's family have owned and run the hospitality business on the main island of Mahé for the past 30 years, the whole area goes back in history for them to the 1880s.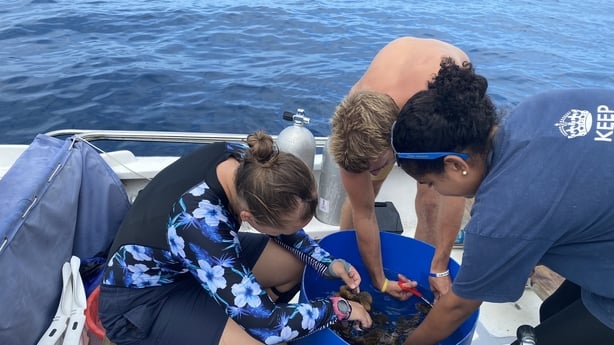 Due to coastal erosion, their family business and family history are under threat. Sand is already scattered across the grass near the chalets, as their accommodation and homes edge closer to the sea.
"As a business, you are worried about how your land is just being eroded away, how your main business, which has been on the beach, and the marine life ... [how are] going to cope? And have a future?" she said.
The main island of Mahé is just one of 115 in Seychelles reporting loss of land.
"When people talk about climate change and they say 'oh, I don't believe in climate change', well my answer is come and live in Seychelles," said Dr Nirmal Jivan Shah, CEO, Nature Seychelles.
As part of his work with Nature Seychelles, Dr Shah runs Cousin Island, which has been a sanctuary for endangered wildlife for decades.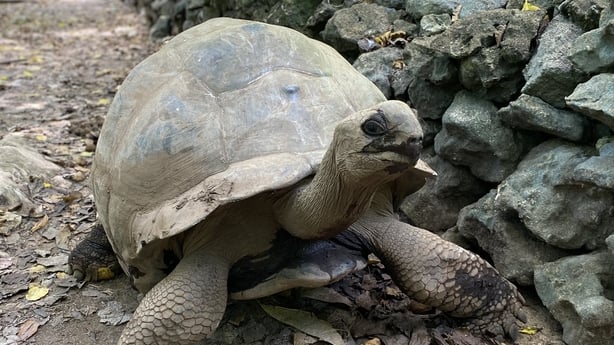 Here, decades old tortoises roam, rare birds nest, and sea turtles hatch and attempt to scamper into the sea.
Tourists can only visit during certain times of the day to ensure the full protection of those who live and flourish there.
Their carbon footprint is also offloaded with the fee they pay to enter the island.
However, the island is itself endangered because of climate change.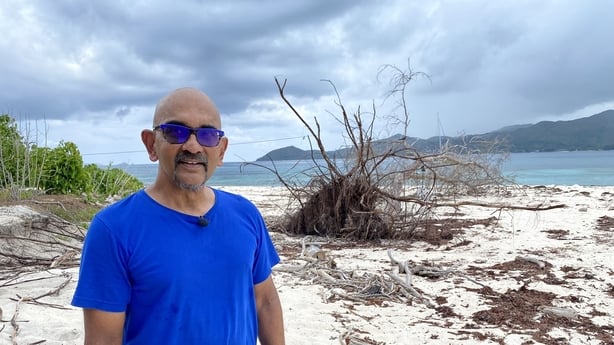 "Where we are standing right now actually, this was a massive beach. The houses where the wardens live were 20 metres from the high-water mark. Today, they are on the edge of the sea," said Dr Shah.
"Our very famous international field centre, which was built in the 70s, is today abandoned because the sea comes right under it. Three years ago, there was a huge field in front of it where helicopters used to land. Now there's none. So, this is climate change."
On Cousin Island, coastal erosion is not the only issue. What Dr Shah describes as "freaky winds" and stormy weather are also having an impact.
For scientist Chris Tagg, one of the very few people who live on the island along with some wardens, he said they are on the front line of climate change.
"It's soul destroying. I mean we're seeing it firsthand here. There are no ifs or buts about it," he said.
The science and conservation officer said that they lost an entire colony of sea birds last year due to stormy weather.
"We've had to translocate a lot more turtle nests this year than in previous years. This is because the turtles are struggling to get up the beaches, the gradient of the beaches has become steeper or there's even now a sand cliff where they can't actually climb it," he said.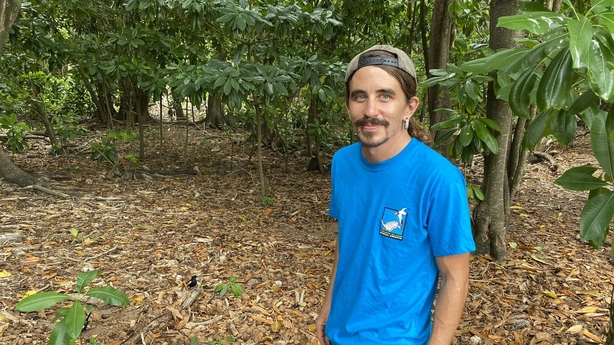 "Some mornings when we've woken up, you're looking at the beach and it looks just like a war zone. Just all the vegetation that's been pulled out has now just washed all along the shore," he added.
Melting ice and the expansion of sea water as it warms are not the only reasons why Seychelles is disappearing.
Another factor is contributing to rougher seas, which are eating away at the land. When it comes to coastal erosion, coral reefs are key. The underwater ecosystem acts as a wave breaker protecting shorelines.
In Seychelles, most are dead, dying or in a weak state.
In 2019, rising sea temperatures caused a coral reef bleaching event in Seychelles. This was the third significant bleaching event to happen in the islands' coral reefs after incidents in 2016 and 1998.
When temperatures are too warm, corals will expel algae causing them to turn white - known as coral bleaching. If it stays warm, the coral will not let the algae back, and therefore die.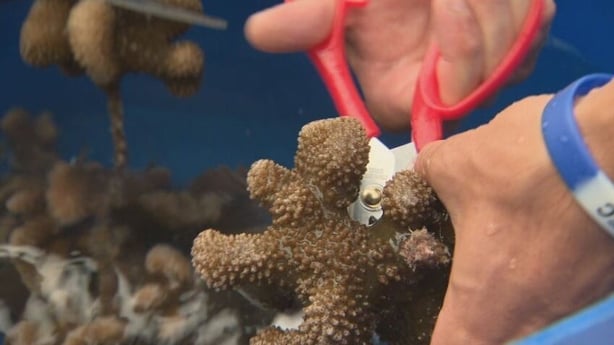 Experts predict that if climate change is not curbed, there will be annual bleaching events around the islands by 2050.
Many coral restoration projects are under way around Seychelles with NGOs and local community groups working to bring as many corals as they can back to life.
Corals that survived previous bleachings are collected, with the hope that they are strong enough to resist future events.
"We collect corals that are strong enough, from reefs that are healthy, and we keep them in nurseries... underwater.
"Once they grow strong and healthy, and once they are mature enough and big enough, we out plant them onto the reef," said Luca Saponari, Senior Science and Technical Field Officer with Nature Seychelles.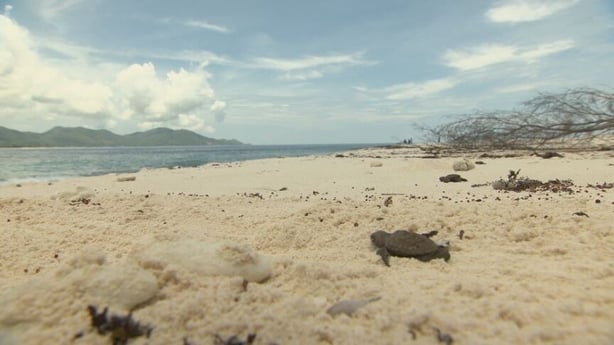 "But it's important to understand that this is not the final solution. Because if we keep boosting and triggering climate change, there will be no chance for us to see the reef coming back," he added.
Reclaiming land would damage coral reefs, that is why the government is so reluctant to do so.
"It is possible to reclaim but it's a give and take," according to Minister for Agriculture, Climate Change and Environment, Flavien Joubert.
"Reclamation means losing your coral reef. It means losing that foreshore area where you have corals, where you have sea grass, where you have a lot of habitats for different species and where you also have fisheries.
"So, reclamation would give you land and would prevent degradation in some instances, but it would also lose quite a bit in terms of the natural assets that you have," he said.
As a result, flood barriers are now common sights across the islands.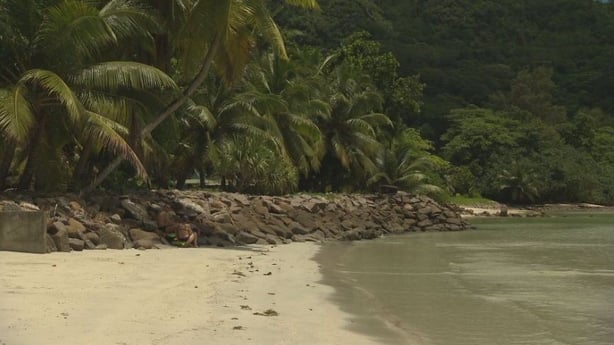 Rocks have been piled high or concrete walls have been constructed to protect vital infrastructure such as homes, businesses and roads from flooding as the water creeps further up the land.
"In my lifetime, I have seen beaches disappear, never to be seen again," said Dr Shah.
"I went to a beach three weeks ago and there was a wall on it. That's going to be our future. We're going to be ringed by a massive wall," he added.
A collective effort to combat change is the only way to reverse this trend and save the islands, according to Dr Shah.
"We've put ourselves in front of forces that we cannot master or we cannot control, and the only way to do it is to reduce emissions," he said.
We need your consent to load this rte-player contentWe use rte-player to manage extra content that can set cookies on your device and collect data about your activity. Please review their details and accept them to load the content.Manage Preferences
This article was supported by a grant from the Simon Cumbers Media Fund