72% of farmers consider their farm economically sustainable, an increase of 18% in two years, according to the latest AIB Agri Tracker Survey.
The survey of 1,022 farmers was conducted by IPSOS, a global market research group, between September and December 2022.
The reports states that 38% of farmers are very or fairly optimistic for their business over the next three to five years, an increase of 7% on 2021, while 42% are not sure and 20% are very or fairly pessimistic.
As many as 65% of respondents are planning on investing in their farm in the next three years.
According to the report, 45% of respondents plan on upgrading machinery and 42% plan on upgrading existing infrastructure.
In terms of investment, the report states that 33% of respondents planned on investing in compliance requirements and 30% plan to invest in improving biodiversity and reducing their carbon footprint.
34% plan to introduce labour-saving technology, the report stated.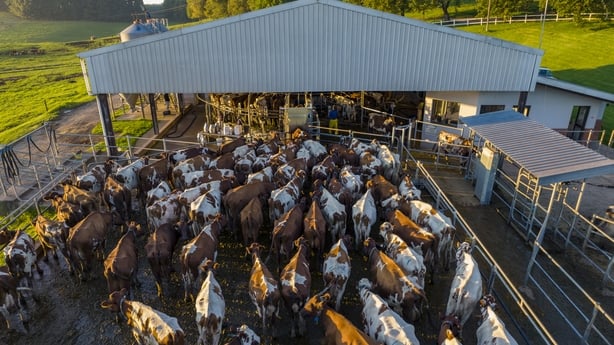 Overall optimism among dairy farmers is much higher, with 65% stating they are very or fairly optimistic, up 13% in a year, while 68% of commercial dairy farmers are optimistic, up 16% from last year.
The survey period takes into account significant cuts to milk prices experienced since the beginning of 2023.
According to the report, 60% of farmers believe improving the environmental sustainability of their farms would have a positive economic impact on their income, 16% said it would have a very positive impact, while 44% said it would have quite a positive impact.
However, 24% of farmers felt improving environmental sustainability would have quite a negative or very negative impact on the income of their farm.
In the report, 74% of respondents cited rising input costs, including feed and fertiliser, as a key challenge.
37% referenced bureaucracy, regulation and compliance as a challenge and 36% mentioned the environment, weather and climate change as a challenge, according to the report.
AIB Head of Agriculture Donal Whelton said: "Unsurprisingly, rising input costs were high on the list of farmers' concerns in 2022, however, it is encouraging to note that optimism has increased among farmers with this reflected in increased numbers looking to grow their business and also more confidence in the sector, translating into two thirds of farmers planning to invest in their farm over the next three years.
"Another interesting finding in relation to sustainability was that over 72% of farmers considered their farm economically sustainable and over 60% of farmers felt that improving environmental sustainability on their farm would have a quite positive or very positive impact on farm income," he added.
Mr Whelton was hopeful about environmental sustainability in the agri-sector following the publication of the report.
"With an ambitious emission reduction target for the sector to 2030, the survey highlights the commitment of farmers to continue on the journey to a greener future for the agri-sector," Mr Whelton said.