Farmers accepted into a new solar energy scheme can benefit from 60% grants up to a maximum of €90,000.
The Solar Capital Investment Scheme encourages farmers to become more energy independent by installing rooftop solar panels and batteries.
But the scheme has been criticised as farmers cannot get paid for surplus power they send to the national grid.
The farming sector has to reduce greenhouse gas emissions and become more environmentally sustainable and one way to do so is by installing solar panels on the roofs of tens of thousands of farm sheds around the country.
Chairman of the Oireachtas Agriculture Committee, Deputy Jackie Cahill said the fact farmers can't sell surplus power is going to be a disincentive for some.
"This is going to be an obstacle, especially for beef farmers who would have low usage of electricity on their own farms," he said.
The Agriculture Committee highlighted the issue as they published a report on solar energy in the sector.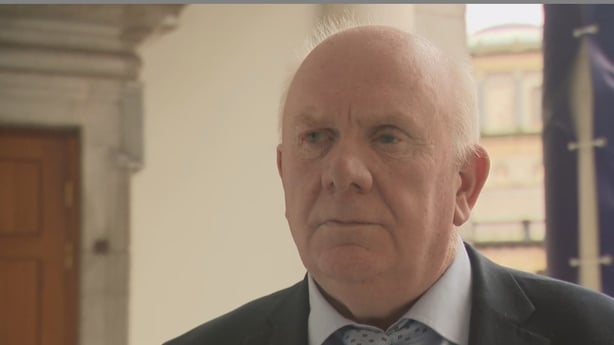 Sinn Féin TD Matt Carty was rapporteur for the report.
"Any other sector that avails of grant schemes that are in place can sell their excess electricity into the grid. That's the entire purpose of those grant schemes.
"What we are asking the Minister to do is to ensure the Targeted Agriculture Modernisation Schemes (TAMS) is amended to allow excess power generated to be put into the grid. That makes sense from every perspective. It improves farmers' incomes but it also insures we are not losing electricity while we are importing huge amounts of fossil fuels," he said.
ICMSA president Pat McCormack said it's imperative the selling ban is removed.
"We want to see farmers embrace micro or renewable energy in the form of solar panels in particular where there is a minimal environmental impact, but in order to do that they need to be in a position to obtain any benefit there is from surplus energy produced on farms."
Prior to the introduction of the new grant scheme Mr McCormack, a Tipperary-based dairy farmer, installed panels on one of his farm sheds. Despite the scheme's shortfall, he welcomes its introduction.
"The 60% grant aid is a step in the right direction, but it is only a step. The sale of surplus energy to the national grid would be a huge addition."
In a statement to RTÉ News, the Department of Agriculture said: "TAMS grants are co-funded by the EU and it is a requirement of the EU regulations that all energy generated is used for on-farm purposes only."
The statement asserts that the 60% grant of the cost of installation is generous and gives the lowest possible payback period compared to other incentives.
It further states that, "farmers installing TAMS funded solar panels are free to install additional solar panels at the same time and avail of market supports for the additional panels if they wish".
However today, the Micro Renewable Energy Federation (MREF), which represents solar installers insisted farmers could get paid for surplus power generated in certain circumstances.
Pat Smith of MREF said its clear understanding is that subject to the condition that the quantity of the electricity generated annually from the solar PV system is less than the quantity of electricity consumed annually on site, it is permissible to receive payment from the electricity utility company for electricity generated at off peak times when it exceeds the onsite demand.