Estonians go to the polls on Sunday, 5 March to vote in their country's parliamentary election after a campaign dominated by the cost-of-living crisis and Russia's war in Ukraine.
Current Prime Minister Kaja Kallas has been one of Europe's most vocal critics of Russia's invasion of Ukraine, drawing international attention to the small Baltic state of 1.3 million people.
Ms Kallas became prime minister in 2021 and her centre-right Reform Party currently leads a three-party coalition government, along with the smaller Social Democratic Party and conservative party, Isamaa.
Though Reform gained the largest number of seats during the previous election in 2019, it was unable to form a government on that occasion.
The far-right EKRE and the Centre Party managed to cobble together a coalition which collapsed in January 2021, making way for Ms Kallas to form her government.
"Reform is a very established party with a loyal electorate. Its voters [come from] a cross-section of society, and are usually more economically well off," said Tonis Saarts, a political scientist at Tallinn University.
The latest poll published yesterday, placed Reform at 28% support with its nearest rival, EKRE on 21%.
Estonia, a member of both NATO and the European Union since 2004, shares a 300km border with Russia and was occupied by the Soviet Union until it regained its independence in 1991.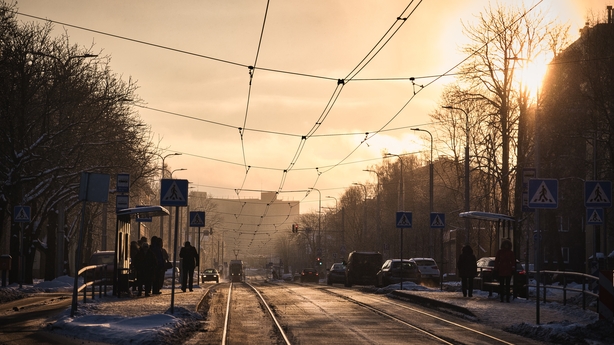 Who is Kaja Kallas?
Ms Kallas, who previously served as an MEP from 2014 to 2018, comes from a political family.
Her father, Siim Kallas, was prime minister briefly from 2002 to 2003.
"Out of recent prime ministers, she is the most competent that we have had foreign policy-wise," Catlyn Kirna, a lecturer in International Relations at Tallinn University told RTÉ News.
Ms Kallas's family history offers a glimpse into the harsh reality of Estonian life under Soviet rule.
In 1949, Soviet authorities deported her mother (then a six-month old infant), her grandmother and great-grandmother to Siberia, part of Stalin's mass deportation of 20,000 Estonians in the space of two days to what the deportees collectively called 'the Cold Land'.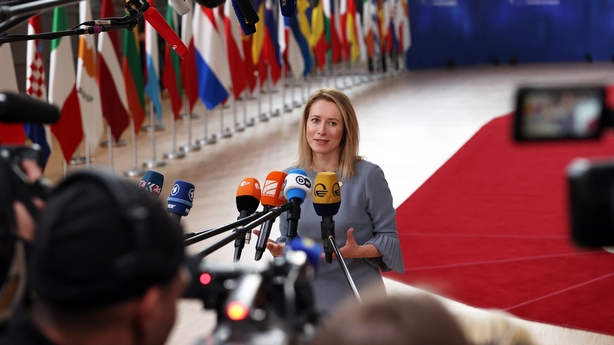 Speaking to the European Parliament two weeks after Russia's invasion of Ukraine, Ms Kallas told MEPs that: "Estonians have some experience in being deported and fleeing wars.
"And we also have some experience with Russia, which we have been trying to share with the EU since we joined."
Ms Kallas's condemnation of Russia's invasion has gained her international attention.
She has been a regular interviewee on CNN, telling Christiane Amanpour last June that Estonia would support Ukraine "for the long haul".
In a May 2022 interview, The New Statesman praised Ms Kallas's uncompromising response to Russia's invasion, labelling her as 'Europe's new Iron Lady', a clear a nod to former British Prime Minister Margaret Thatcher.
Ms Kallas has called for increased expenditure on EU defence, for member states to decrease their dependence on Russian energy and last month told delegates at the Munich Security Conference that Russian war crimes in Ukraine would not go unpunished.
Ms Kirna said that Estonia's prime minister has reflected "the concerns of Eastern Europe" since Russia invaded Ukraine.
"The Baltic States, Poland and Ukraine, PR-wise have been working in unison. We all have the same message, which is about Russia and about Eastern European safety, and Kallas has been very good at it," said Ms Kirna.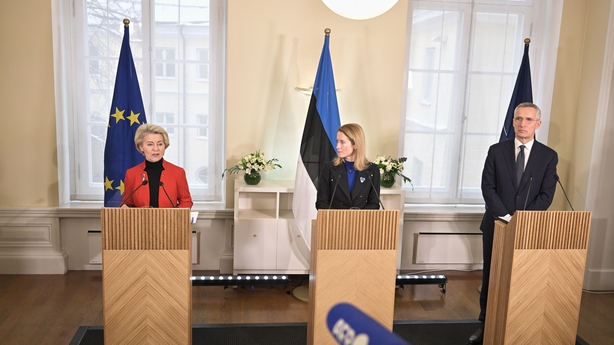 In the Riigikogu, Estonia's parliament, there is broad cross-party support for Ukraine.
Russia invaded Ukraine on Estonia's Independence Day, 24 February, the significance of which was not lost on its citizens.
According to the UNHCR, Estonia has to date welcomed more than 43,000 Ukrainian refugees, equivalent to more than 3% of the country's population.
Ms Kallas's handling of Estonia's response to the war has been well received by voters and national security has dominated the election campaign.
However, like elsewhere in the EU, inflation and high energy prices are key concerns of voters.
Estonia's rate of inflation is currently 18%, which is one of the highest in the EU.
The result of the election is expected to be close, though state broadcaster ERR gives Ms Kallas's Reform-led coalition a five-point lead over a coalition led by the far-right and Eurosceptic party, EKRE.
Estonia has pioneered e-voting too.
As of Friday evening, a third of the electorate had already cast their votes online.