Earlier this week Hungary's ruling party, Fidesz, led by Prime Minister Viktor Orban, announced that it would back Sweden and Finland's applications to join NATO.
The parliaments of all 30 members of NATO must ratify any membership bids to join the alliance.
Fidesz, a nationalist party, enjoys a two-thirds majority in the Hungarian National Assembly and a final vote on the Swedish and Finnish applications to join NATO is expected to take place in mid-March.
Turkey now remains the only holdout on the Swedish and Finnish bids.
Mr Orban said that some members of his party had expressed concerns about extending NATO's border with Russia – a reference to Finland's 1,300km border with the Russian Federation.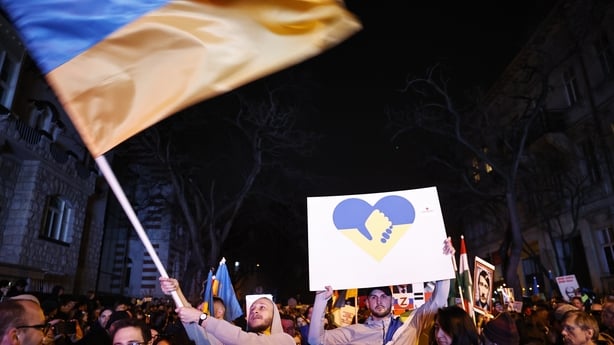 During Mr Orban's State of the Nation address on 18 February, he said Hungary's membership of NATO was vital, but that "the West" had elevated the war in Ukraine to a pan-European level.
Hungary's delay in ratifying Sweden and Finland's membership application is the latest example of the central European country following its own direction when it comes to the war.
A Central European exception
Mr Orban was quick to condemn Russia for its invasion of Ukraine and has said that Hungary respects Ukraine's right to defend itself.
But unlike the eight other members of NATO's eastern flank, Budapest does not support arming Ukraine, nor does it allow weapons to be transported to Ukraine via its territory. Hungary shares a 135km border with Ukraine.
Within the European Union, Hungary is also an outlier.
Since the start of the war, Mr Orban's government has voiced its opposition to EU sanctions against Russia, particular energy-related sanctions.
In December, Hungary used its veto as a bargaining chip to briefly hold up an €18 billion EU aid package to Ukraine.
This was to prevent the EU from freezing Hungary's cohesion funds, tallying €7.5bn.
Budapest eventually dropped its veto on the Ukraine aid package in exchange for the EU to reduce the amount of funds it would freeze.
Despite the rhetoric, Hungary has voted in favour of the EU's ten sanctions packages to-date. Not doing so could cost Budapest dearly in the form of more frozen funds.
Media messaging
In recent weeks, as the first anniversary of Russia's invasion approached, Mr Orban and Hungary's foreign minister Péter Szijjártó doubled down on their "pro-peace" message as Mr Orban labels it.
The Hungarian prime minister's Twitter feed has been active in pushing the country's neutral position on the war.
🇺🇦 is fighting valiantly and they have our full sympathy. But the only thing that can save lives in the #RussiaUkraineWar is a ceasefire. Everything else can be settled later. Read my state of the nation address in full for more details here: https://t.co/kb5AgvHGvr pic.twitter.com/HkEfEXB76m

— Orbán Viktor (@PM_ViktorOrban) February 23, 2023
In mid-February, Mr Szijjártó visited Belarus, an ally of Russia, to meet the country's foreign minister Syarhey Aleynyk.
Hungary's foreign minister said his visit was aimed at conveying "a call for peace."
Despite calling for peace and a ceasefire, Hungary's government has offered scant details on how it intends to create the conditions for peace.
Mr Szijjártó has visited Russia twice since the war began, keeping channels of communication open with the Kremlin.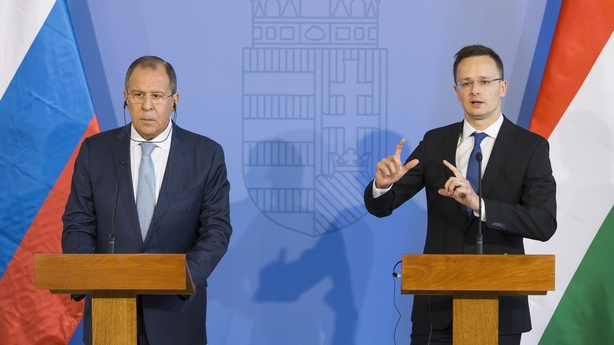 Last July, he met his Russian counterpart Sergei Lavrov to discuss purchasing more Russian natural gas and again, in November, to attend a nuclear energy expo in Moscow.
Shortly afterwards, Hungary signed a deal with Rosatom, Russia's atomic state company, to build two new reactors at the country's only nuclear plant, 100km southwest of Budapest.
In late January, Mr Orban told Hungarian state radio that his country would use its veto again to prevent any EU sanctions against Russia's nuclear energy sector.
Veronika Jóźwiak, an analyst on Hungarian domestic and foreign policy at the Polish Institute of International Affairs, says that Hungary "has developed strong political and economic ties with Russia over the years, and the government is still willing to restore these relations. This is why it is critical of sanctions".
Hungary's energy needs are closely tied to Russia.
The country imports about 80% of its natural gas needs from Gazprom, Russia's state energy company.
Ms Jóźwiak says that Mr Orban would have risked losing his brand, that of a leader "who goes against everybody" if he had decided to change his policy towards Russia at the outset of the war.
"This consistency of his policy [towards Russia] makes him credible in domestic policy. He can't risk losing credibility at home which is the main ingredient of his political capital," adds Ms Jóźwiak.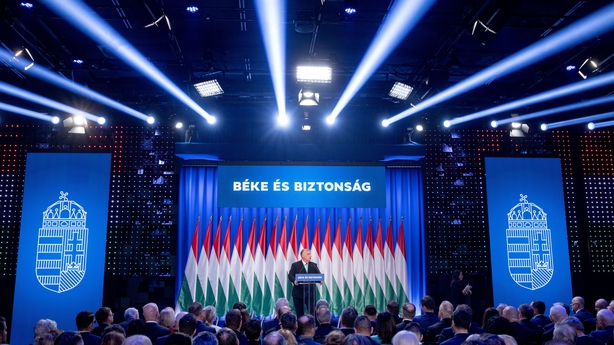 Domestic agenda
Nationalism is the main thread of Mr Orban's speeches when discussing the war.
In his recent State of the Nation speech, Mr Orban said that he believed it was "morally right" for Hungary to stay out of the conflict, and that he was against putting the "interests of Ukraine before those of Hungary."
We respect and help the Ukrainians. There is one thing we won't do: to put their interests ahead of ours. As Prime Minister of Hungary, I am responsible for the Hungarian nation. Therefore we will always put Hungary first! This is my moral compass. pic.twitter.com/MUjvuuzYVf

— Orbán Viktor (@PM_ViktorOrban) March 1, 2023
He also said that sending humanitarian aid to Ukraine – his government has pledged $195 million worth of aid – did not mean "severing our ties with Russia".
Mr Orban went further still, saying that his government did not consider Russia to be a threat to European security.
This is in stark contrast to Hungary's NATO allies, particularly Poland and the Baltic States, which see Russian militarism as a threat to their own sovereignty.
"The neutral rhetoric is more geared at bolstering his popularity at home. He's not Bismarck. He's not some kind of crafty geopolitical genius who's going to solve this war which shows no sign of abating," says Erin Kristin Jenne, a professor of International Relations at the Central European University in Vienna.
Mr Orban has been Hungary's prime minister since 2010 and won four successive election victories.
Even though Hungarians are living with the highest inflation rate in the EU – it's currently close to 25% – support for Fidesz remains high.
The party is polling at 49% according to Politico's Poll of Polls.
As the war in Ukraine grinds on, Mr Orban will continue to try and play the role of middle-man.
Hungary's gamble is based on the belief that economic and political relations with Russia can return to normal after the war ends.
That is a highly unlikely scenario.