Two men who drove a teenager to a house in Drogheda where he was subsequently murdered and his remains dismembered have been jailed at the Special Criminal Court.
Paul Crosby, aged 27, from Rathmullan Park in Drogheda, and 49-year-old Gerard Cruise from Sherard Street in Dublin admitted facilitating the murder of Keane Mulready-Woods between 11 and 13 January 2020.
Crosby was jailed for ten years and Cruise was jailed for seven years.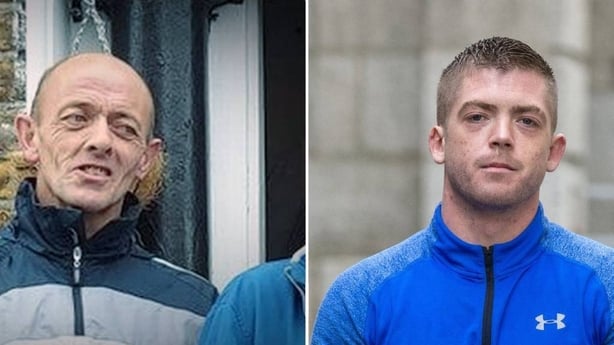 Mr Justice Tony Hunt said today that it was unnatural for any parent to lose a child prematurely and particularly so by the crime of murder, but in this case, he said, the remains of Keane Mulready-Woods were treated in a disgraceful and inhuman way which beggars belief and compounds his family's grief.
Keane Mulready-Woods was lured to a house in Drogheda in January 2020 where he was murdered and his body was then dismembered with hand and power tools.
His arms and legs were discovered in a Puma bag at a house in Coolock in Dublin, his head and feet were found in the boot of a car burned out in Dublin and his torso was found following a search in Drogheda.
The chief suspect is Robbie Lawlor, a senior criminal gang member who was involved in the Drogheda feud, linked to several other murders and shot dead in Belfast in April 2020.
Crosby met Keane Mulready-Woods on the day he went missing, paid the child's taxi fare and took him to a car where Cruise drove them to the laneway at the back of the house in Rathmullan Park where the child was murdered.
Detective Inspector Aidan McCabe said the two men also bought a van in which the child's bone fragments were later found and Cruise provided bags later found at the murder scene, one of which contained a drill.
There was no evidence that Cruise or Crosby were present when the murder took place, but Crosby was in contact by phone with Lawlor who returned to Dublin soon after the murder.
Both men apologised for what happened with Cruise insisting he did not know the child was to be murdered.
'Such a barbaric death totally shocking'
In a victim impact statement, Keane's mother said while it was one of the hardest things to lose a child, "such an inhumane violent and barbaric death is totally shocking".
"You don't get over it, she said, "you don't move on, period".
Elizabeth Woods described her son's killing as "one of the most brutal, traumatic murders in the history of Ireland" and said she did not want any other family or any human being to go through this.
Mr Justice Hunt said today there was a connection between the assistance the men provided to the criminal gang and the murder which was committed by others.
It was carried out in the context of the Drogheda feud which he said was "a scourge of the locality and a matter of nationwide concern".
Crosby and Cruise, he said, were involved in acquiring the Toyota van which was used in the removal and disposal of the child's remains, they brought him to the murder scene where he was last seen alive with Lawlor and two others, and Cruise bought false plates for a car that was later used to bring the child's remains to Dublin.
Mr Justice Hunt said the assistance they gave to Lawlor was significant and related to a crime before, during and after it was committed. He also said that both men's phones were found at the murder scene.
The court was satisfied that Crosby was a notch or two higher than Cruise. He received directions from Lawlor and passed them on to others while Cruise was quite open in the activities he carried out.
It also found their previous convictions and profiles to be different. Crosby has serious convictions while Cruise's are more historic.
Mr Justice Hunt sentenced Crosby to ten-and-a-half years with the last six months suspended, while Cruise was sentenced to seven-and-a-half years with the last six months suspended.
He also said that nothing the court can say can address the plight of the family of Keane Mulready-Woods.