Monday's earthquakes wrought further devastation on northwestern Syria - a region already torn apart by years of war.
The single corridor of cross-border international aid delivery from Turkey at Bab al-Hawa - operating under a United Nations Security Council mandate and providing humanitarian assistance to some four million people in Syria - was temporarily suspended, following damage to the access road.
But the question of whether more crossing points could be opened to increase the flow of humanitarian relief is a highly controversial one inside the United Nations.
In the past, Russia and China have repeatedly blocked Security Council moves to establish aid corridors through rebel-held territory on the grounds that it undermined Syria's sovereignty. As a result, three of the four crossings have been shut down over the years.
Instead, they want to see international support for more "cross-line" aid delivery - in other words, channelling assistance through the Syrian authorities, across conflict lines.
This week, as search and rescue teams began dealing with the immediate aftermath of the earthquakes, aid agencies urged leaders to put politics aside and deliver aid through all channels available.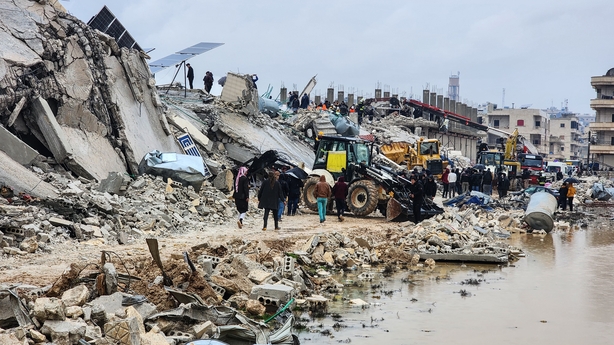 "Our objective is to reach the people - for us cross-border and cross-line are just modalities complementing each other, the most important thing is that we reach people at this time - people who are desperate for help," said UN regional humanitarian coordinator for the Syria crisis, Muhannad Hadi, at a virtual news briefing on yesterday.
"We are talking about people who need support now and whatever we can do, we have to do it together, driven by the humanitarian needs, and we just hope that the political considerations and so on will get out of the way and let us do our work," added El-Mostafa Benlamlih, UN resident and humanitarian coordinator for Syria, speaking from Damascus.
During its time on the Security Council 2020-2022, Ireland, along with Norway, was responsible for coordinating action on the Turkey-Syria cross-border humanitarian corridor.
At the last discussion of the council-mandated mechanism in December, Ireland's ambassador Fergal Mythen called it "a lifeline for millions of people" and a "moral and humanitarian imperative".
But this week the Syrian permanent representative to the United Nations repeated his government's position that the border crossing was a violation of Syria's territorial integrity.
"Without the control of the government, without permission of the government, without approval from the government - this is violation. Very simple," Ambassador Bassam Sabbagh said on Tuesday, adding "cross-line is available".
Hundreds of essential supply trucks were passing through Bab Al-Hawa every month, delivering significantly more aid than cross-line operations.
Opponents of the Assad regime fear international assistance would be diverted to government-controlled areas and urge world leaders to ensure UN-led cross-border aid continues.
The current mandate runs until 10 July this year at which point the Security Council will, once again, vote on whether to keep the corridor open.
Away from the politics in New York, the situation on the ground is deteriorating.
"This area of Syria, already before this disaster was incredibly hard to access, and largely reliant on humanitarian assistance," said Irish aid worker, Jennifer Higgins - Syria policy and advocacy coordinator, International Rescue Committee.
"It is an area with very high numbers displaced persons - there was already limited electricity, clean water and a critically fragile health system before this disaster.
"These are communities that have been living for over a decade in a perpetual conflict zone, they have witnessed multiple atrocities, and many are living with life-changing physical and emotional wounds and have been displaced already multiple times," she said.
Without the border crossing, she added, "we would be facing an unimaginable situation now".