One of the world's oldest national representative church bodies - the Irish Council of Churches - has celebrated its centenary with a special service of worship in Belfast.
Representatives from 16 all-Ireland member denominations attended the event in Belfast Cathedral to mark the Council's first meeting which took place 100 years ago tomorrow during the Irish Civil War.
The service, 'Celebrating our Reconciling Vision of Hope', also celebrated the 50th anniversary of the Ballymascanlon Talks, which led to the establishment of the Irish Inter-Church Meeting.
In 1973, in the midst of The Troubles, the Council began historic talks in Ballymascanlon Hotel in Co Louth with senior members of the Roman Catholic Church in Ireland.
These became formalised as the Irish Inter-Church Meeting (IICM), the means by which the Irish Council of Churches continues to engage and collaborate with the Catholic Church.
Speaking at the service, the Roman Catholic Archbishop of Armagh and Primate of All Ireland Eamon Martin recalled at the age of 11, news images of Church leaders gathering for an historic meeting at Ballymacscanlon - while others marched in protest.
He said peace, reconciliation and forgiveness on the island of Ireland could only be progressed if "truths about our troubled past that remain hidden and festering" are brought to light.
He questioned whether the Churches could offer to help develop an agreed truth recovery process "to address the legacy of pain and mistrust that continues to hang over us".
Archbishop Martin suggested that Churches work together to create spaces for dialogue at parish, congregation and community level so that all voices couuld be fully heard about the kind of society and values that is wanted for the next generations.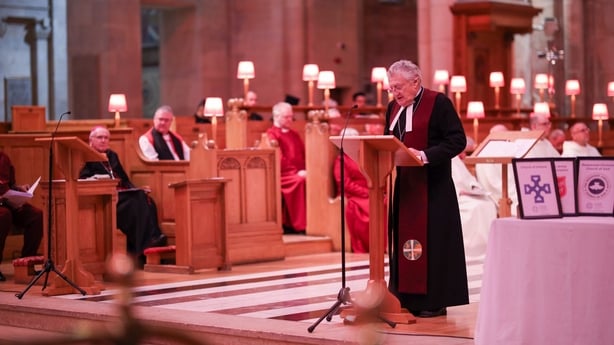 The former president of the Methodist Church Dr Harold Good also spoke at the service which was led by the Dean of Belfast, Rev Stephen Forde.
Dr Good spoke of about Christian Churches bringing "humility and hope" to realising "a vision of reconciliation".
He said the words of the late Queen Elizabeth during her visit to Dublin - when she spoke of things which could have been done differently, or not at all - could not be underestimated.
"Just imagine if following this service, each of us was resolved to acknowledge the hurt which collectively if not individually we have inflicted upon each other and for which we now seek to be reconciled," he said.
President of the ICC Bishop Andrew Forster described the service as "a significant milestone" in inter-church relations.
"In eternity, 100 years is but a blink of an eye, not even that, but in the context of our human story a century is a significant moment," he said.