To celebrate its 20th birthday today, news2day has a special interview with President of Ireland Michael D Higgins.
Students from St Kevin's National School, in Littleton, Co Tipperary, put questions from the programme's viewers to the President.
In the wide-ranging interview, he reveals his thoughts on homework, the importance of friendship and his dreams as a nine-year-old.
While Michael D Higgins' journey to becoming President of Ireland was the story of the day, it was his dogs' paw-some trek to the Áras that grabbed the cub reporters' attention.
Bród is in fact the same age as some of the fifth and sixth class students from St Kevin's National School in Littleton, Co Tipperary, who stepped into the shoes of news2day journalists.
The President said: "He's probably a very famous dog now. He will be 11 in February, which is a very good age for a Bernese Mountain dog and Bród is wonderful.
"He came here at six weeks old, so he's lived all of his life at the Áras."
His younger dog Misneach is just over two years and three months old. His birthday is in October, the children learned.
He had a tough beginning and so his name Misneach, meaning courage, was considered a wise choice.
"He came during Covid and because I couldn't collect him because of the ban on inter-county travel, he didn't come to me until he was five months old.
"He also didn't have a good journey here, so he's actually shy. He's a beautiful dog."
The eager young interviewers wanted to get a sense of what life was like for President Higgins as a child growing up in the 1940s and '50s.
They asked what games he liked to play.
---
Read more:
news2day turns 20: How the programme was created
news2day turns 20: Big change in how children watch TV
news2day turns 20: What was technology like in 2003?
10 times news2day made news accessible for all
---
He said that in primary school his favourite sport was hurling. The part of Clare that he grew up in was a hurling stronghold, while football dominated in the northern part of the county.
But by the time he had moved to secondary school his focus switched to handball. On his cycle home from school he would stop off at a local handball alley to play.
While politics delivers its highs and lows, the President said that the "most humiliating" half hour of his life was actually served up to him by a handball ace.
"I was drawn in the Gael Lin championship against Pat Kirby and I had the most humiliating half hour in my life in the alley in Newmarket on Fergus, but I did succeed in breaking his service once."
At nine years of age, he wanted to be a teacher, because he loved reading.
He had a strange introduction to learning, he said, because he did not start school until he was seven years old.
The President told the rookie reporters that his early attempt at reading actually came through the media as he would try to get to grips with the headlines of his relatives' newspapers.
The young bookworm would "read anything" and enjoyed the travelling library that would visit his school.
English was his favourite subject at school and he was always eager to share with his peers the lessons he took away from the books he was reading.
Later in life when he went into teacher training, he realised that this concept of researching information and then explaining the lessons to others was the core skill at the heart of his chosen profession.
By the end of the 1990s, the idea of someday becoming the President of Ireland first came to mind.
At that point he had been in Dáil Éireann for 25 years and served seven years as a senator.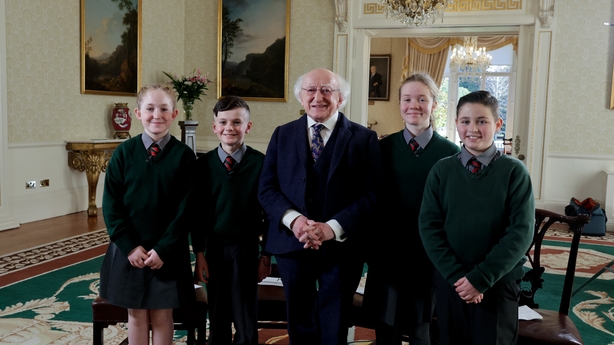 "I was doing policy a great deal, but you were always thinking about what would happen within a five-year term."
But he was thinking of the bigger global issues that needed a further outlook.
"I was interested in thinking long-term rather than short. It was because of that in a way I thought the nature of a President is to be able to see beyond a particularly short period of time."
Climate change, sustainability and meeting global food needs are among the crucial worldwide issues that weigh heavily on his mind.
Around 26 million people face starvation in the Horn of Africa. He will attend an event next week in Senegal that addresses this issue.
In 1992, he visited famine-stricken Somalia.
While in a stark contrast, Dublin alone, he said, annually produces 800,000 tonnes of wasted food.
"Famine is unnecessary. There is absolutely no reason why we couldn't have total food security."
He believes that Africa and South America are the continents that are going to face "the biggest challenges" in the future.
But there have been lighter, happier times also that he ponders on.
The students asked the President to tell them about his stand out moments.
"There's no doubt whatever, a very dramatic moment for Sabina and I, and an emotional one, was when I was being inaugurated in Dublin Castle and I gave a speech that set out what would be my agenda for the term of the Presidency."
While he can fondly recall this moment when he reached the pinnacle of his career, he will never forget the challenging times.
"There were several times in my life when I had no idea where I would end up," he said.
If he were to one day pen an autobiography, it would be to encourage people to overcome the obstacles they face.
Then it was down to the nitty gritty - the contentious issue of "obair bhaile".
While the President is at ease being interviewed by journalists from all over the world, it was the children from Tipperary who got a scoop when they asked him for his thoughts on homework.
He said that education happens in both the school and the home, but he added that when children are at home they "should be able to use their time for other creative things".
Not all of the lessons come from books. The responsible use of phones is something that he hopes the younger generation will be acutely aware of.
The children of Ireland "have a great value of friendships" and this makes it even more tragic when there is an "abuse of phones for bullying".
When asked if he had a message for the children of Ireland, he urged: "Stay curious about everything. Make sure you don't miss the joy of getting information.
"And I think an important thing is friendship, and that nobody is left without friendship."
He also said that the hope he holds for the future of the Irish language rests firmly with the younger generation.
On that note, he said that he has two favourite words "as Gaeilge", samhlaíocht (imagination) and beannacht (blessing).
In the President of Ireland's official correspondence, he signs off 'beannachtaí' and it was on that same note that he drew his question-and-answer session with the budding news2day journalists to a close.
RTÉ news2day will broadcast some of the President's interview as part of this afternoon's birthday celebrations at 4.20pm on RTÉ2.
The full interview will be available later today on the RTÉ News channel and the RTÉ Player.