Minister of State at the Department of Transport and Environment Jack Chambers has said there has been an under-utilisation by the Health Service Executive of bed capacity in private hospitals.
Minister Chambers said the HSE needed to "scale up" its use of private beds as overcrowding continues in emergency departments.
"I think 185 private beds was the most recent use. I think the public waiting on trolleys so long expect every measure to be used and I am not sure why there has been that under-utilisation," he added.
Speaking on RTÉ's This Week, Mr Chambers said the Private Hospitals Association said it is willing to engage in providing more capacity and that is something the HSE needs to do and "scale up".
He also said the Government wants to work with the Irish Nurses and Midwives Organisation (INMO) and all healthcare workers to resolve the overcrowding issue.
In a statement, the HSE said it has provided additional funding to secure private bed access and around 140 patients are currently receiving such care.
The HSE added that it was seeking to increase that number, but noted not every patient is suitable for a private bed.
The number of patients discharged from hospitals yesterday increased by 44% compared to the same day last week.
The HSE said that just over 400 patients were discharged from hospital yesterday. Last Saturday, there were 278 patients discharged.
The HSE attributed this increase in discharges to staff, who it said had worked extra shifts "in the interest of patient welfare".
"This has been achieved by staff, including nurses, consultant doctors, non-consultant doctors, therapists, lab scientists, physiologists, social workers, porters, administrators and many more dedicated professionals across acute hospitals and community services working extra shifts in the interest of patient welfare.
"We are grateful to our staff for this great effort. Staff will continue to work to ensure that the system maintains flow, in spite of the sustained levels of activity," it added.
Minister for Health Stephen Donnelly welcomed the increased focus on patient discharges over the weekend and thanked healthcare staff for their extra work in helping achieve this.
Figures released by the HSE earlier today showed there were 260 patients waiting for a bed in the country's acute hospitals.
The worst affected were St Vincent's University Hospital in Dublin with 30 people waiting for admission to a bed and Letterkenny University Hospital with 23 waiting.
More than 139 people had been waiting more than nine hours.
There were 611 patients in hospital with Covid-19.
Measures aimed at easing overcrowding in hospitals were continuing to be implemented this weekend.
Hospital and community healthcare staff were asked to work this weekend and over the next few weekends to help reduce the number of patients on trolleys.
Politicians are also warning of burnout among those working on the frontline.
Sinn Féin's Health Spokesperson David Cullinane said: "The situation in our hospitals is still extremely difficult with patients waiting too long for care.
"We are seeing a slight improvement in recent days which is to be welcomed but capacity deficits in beds, diagnostics, staff and in community and GP care will need to be addressed once and for all."
Leader of the Labour Party Ivana Bacik said Trojan work is being done in hospitals and the primary care network by those involved on the frontline during the current crisis.
"Clearly radical reform of the health service is necessary," she added.
Also speaking on This Week, she said she would support legislation on safe staffing levels and also highlighted the need for massive investment in community care; in step-down facilities.
Ms Bacik said there has been a failure by the Government to deliver on this aspect of healthcare.
Labour Spokesperson on Health Duncan Smith said the trolley crisis is causing serious damage to health workers' physical and mental health.
He said the HSE has a duty to provide a safe environment for all health workers and patients.
Deputy Smith criticised the Government for a lack of real community care alternatives to hospital ED's saying despite all the money being spent there are more people on trolleys and longer waiting lists.
Meanwhile, former director general of the HSE Tony O'Brien said hospital overcrowding has become a " permanent" situation.
"There is a reality that the high level of trolley has become a feature of the system. It is not just about fixing it with short term measures but fundamental changes."
He said people are also waiting for home support hours and that needs to be accelerated and there are delays with getting people into nursing homes.
"We have all know for quite some time there have been insufficient beds in our hospital system."
He said it cannot cope with any surge. "It is a multiple capacity deficit problem."
'Please bear with us,' urges healthcare group
It comes as Saolta University Health Care Group warned of "another extremely busy weekend" in its emergency departments.
The group comprises hospitals in Galway, Mayo, Roscommon, Ballinasloe, Letterkenny and Sligo.
It said staff are doing their best to care for every patient and appealed to the public to "please bear with us".
In a Twitter post it advised people seeking treatment to consider all options including their GP and pharmacy before coming to the ED.
"The sickest patients are treated first and those with non-urgent needs will be waiting longer."
This is another extremely busy weekend in our Emergency Departments and we are again asking the public to please bear with us

- Consider all options (GP, pharmacy) before coming to ED
- The sickest patients are treated first and those with non-urgent needs will be waiting longer pic.twitter.com/AngkMWZdoS

— saoltagroup (@saoltagroup) January 7, 2023
---
Read more:
HSE urged to use downgraded hospitals to ease overcrowding
Overcrowding crisis: Why is the problem not yet fixed?
---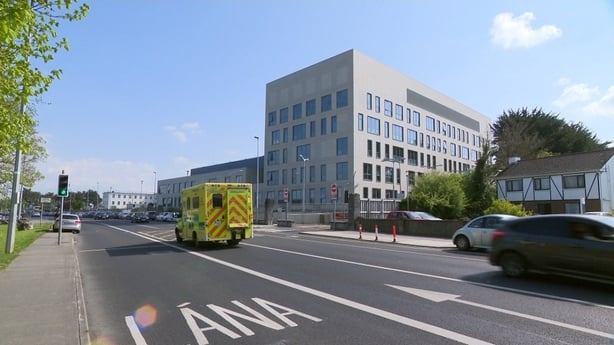 Separately, a pilot project will be put into operation at University Hospital Limerick tomorrow to try to address overcrowding and reduce bed waiting times.
The hospital is consistently ranked one of the most overcrowded in the country.
It will mean paramedics responding to emergency calls will assess patients and consult doctors in Ennis Hospital to see whether they can be treated there, rather than at UHL.
If successful, the project could be rolled out to ease the pressure on other hospitals.
Additional reporting Laura Hogan