In Afghanistan, there is a saying: زمستان مرگ غریب است (winter is the death of the poor).
Millions of people in Afghanistan this December are at risk of famine and are taking extraordinary and devastating measures to survive.
Parents are selling their organs and children to buy food. Anecdotal evidence suggests that some are also sedating their children, to help them forget about hunger.
"This is not about bad parenting. This is about the effects of crippling poverty and the dire straits that parents find themselves in," UNICEF's Sam Mort told RTÉ News from Kabul.
"Parents pulling children out of school to work and to beg on the streets … parents are exchanging their daughters for dowry years before they would otherwise be married … These are not decisions that parents take lightly," she said.
"The instinct to protect their children and want the best for their children here in Afghanistan is no different to parents in Ireland or anywhere else," she added.
A series of unfortunate events have left around 20 million Afghans without enough food, according to the World Food Programme.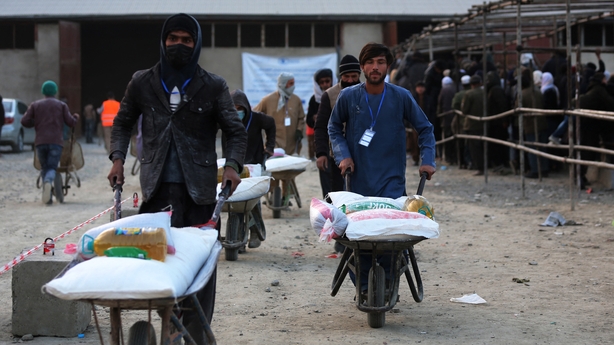 Medical teams have also been trying to stamp out measles and cholera outbreaks which have put incredible pressure on Afghanistan's already weak health system.
"If a mother has to make a choice between getting food or vaccinating their child, she will rather spend [the money on food]" said Médecins Sans Frontières Medical Co-ordinator in Afghanistan, Anna Elizabeth Cilliers.
The United Nations has warned of a human 'catastrophe' unfolding in Afghanistan, more than a year after foreign forces withdrew and the Taliban took power across the country.
Climate change and an unstable political situation have further damaged Afghanistan's economy.
Recent earthquakes and massive floods have damaged large areas of the country, spelling further hardship for Afghans. Farmers are trying to come back from one of the worst droughts in decades.
When the Taliban took control of the country in August 2021, a number of international donors immediately suspended most of the non-humanitarian funding that constituted over 70% of the government expenditures.
In addition, about $9bn assets in the Afghan Central Bank were frozen, resulting in an acute financial crisis for the banking sector in the country and for families across Afghanistan.
Against this backdrop of turmoil and food insecurity, the reintroduction of an extreme interpretation of Islamic law also had an effect on the economy and equality.
Despite promises that life wouldn't radically change under Taliban rule, women and girls have seen the collapse of their rights.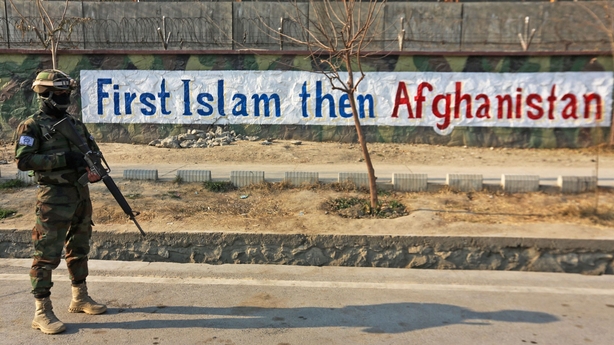 Females have been barred from working most jobs - leading to a slashing of income in households.
UN human rights chief Volker Türks said this month that women and girls have effectively been shunned from public life as they need a male chaperone to travel. Girls have not returned to secondary school and just last week, they were also barred from university.
"The continued systematic exclusion of women and girls from virtually all aspects of life is unparalleled in this world," he said.
Towards the end of this year, the Taliban flogged 27 Afghans, including women, in front of a large crowd - one day after publicly executing a convicted murderer for the first time since they returned to power.
AFP reported that those flogged received between 20 and 39 blows from a cane in front of around 1,000 people. Afghanistan's supreme court said they were punished for crimes including deception, forgery and sodomy.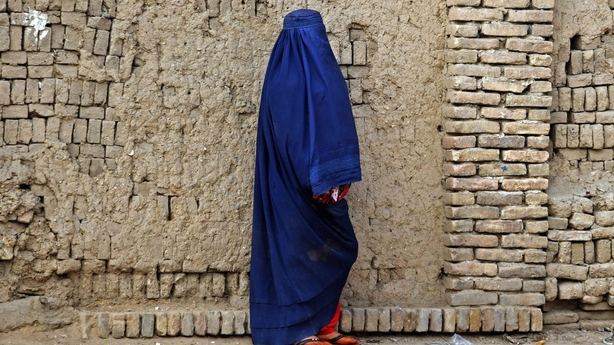 For those who were forced to flee, what happened to their country in the last 16 months is tough to see.
"To survive, to save my life, I left Afghanistan," one Afghan activist living in Ireland told RTÉ News.
---
'Colour and vibrancy drained' from Kabul in August 2021
---
Basira Pigham, who worked as an advocate for equality in Afghanistan, said she will never forget the day the Taliban captured Kabul.
Life for women changed rapidly.
"Me and one of my friends … went out to the supermarket to buy some groceries. The shopkeeper told us 'what are you wearing? Go home! Never come out without your male accompany, mahram!"
"It was for me 'what the hell is going on?'" she said.
Ms Pigham fled Afghanistan three months after the Taliban took over the country. She left everything behind - her clothes, photographs and most importantly, her family.
"It was like a nightmare when Taliban came to Kabul because everyone, especially human rights' defenders, activists, were thinking maybe USA and the allies won't leave Afghanistan like this … but … they just left. Everything which was built during two last decades … collapsed in only one night," said Ms Pigham.
At the airport, she came to the attention of one solider, who noticed she was wearing high heels under her burka. She said the Taliban member hit her with his gun and asked why she was wearing heels.
"I didn't know what to say then. One of my colleagues told the Taliban that it will be the last time. [The soldier] said 'you're leaving Afghanistan and you will do all this s*** outside the country but don't do it here'. It was like, oh my gosh, look at this, full of the hatred, full of hate from what I was wearing'," she said.
While it is her dream to go back to Afghanistan, a lot has to change for that to happen.
"Some of my relatives unfortunately joined the Taliban. They start threatening me like 'this is the time to pay for what you are doing' ... because they think working for equality, working for woman rights ... anyone who works for that should be killed," she said.
Basira Pigham now fights for equality some 8,000km from home, as some women in Afghanistan continue to defy restrictions and threats.
In August, security forces opened fire over the heads of women who staged a rare protest in Kabul. Around two dozen of them chanted "bread, work, freedom", "we want political participation" and "no to enslavement".
A small, rallying cry for change amidst the desperate and devastating circumstances millions find themselves in this winter, without work and warmth.