Thousands of tourists are scrambling to leave Peru as violent protests grip the country.
Demonstrators are demanding the release of ousted president Pedro Castillo following his recent arrest. At least 17 people have been killed in the protests so far.
The Department of Foreign Affairs is advising Irish citizens not to travel to the country.
Deadly protests in Peru have caused chaos across the country, with many demonstrators demanding the release of Mr Castillo and calling for fresh elections to be held after he was impeached and arrested following his attempt to dissolve parliament and rule by decree.
Roads and railway lines were blocked by protesters this week and several airports were closed as demonstrations spread.
As a result thousands of tourists have been stuck in the gateway city to Machu Picchu all week.
One of thousands of tourists caught up in the unrest is Meghan Wright from Co Donegal.
She has been travelling around South America since July and has been stuck in Cusco all week due to the protests.
We need your consent to load this rte-player contentWe use rte-player to manage extra content that can set cookies on your device and collect data about your activity. Please review their details and accept them to load the content.Manage Preferences
"It's really thrown a spanner in the works because around Tuesday we realised that we're going to be stuck in Cusco and no one seemed to know for how long or what was going to happen," she said.
"They blocked off all the roads so you couldn't enter or exit Cusco and they vandalised the rail tracks and they shut down the airport," she added.
She said they had been advised to "stay out of the city centre and not go out after dark" due to a curfew.
"The middle of the week was a bit weird going out because something about the city is all you're going to hear car horns beeping and it was really strange to not hear that. The streets were empty of cars because people couldn't come in or leave," she said.
There are reports the airport is reopening this weekend and people, including Ms Wright, are plotting a way to get out in the hope of being home in time for Christmas.
"Our original plan had been to take the bus to Bolivia but with the road blockades we decided it would be safer to just try and get a flight and get out as quickly as possible but the soonest flight we could get is Monday. Hopefully by then the airport won't be as chaotic" she said.
"The way it's looking it might take us around six flights it we're going to try and get back maybe the middle of next week" said Ms Wright.
The Department of Foreign Affairs is advising Irish citizens to avoid all non-essential travel to Peru as the country tries to deal with this crisis.
Meanwhile, Peru's embattled President Dina Boluarte said she would not step down in the face of violent protests over her predecessor's ouster as she called on politicians to bring forward elections as a way to quell unrest.
The country's Congress rejected a bid yesterday to hold polls next December, more than two years earlier than scheduled, as deadly protests left thousands of tourists stranded near Machu Picchu and furious demonstrators - and some politicians - called for Ms Boluarte's departure.
But in an address aimed at tamping down the unrest rocking the South American nation, the new president stood defiant.
"What is solved by my resignation? We will be here, firmly, until Congress determines to bring forward the elections," Ms Boluarte told Peruvians.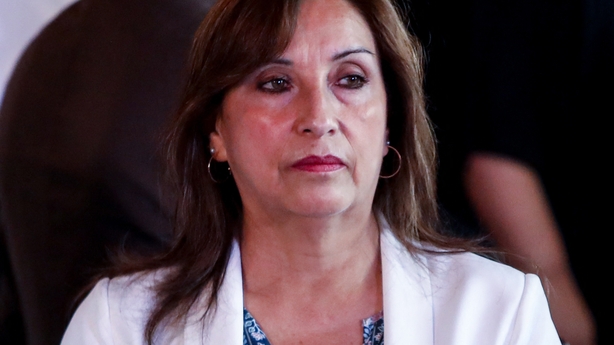 Yesterday, House speaker Jose Williams said the vote on the election schedule could be revisited during a forthcoming session of Congress.
Peru was plunged into political crisis on 7 December when then-president Pedro Castillo was impeached and arrested after he attempted to dissolve Congress and rule by decree.
The unrest has swelled across several cities and regions, leaving at least 18 people dead, including minors.
In a televised address, Ms Boluarte expressed regret for the protests and the deaths, most of which came in clashes with security forces including the military, which has been authorised to impose order under a state of emergency.
If armed troops were on the streets, "it has been to take care of and protect" Peru's citizens, Ms Boluarte said, adding that the protests were "overflowing" with violent elements that were coordinated and not spontaneous.
"These groups did not emerge overnight. They had tactically organized to block roads," she said.
Protesters are calling for the release of Castillo, the resignation of Ms Boluarte and closure of Congress, and immediate general elections.
Health minister Rosa Gutierrez said yesterday that 18 people had been killed in clashes since Castillo's arrest. Two cabinet ministers have resigned over the deaths.
Initially detained for seven days, Castillo was on Thursday ordered to spend 18 months in pretrial detention.
The leftist former schoolteacher stands accused of rebellion and conspiracy, and could be jailed for up to 10 years if found guilty, according to public prosecutor Alcides Diaz.
Ms Boluarte declared a 30-day nationwide state of emergency and said she wanted to bring forward elections as a way to calm the uproar, but Friday's measure fell short of passage in Congress.
The rising death toll seemed to weaken Boluarte's grip on the presidency.
"Due to the number of dead Peruvians, Mrs. Boluarte needs to resign," said Susel Paredes, a centrist legislator.