A national plan to combat health inequalities among the Traveller community has been launched.
The National Traveller Health Action Plan (NTHAP) - developed by the Health Service Executive in consultation with Traveller representative organisations - will be monitored on an ongoing basis and updated at the end of 2027.
The Department of Health is providing "development funding" for the action plan of €1.3m in 2023.
Overall, there is a gap of up to 13 years in life expectancy between Travellers and the general population.
Travellers in the 35-54 age bracket are three times as likely to have poor health or some type of difficulty or disability than the non-Traveller population.
In order to improve the health outcomes of the Traveller community and health inequality, the NTHAP will have "clear accountability mechanisms" to monitor and evaluate its implementation.
Structured into four main parts, the first goal aims to develop "standardised funding structures and processes" for the Traveller health sector.
The second goal is to mainstream and respond to Traveller health needs by addressing inequalities in health policy and services.
The plan commits to the "explicit inclusion" of Traveller health needs in all service planning and funding around health.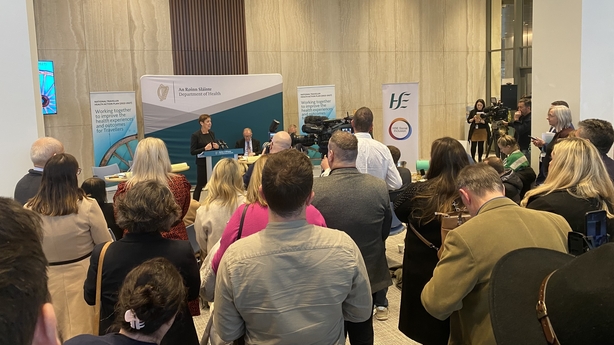 The third goal seeks to address the Social Determinants of Traveller Health through specific policy priorities, strategies and actions.
It says that a "whole-of government and social determinants approach" will address Traveller health inequalities.
The final goal is to enhance Travellers' access to culturally appropriate primary healthcare.
This would involve strengthening the structures that work in partnership with Travellers at national, regional and local levels.
In his forward to the report, HSE Interim Chief Executive Officer Stephen Mulvaney states that the plan is "integrally linked" with the National Traveller and Roma Inclusion Strategy (NTRIS) (2017-2021).
The NTRIS provides a framework for action on Traveller and Roma issues.
It brings Government departments and agencies together with representatives of Traveller and Roma communities to focus on key issues in a structured manner. The Programme for Government commits to a review of that strategy.
In March this year, Minister for Children Roderic O'Gorman - the current chair of the NTRIS steering group - said he would work with stakeholders to review what had been achieved and to develop new approaches as necessary.
However, in July, the UN expressed concern that the strategy had not been reviewed.
We need your consent to load this rte-player contentWe use rte-player to manage extra content that can set cookies on your device and collect data about your activity. Please review their details and accept them to load the content.Manage Preferences

Stronger protection laws needed
Mary Brigid Collins, Assistant Coordinator at the Pavee Point Primary Healthcare Project, said stronger laws are needed to protect Travellers from racism and discrimination.
Ms Collins said accommodation has a huge impact on Traveller health, with nearly 40% of Travellers homeless, adding that they have a much lower life expectancy.
Speaking to RTÉ's Morning Ireland, she said better access to education, accommodation and employment will hugely benefit the Traveller community.
But this must be coupled with stronger laws protecting the Traveller community from discrimination, she added.
"Over 80% of Travellers are unemployed at the minute. We wanted special targets to be set so employers will be taking on Travellers - that they won't have to hide their identity," she said.
"Life expectancy for Travellers is only 64 years of age. So if anybody has a good job and a good income coming in, and has a good education, of course the quality of life is going to improve."
Ms Collins said today is a good starting point.