Vicky Phelan's husband Jim has paid tribute to his wife, saying her death will leave a void in their lives that "at this point seems impossible to fill".
Ms Phelan died in the early hours of this morning at Milford Hospice in Limerick. The cervical cancer campaigner was 48.
"It is with an immense burden of grief that earlier today we bade our final farewell to our beloved Vicky," a statement from Jim and children Amelia and Darragh said.
"She was the heart and soul of our family unit and her passing will leave a void in all our lives, that at this point seems impossible to fill.
"We cherish the memories of a loving wife, mother, daughter and sister, whose ability to deal with the struggles of life has inspired not only ourselves but an entire nation.
"The outpouring of grief and good wishes from far and wide are truly appreciated. Funeral arrangements when made will be private, with an opportunity for people to pay their respects in due course."
Ms Phelan was diagnosed with cervical cancer in 2014.
In April 2018, she settled a High Court action for €2.5m with Clinical Pathology Labs US, without admission of liability.
She had undergone a smear test in 2011 showing no abnormalities, before her diagnosis three years later.
An internal CervicalCheck audit found the original smear check result to be wrong.
She travelled on a number of occasions to the US for treatment.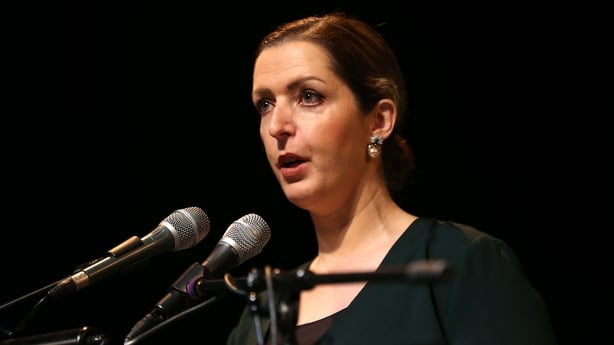 Her campaigning led to the Scally Independent investigation and 2018 report into the controversy.
It also led to the establishment of the 221+ support group and a State apology.
She wrote a memoir, Overcoming, in 2019 which became the An Post Book of the Year, and was named as one of the BBC's 100 women in 2018.
A documentary of her life called 'Vicky' was screened recently.
Ms Phelan was born in Waterford in 1974 and lived in Limerick, having always worked in the educational area.
---
Read more:
Obituary: 'A powerful advocate for Irish women'
Tributes to 'a woman of extraordinary courage'
---
President Michael D Higgins said that anyone who had the privilege of meeting Ms Phelan would have been struck by the "powerful inner strength and dignity" with which she faced her illness.
Taoiseach Micheál Martin also paid tribute to Ms Phelan, calling her a woman of "extraordinary courage and integrity".
Speaking on RTÉ's Today with Claire Byrne, Mr Martin said she was a woman "who stood up for the women of Ireland, but not just the women of Ireland but women globally".
Speaking on the same programme, Dr Gabriel Scally said that Ms Phelan stood up for all of the women in Ireland, adding that he was privileged to have worked with her on the inquiry.
Dr Scally added: "In years to come, she will be regarded as having a seminal influence on healthcare in Ireland and changing it towards a much more patient, sensitive and respectful system."
HSE Chief Executive Stephen Mulvany also expressed his condolences to her family.
"It is with great sadness I learned this morning of the death of Vicky Phelan. My deepest condolences to Vicky's family.
"I extend my condolences to all those touched by the sorrow of cancer. Ireland has lost a great advocate for women's health."
---
Vicky Phelan broke the boundaries of patient advocacy
Without Vicky Phelan people may never have learned of the CervicalCheck controversy.
In her April 2018 High Court settlement, a key element was that she would not agree to a confidentiality clause.
As a result, hundreds of women learned that they too had been let down by the State.
Arising from her case, it emerged that many other women's slides had been reviewed in the audit and found to be false negative.
The group grew to 221 people. There have been a large number of High Court settlements since. Sadly, there have been a number of deaths of women who had cervical cancer.
The death of Vicky Phelan is a terrible loss for her family and friends.
She was a national figure and she campaigned tirelessly despite having terminal cancer.
Vicky Phelan also travelled to US on several occasions for treatments to help prolong her life.
Her work led to the 2018 Scally Independent Investigation into the CervicalCheck controversy which recommended sweeping changes.
She also was honoured with the freedom of Limerick for her campaign work.
There was a State apology by then taoiseach, Leo Varadkar, in October 2019 for the women and families affected by the failures in cervical screening.
Vicky Phelan battled authority and broke the boundaries of patient advocacy.
She will be remembered as a brave woman, fighting for the truth, while also fighting for her life.
Her legacy is hopefully a better national cervical cancer screening programme for the women of Ireland.