Political representation, racism and recognition of professional qualifications obtained abroad are among the challenges Muslim people say they face in Ireland.
A conference on 'Islam and Ireland' also heard of the positive experiences of Muslims living here.
Fahmeda Naheed moved to Cork 14 years ago. She had been a secondary school teacher in Pakistan but said her qualifications were not recognised here.
Last year she joined An Garda Síochána after the recruitment rule change allowed her to wear a hijab.
She now works as a diversity officer with the force.
"It really boosts your moral and confidence and you feel like you're not different, under the same banner as any other woman working and living in Ireland," she said.
The mother of five said her children have had a very positive experience of growing up in Ireland as Muslims.
Her 13-year-old daughter Ersha travelled with her to Dublin for today's conference, which was organised by the UCD Newman Centre, the Ansari Institute for Global Engagement with Religion at the University of Notre Dame, the Clingen Family Centre for the Study of Modern Ireland in the Keough-Naughton Institute for Irish Studies at the University of Notre Dame, and the Dublin City Interfaith Forum.
We need your consent to load this rte-player contentWe use rte-player to manage extra content that can set cookies on your device and collect data about your activity. Please review their details and accept them to load the content.Manage Preferences
Ersha said: "In school I feel like I do belong, because I get asked questions about it, how does this work or that work.
"The teachers [have] really shown a sense of curiosity…It makes it fun," said Ersha.
Fahmeda believes more supports are needed to help migrants and their different needs.
The conference also heard about insufficient political representation both in Ireland and in the European parliament where one speaker said Brexit means there are no Muslim MEPs.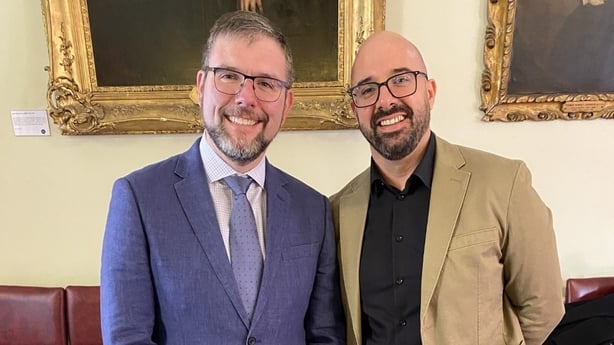 Professor Colin Barr, from the University of Notre Dame, said the aim of the conference is to examine the role of Islam in Ireland.
"We want to see how this fast-growing religious minority - the fastest growing religious community in Ireland - how it relates to society and how society relates to Islam and Muslims in society," he said.
Dr James Carr, a senior sociology lecturer in University College Limerick, was one of the speakers at the event.
Raised in a catholic family he converted to Islam four years ago.
"Faith was always something that was important at home," he said.
"During the course of my work on anti-Muslim racism in Irish society I learn, gradually, more about Islam and for me personally the faith of Islam made sense to me," he said.
"No one else in my family is Muslim, my wife and children aren't," he added.
Dr Carr said he has not noticed being treated any differently since he converted.
"In terms of racism and discrimination, I'm a white Irish guy with a white Irish accent," he said.
"There are other people who are maybe more exposed, the experiences of Muslim women, in particular, experience higher rates of discrimination or hostility than Muslim men," he added.