An Oireachtas committee has been told that the earliest potential opening for the new children's hospital is the end of 2024.
The new National Paediatric Hospital will be substantially complete by March 2024, the builders have said. At that time, it will be handed over to Children's Health Ireland for a period of commissioning.
The National Paediatric Hospital Development Board (NPHDB) has said that the spend on the hospital up to August was €1.1 billion.
The Government approved a budget of €1.4 billion in 2018.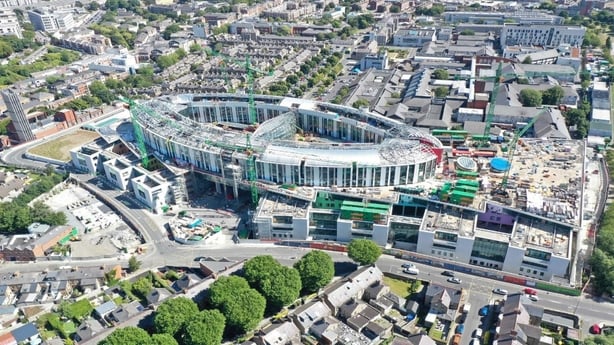 In a statement for today's Joint Committee on Health, the development board said that definitive updates on costs cannot be provided at this time as it is a live contract.
Any speculation on costs will be detrimental to the NPHDB's commercial engagements and ability to negotiate on behalf of the State, it said.
It said that a number of cost pressures have arisen including inflation, healthcare policy and technology change, the Sectoral Employment Order, Covid-19 and Brexit.
The NPHDB has said that progress has advanced significantly since its last appearance before the Health Committee and the first rooms are expected to be completed this month.
NPHDB Chief Officer David Gunning told the committee that the building project time has seen a 17-month extension.
The build had been expected to be completed in August this year but Covid-19 interrupted that. Mr Gunning said that the extension of time will bring extra costs.
Department of Health Assistant Secretary Derek Tierney told the committee that the commissioning after building completion will take at least six months and then there will be a period to integrate the three children's hospitals.
He said that the building is currently 78% complete.
The committee heard that there are 989 claims from the contractor still in play to be resolved but that a moratorium on claims had been agreed to allow the project progress.
Social Democrats Health Spokesperson Róisín Shortall said she was concerned that delaying the resolution of claims could have implications for the opening of the hospital and the final costs.