For a country whose electoral politics have always baffled and entertained, the Italian election this Sunday is commanding more international attention than usual.
Italians are expected to elect Giorgia Meloni as their first female, and first far-right, prime minister.
Meloni leads a post-fascist political party Fratelli d'Italia (Brothers of Italy), and will team up with the 86-year-old billionaire Silvio Berlusconi, and the populist Matteo Salvini, once a staunch admirer of Vladimir Putin, to form a right-wing coalition that wants to cut taxes, increase social funding and clamp down on immigration.
The EU is looking on with some trepidation.
At a European level, Meloni's coalition would join the new right-wing Swedish government, which relies on the support the one-time neo-Nazi Sweden Democrats, and Viktor Orban's ever more authoritarian and anti-democratic Hungary, as potential troublemakers at a time when EU unity is being stretched over support for Ukraine, inflation, interest rates and an energy crisis.
We need your consent to load this rte-player contentWe use rte-player to manage extra content that can set cookies on your device and collect data about your activity. Please review their details and accept them to load the content.Manage Preferences

"Privately, there's some concern about some of the positions taken by Meloni's party over Russia and some past statements about the EU," says an EU diplomat.
"A lot will depend on who is appointed to what position and what sort of government programme they come up with."
The coalition programme calls for tax cuts for individuals and businesses combined with higher pensions and benefits for families.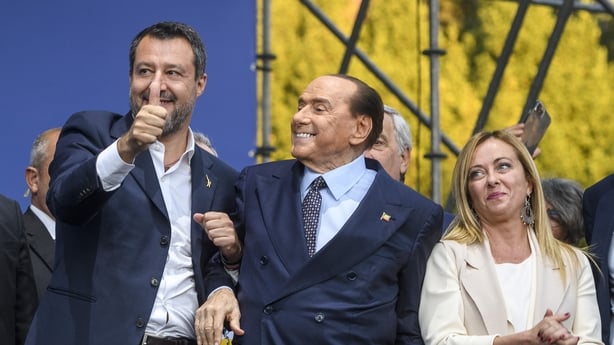 The three parties also want to revise Italy's €200 billion EU Covid recovery plan - in agreement with the EU - to put more resources into energy diversification and help consumers with higher energy prices.
"This programme would be expensive to implement, and a loose fiscal policy would lead to higher borrowing costs for Italy and perhaps a financial crisis," says Luigi Scazzieri, who is a senior research fellow at the Centre for European Reform (CER).
"Meloni is aware of the risks of appearing spendthrift, and is trying to stress that she is fiscally responsible."
Brussels will look closely at who the new coalition appoints as finance minister. With the ECB raising interest rates, Italy can ill afford widening bond spreads on its €2.7 trillion debt pile.
The EU will also be keen to know what exactly Meloni has in mind when she talks about reforming the Covid recovery fund.
Italy's application for the multi-billion euro fund was the brainchild of the outgoing prime minister Mario Draghi, who impressed Brussels with his vision for reforming the sclerotic and highly bureaucratic justice system and civil service.
"Because money from the EU's Recovery Fund is disbursed in tranches and linked to meeting reform milestones, a right-wing government would have a strong incentive to continue with Draghi's reforms," says Scazzieri.
"Even so, it may be difficult to meet all the targets, and there could be substantial disagreements between the Italian government and the European Commission over whether milestones have been met."
Daniel Gros, director of the Centre for European Policy Studies (CEPS) believes that a fight with Brussels over Italy's recovery fund will not be in Meloni's interests.
"In every election the opposition promises many things," he says. "It would certainly be a big problem if the new government asked for an entirely new programme. But I don't think they will do that, because they know if they go down that route, they will be on a collision course with the Commission - one where they can only lose. It would take a long time to negotiate a new programme, and then it might be too late to get the funds."
Ironically, it was Meloni's ability to distance herself and her party from Draghi's government of national unity during and after the pandemic which propelled the Brothers of Italy from a 4% showing in the 2018 election to its current rating of 25%, which has put her ahead of both Salvini's Lega party and Berlusconi's Forza Italia.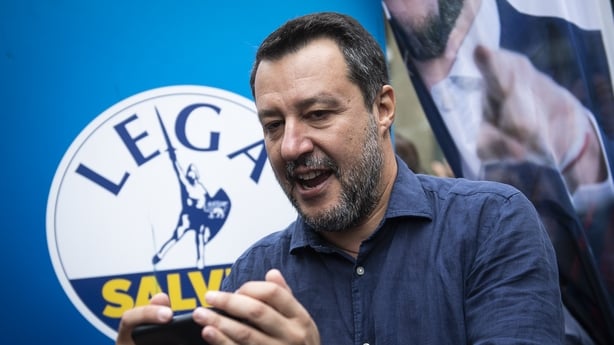 Meloni co-founded the Brothers of Italy in 2012.
A 45-year-old, raised by a single mother in the working class neighbourhood of Garbatella in Rome, she was active in the youth wing of the Italian Social Movement (MSI), founded by supporters of the fascist dictator Benito Mussolini after the War.
As a 19-year-old campaigning for the far-right National Alliance, she told French television that "Mussolini was a good politician, in that everything he did, he did for Italy."
Meloni tempered her view after she became an MP in 2006, saying Mussolini had mistakenly entered the war on Hitler's side and was wrong to introduce racial laws. She has increasingly distanced herself from her neo-fascist roots.
However, she is unapologetically on the hard right, railing combatively against what she calls LGBT lobbies (she voted against LGBTQ+ rights in the Italian parliament) and "mass immigration," and has asserted her Christian identity.
In May this year Meloni spoke at the US conservative CPAC conference, comparing the "invasion" of Mexicans across the border to the "invasion" of Africans into Italy.
She repeated the common far-right theme of conservatives becoming a besieged minority. "Our individual freedom is under attack, our rights are under attack, the sovereignty of our nations is under attack, the prosperity and well-being of our families is under attack, our children's education is under attack," she told the audience.
Meloni's relationship with Salvini could spell trouble, given the recent history of populist and far-right protest politics
And yet, Meloni has reversed her earlier calls for Italy to quit the eurozone (a view she held at least up until 2014) and she has taken a sharp turn when it comes to Vladimir Putin.
In 2018, she celebrated Putin's election victory, regarded by international monitors and neither free nor fair, as "the unequivocal will of the Russian people," but in opposition has supported Italy sending weapons to Ukraine and EU sanctions against Russia.
By contrast, Matteo Salvini, who used to wear t-shirts emblazoned with Putin's face, has called for the EU to rethink its sanctions against the Kremlin.
For now, the right wing coalition-in-waiting has signalled its intentions to be on the West's side, its manifesto pledging "respect for [Italy's] commitments as part of the Atlantic Alliance" and "full adherence to European integration".
Yet, Meloni's relationship with Matteo Salvini could spell trouble, given the recent history of populist and far-right protest politics.
When the Cold War ended the two dominant forces of post-war Italian politics, the Christian Democrats and the Communist Party, collapsed amid corruption scandals and the jolts of history.
Into the vacuum stepped political entrepreneurs like Silvio Berlusconi and a new form of populism which allowed for the return of far-right parties marginalised since the War. The Italian Social Movement rebranded itself as the National Alliance and served terms in three coalition governments.
Such parties actually moved towards the centre, with Berlusconi regularly facing off against the centre-left leader Romano Prodi at election time. But the eurozone crisis ten years ago ushered in a constellation of protest parties, capitalising on the hardships of the financial crisis and disillusionment with establishment parties.
In this climate, Meloni (who had been youth minister in a Berlusconi government) formed the Brothers of Italy, claiming the National Alliance had lost its way.
'Meloni's choice to stay outside Draghi's coalition gave her a distinct advantage'
But it was the Five Star Movement and Matteo Salvini's rebranded Lega party, and not the Brothers of Italy, who saw their electoral support surge. Both parties formed a coalition government in 2018.
However, with the responsibility of governing came compromise and painful choices. The virulently anti-EU Salvini had to rein in his budget plans under pressure from the European Commission, and both parties failed to deliver on promises of pension reform.
In 2019, Five Star entered a coalition with the centre-left Democratic Party (PD), then in 2021, at the height of the pandemic, a government of national unity involving Five Star, the PD, Salvini's Lega, and Berlusconi's Forza Italia was formed under the technocratic leadership of former ECB president Mario Draghi.
Meloni stayed out, meaning she could corner the opposition market.
"Meloni's choice to stay outside Draghi's coalition gave her a distinct advantage over both Five Star and Lega," writes Elettra Ardissino and Erik Jones in Foreign Affairs. "The Draghi coalition represented everything that Five Star and Lega had once rejected."
With Five Star's poll ratings sliding the party rejected a social assistance bill, prompting Lega and Forza Italia to say they could no longer stay in government. Draghi had no choice but to pull the plug.
While Meloni's time in opposition is expected to win her the premiership, she may face the same protest-party-in-government dilemma that bedevilled Five Star and Lega.
She is offering herself as a serious, pro-EU, fiscally responsible candidate, mindful of the dim view the markets may take, yet could find herself being harried by her junior partner Matteo Salvini, who will be tempted to appeal to the extremes by picking a budget fight with Brussels, or reviving his support for Russia.
Much will depend on the final votes on Sunday, and how strong a showing Salvini's party achieves.
Lega has fallen from a high of 36% in July 2019 to around 11-12% in the run up to this election. Given that Meloni's party could win nearly two thirds of all seats, due to the way the electoral system works she may not need Salvini, or he may not pose a threat.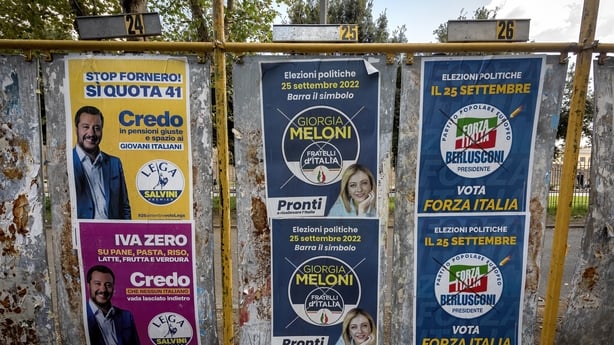 Either way, a fragile coalition heading into a hard winter of energy and cost-of-living crises could spook the markets.
"The coalition as a whole will be quite disciplined when in power," says Fabrizio Tassinari, executive director of the School of Transnational Governance at the European University Institute in Florence.
"Berlusconi's governments were shambolic for a number of reasons, but they were actually quite good at holding on to power. If you see how they form their lists for the elections you see that they know how to play the game."
Despite Meloni's political makeover, there is plenty of scope for a rocky relationship with Europe, especially over Hungary and Poland, and the disputes with the Commission and other member states over the rule of law.
Alongside Lega, the Brothers of Italy MEPs voted against a European Parliament resolution last week declaring that Hungary can no longer be called a democracy.
"Will she go so far as to pick fights with the EU over Hungary? She is smart. She will be hedging her bets at the beginning," says Tassarini.
She will certainly crack down on immigration and push back against the European Commission's tortuous efforts to update the EU's moribund asylum policy.
With the cost-of-living crisis and energy (and not immigration) dominating the EU's political space, Meloni can afford to please her base with tough domestic policies on asylum without too many clashes at EU level.
She is not an Orban, who has slowly strangled civil society and independent media in Hungary, and she knows that the parlous state of Italy's banks and its debt level will force her to toe the fiscal line.
But her election will be more evidence that European voters are prepared to look to the radical extremes to solve increasingly worrying political problems.