The number of Ukrainian refugees arriving in Ireland is expected to reach almost 60,000 by the end of the year.
So far, 48,700 people fleeing the conflict in Ukraine have come to this country.
RTÉ News understands that daily arrivals into the country dropped to around 90 per day in August, but have increased again, and as of last week stood at around 126 per day.
It's now anticipated that the total number here could reach 59,000 by the end of 2022, if an average of 100 arrive per day between now and then.
The number of Ukrainian people who have left the State to return home is not known.
Almost 38,000 Ukrainian people have so far required accommodation provided by the State.
More than 32,000 are being housed in "serviced accommodation", like hotels, hostels, B&Bs and commercial self-catering settings.
RTÉ News understands that around 165 contracts providing serviced accommodation will be due for renewal between now and December.
While a further 900 people are staying in emergency tented accommodation, and 4,500 people are staying in homes pledged by the public.
The tented accommodation that is currently housing 190 people at the Gormanston army camp in Co Meath is due to close from the first week in October, due to its unsuitability for winter weather.
It's understood that the Department of Children, which has responsibility for providing accommodation to Ukrainian refugees, is currently in discussions with the Defence Forces about whether it can assist in providing further, non-tented temporary accommodation.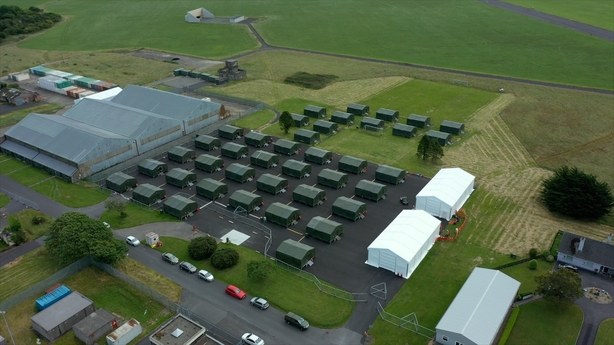 Government departments are also working on providing more longer term housing solutions in response to the Ukrainian crisis, like modular housing and refurbished buildings.
It's understood that the OPW has secured a contractor to prepare certain sites for modular housing, the first of which will be in Cork city and in Co Cavan. It's expected these sites could be ready to house people by the end of this year, or early next year.
Discussions are also still under way to set up more "transit hubs" like the one in Citywest, and a number of options are still being considered, and could be up and running by the end of the year.
Separate to those Ukrainian arrivals, the number of international protection applicants coming here is also continuing to increase.
More than 15,000 applicants are currently being accommodated by the State, of which more than 10,000 only arrived this this year.
It's understood that agencies are experiencing persistent difficulties in securing accommodation for people seeking international protection and more resources will be dedicated to working with communities to promote integration.