When it comes to ploughing, practice makes perfect and as the competitions get underway at the All-Ireland ploughing championships in Co Laois, one family from Co Kildare will be eyeing up the top prizes once again.
The Dunne family from Rathangan made history in 2019 when they took home three All-Ireland ploughing titles, and this year brothers Denis, Brian and Kieran will all be competing in different categories.
Their sister Maria, who won in her category in 2019, will not be competing this year due to work commitments.
"There are four siblings and we all plough. My Dad and my uncle and my cousins all plough so it's quite a big thing for us. It's a big family event," explains Dominic Dunne, who will compete in the under-28 category.
"It started with my Dad and Dominic, my uncle. Every weekend in springtime we were out ploughing and we went to all Irelands every year," he explains.
"Right from when we were 16 and we could drive and have a license, we were ploughing. I've competed in the last seven out of ten All-Irelands," he said.
"It's the friendships and the rivalry that make it so good. It's great here at home where four of us are ploughing. We've all won All-Irelands and it's all about getting the collection up," he laughs.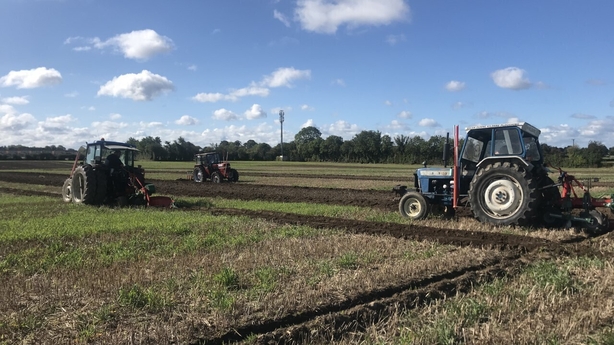 For John Dunne, there is a huge sense of pride in seeing his family's achievements.
"To see the boys and Maria do so well, there is huge pride. We've passed the skills on to them and I'd say the lads are nearly at a higher standard than I ever was," he said.
For this family and thousands of others, there is huge excitement as they head for Co Laois again this year.
"It's great meeting the ploughing people, they're great characters. It's like going on holidays," he said.
"You're always trying to beat the friend from the next county and even if you don't win the medal, but you beat them, that's the best fun," he laughed.
While the tradition of ploughing is being kept alive, even seasoned pros admit it can be difficult to attract younger people into ploughing.
However, Denis Dunne says there is a category for everyone to compete in.
"There's a class for every skill. It's all about the practice and there's a bit of luck on the day too and if you get a nice plot in the field and the weather is good - that's important too" he said.
For Maria Dunne, the youngest sibling, ploughing is a way of life and one she really enjoys. While she is not competing this year due to work commitments, she is hoping to get back involved next year.
"There's lots of slagging in this house about who did well and who didn't," she said.
"I've gone to the All-Ireland twice. I came home with a silver one year and gold medal another year. I'd like to get back involved. It's all about family involvement and the craic with everyone," she added.
Their mother Mary enjoys the rivalry and is hoping that come Thursday, everyone will still be talking.
"They've all won medals. There is a lot of rivalry and competition. The pressure is on here for the next few days," she said.