Mikhail Gorbachev was the eighth and the last Soviet leader and was affectionately known outside Russia as Gorby.
The death of Gorbachev at the age of 91 was announced yesterday evening.
Whilst he was feted in the West for helping to bring almost five decades of Cold War politics to an end, and for helping to reunite Germany, he continued to be viewed with suspicion by many Russians who blamed him for the mass poverty, which accompanied the introduction of market reforms.
Born in 1931, Mikhail Sergeyevich Gorbachev grew up in the small village of Privolnoye in the Caucasus during the rule of Joseph Stalin.
He worked with his parents on a collective farm, where his father operated a combine harvester.
The family had little money, but Gorbachev managed to leave farming to study law in Moscow where he met and married his beloved wife Raisa Titarenko.
Having received his law degree in 1955, he later returned to his home town to launch his political career, joining the Communist party and rising up its ranks.
In March 1985, at the age of 54, he became General Secretary of the Communist Party.
Although he said he was committed to socialism, Gorbachev used his time in power to push for reform in Russia - the world becoming familiar with the terms 'Glasnost' (openness) and 'Perestroika' (restructuring).
"The path he embarked on from 1985 to 1990 was a political earthquake," said Pádraig Murphy, who was the Irish Ambassador to the Soviet Union from 1982 until 1985 and more recently chair of the Institute of International and European Affairs Foreign Policy Group.
Gorbachev took over after the death of Konstantin Chernenko who had been in charge for just over a year.
The Communist Party had struggled to find a clear leader following the death of Leonid Ilyich Brezhnev who had been at the helm for 18 years.
"It was known in retrospect as the period of stagnation and for anybody who lived in Moscow at the time, it was easy to see why," recalled Murphy.
"All of a sudden in March 1985, you had a new General Secretary who was a breath of fresh air."
"It was an unprecedented event to the extent that here was a younger activist, whereas during my time in the Soviet Union, we had been dealing with Secretaries General who really weren't capable of acting at all.
"They were just lay figures who presented themselves in public only, in very designed circumstances."
Gorbachev was markedly different from the start.
"He was a normal human being and as well as that he had a knack for relating to people," said Murphy. He said Gorbachev's well-documented comment before he became General Secretary that "We can't go on living like this," was telling, as to what would happen next.
However, he added: "It was impossible to predict at that stage what would happen. Nor did we try. We all speculated what might happen, because the Soviet Union had serious problems, which had to be dealt with urgently.
"But it wasn't apparent from the beginning that Gorbachev would be able to do it, nor is it clear now that he was able to do it."
An end to Cold War politics?
The Cold War had seen the build-up of major political tensions between Russia and the US and the Gorbachev era heralded the first sign of any real thaw. The US President Ronald Reagan and Gorbachev met for the first time at a summit in Geneva in November 1985.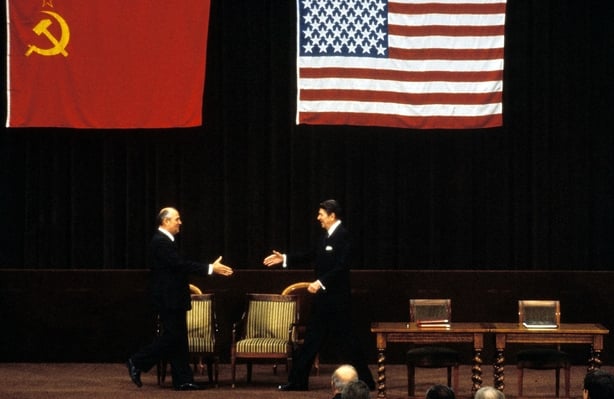 The tense superpower standoff of the early 1980s had led to a heightened risk of nuclear war between both leaders, but after meeting face to face, they committed publicly to the notion that a "nuclear war cannot be won and must never be fought".
Both sides agreed they would not "seek to achieve military superiority".
Two years later they signed the Intermediate-Range Nuclear Forces (INF) Treaty, the first agreement between the two superpowers to cut their nuclear arsenals.
On 31 July 1991, Gorbachev would go on to meet with Reagan's successor, George Bush, signing the Strategic Arms Reduction Treaty (START), cutting their nuclear arsenals by about one-third.
In a BBC interview broadcast in 2019, Gorbachev revealed that he continued to worry about the threat of nuclear weapons amidst the escalating tensions between Russia and the West.
He said: "As long as weapons of mass destruction exist, primarily nuclear weapons, the danger is colossal. Irrespective of any political decisions that may be taken."
He said the firing of any such weapons would lead to retaliation, and that this could not be allowed to happen. He called for all such weapons to be destroyed: "to save ourselves and the planet".
The fall of the Berlin Wall and the beginning of the end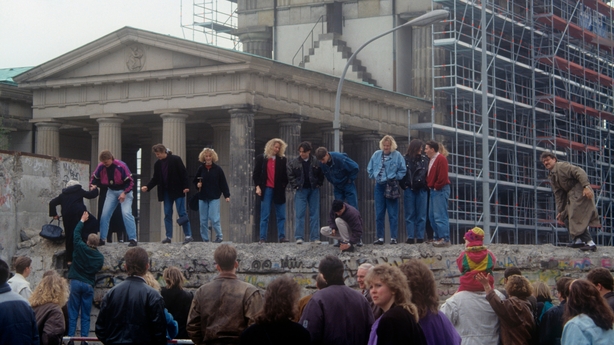 Gorbachev rejected the "Brezhnev Doctrine", the idea that military intervention was legitimate when socialism was in danger in other Marxist-Leninist countries.
He oversaw sweeping cuts in the Soviet military including the withdrawal of 500,000 Soviet troops from Central and Eastern Europe in December 1987.
The following year a further 115,000 troops left Afghanistan as the Russian military withdrawal from that country began. It had been a major financial drain on Soviet resources and was dubbed by some in the West as 'Russia's Vietnam'.
In October 1988 Gorbachev was appointed Soviet president and became executive president with increased powers in 1990 after winning a convincing victory for another term as Communist Party General Secretary in the first secret ballot for the post, held at the Moscow congress in July.
Despite consolidating his power in Moscow, by this stage, popular revolutions and nationalist movements were already sweeping away Communist governments across eastern Europe.
It is perhaps the key role that Gorbachev played in encouraging East German leaders to open the heavily guarded Berlin Wall, allowing free passage to West Berlin, for which he will be remembered best on this side of the world.
"We were prepared for it," Gorbachev told the BBC, reflecting on that time. "We were able to see in advance that history was accelerating its course."
He said the Politburo had come to a clear decision: "There mustn't be bloodshed. We couldn't allow it over an issue of such magnitude for Germany, for us, for Europe, for the whole world."
He said some people had been against the idea of German reunification, including the then British Prime Minister Margaret Thatcher, as well as the government in France.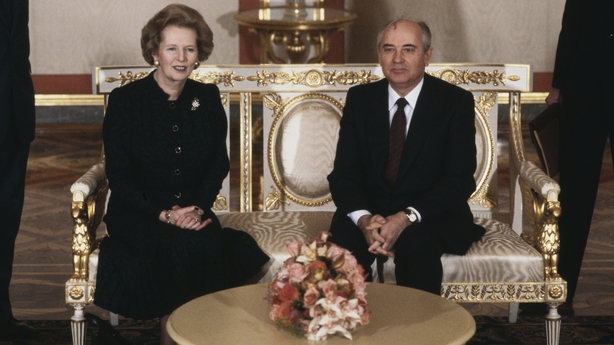 However, he said a decision was taken that the Russians would not interfere. "This was a matter for the Germans. Let them decide."
After the fall of the Wall, Gorbachev won the 1990 Nobel Peace Prize for the radical changes in East-West relations he had helped to bring about.
On his 90th birthday, which he was to celebrate via Zoom from a quarantine hospital that he entered as a precaution during the Covid-19 pandemic, the German Chancellor Angela Merkel said the people of Germany would never forget his contribution to her country's reunification.
Two Irish visits
Despite the tumultuous events that were unfolding on his own doorstep that year, Gorbachev found time for a fleeting visit to Ireland in 1989. On 2 April that year, he flew into Shannon Airport where he met with the then taoiseach Charles Haughey.
"Let's face it, this was a refuelling stop on his plane from Moscow to Cuba," said Murphy who by then was Political Director of the Department of Foreign Affairs, and attended the stopover in person.
He said the meeting lasted around an hour, but that it was significant in that Gorbachev always agreed to speak to people.
"We expressed our support for the prospects of perestroika, we expressed our support for the agenda of disarmament," he said.
Other topics up for discussion included the Middle East and the shortage of food in Russia: "with Haughey saying we had plenty to export," Murphy recalled.
Irish interests included the recent opening of by Aer Rianta of a duty-free shop at Moscow's international airport, which had been recently negotiated with Aeroflot officials. The import of oil to Ireland was also informally discussed.
"I can say without fear of being contradicted that Charles J Haughey made much more of it than Mikhail Gorbachev did," Murphy recalled with a smile.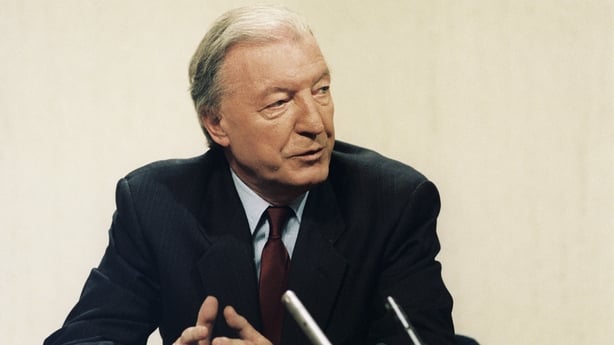 Gorbachev returned to Ireland again in 2002 when he was given the Freedom of Dublin city in a visit co-hosted by Dublin City Council and the European Russian Trust.
During his visit to the capital, Gorbachev said that the gift was very important to him and that he fully intended to exercise his newly acquired right to graze sheep in the city.
During the ceremony, the then Lord Mayor of Dublin, Michael Mulcahy, said: "Mikhail Gorbachev wasn't just instrumental in introducing democracy and economic reform to the people of Russia, his name was synonymous with the quest for greater freedom,"
He was also awarded a Trinity College Doctorate in Law, in recognition of his service to his country and his contribution to peace.
The coup and the collapse of the Soviet Union
Despite some early successes in his reform agenda, opposition at home was building towards Mikhail Gorbachev and his new ideas.
In early August 1991, he and his family left Moscow to begin a holiday in the Crimea.
There, they were held hostage as hardliners staged an inept, short-lived coup. The plotters had hoped to prevent the signing of a new union treaty that would have decentralised much of the Soviet government's power to the Soviet Union's constituent republics, threatening the break up of the Union.
At a hastily organised press briefing, Soviet Vice-President Gennady Yanayev broke the news.
"We have no choice but to take decisive measures," he said. The conspirators included Yanayev, KGB Chairman Vladimir Kryuchkov, Defence Minister Dmitry Yazov, Prime Minister Valentin Pavlov, and the Interior Minister Boris Pugo.
The coup was opposed by thousands of people who protested outside the Russian Soviet republic's parliament building, the White House, in Moscow.
Gorbachev's long-time opponent Boris Yeltsin, then president of the Russian Republic, led the resistance to the coup and emerged as the principal focus of opposition to Gorbachev's policies.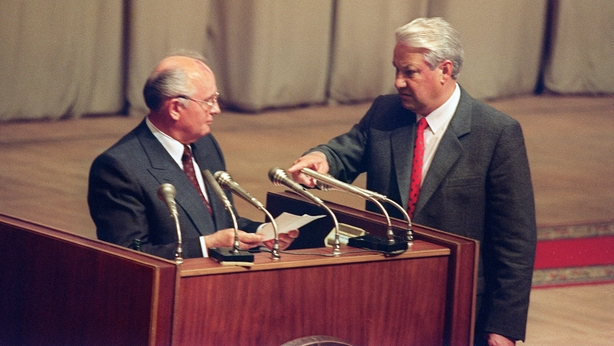 His intervention prevented the plotters from turning back the reforms that had already brought significant changes to Russia.
On the second day, tank crews sent to suppress the protest outside the White House joined them, and Yeltsin climbed onto a tank outside the White House to appeal to the army not to turn against the people.
Three people were killed that night as protesters blocked more tanks moving along Moscow's ring road towards the White House. But the security forces vacillated and ultimately did not use power to disperse the protesters outside the White House.
By 21 August 1991, it was clear the putsch had collapsed.
Troops withdrew from Moscow, and Gorbachev flew back to Moscow, looking severely shaken by the experience.
The coup leaders were arrested, but the Interior Minister Pugo and his wife later took their own lives. The rest of the conspirators were eventually tried for treason but were offered an amnesty in 1994.
Many historians say the coup achieved the opposite of what the plotters intended and hastened the demise of the Soviet Union. Gorbachev resigned as general secretary of the Soviet Communist Party on 24 August and Yeltsin banned the party's activities in Russia on 6 November.
The leaders of Russia, Ukraine, and Belarus created the Commonwealth of Independent States on 8 December and annulled the 1922 treaty establishing the Soviet Union.
Gorbachev resigned as Soviet president on 25 December 1991, saying: "Dear fellow countrymen. Compatriots... I am ceasing my activities as president of the USSR".
The Soviet Union officially ceased to exist the next day.
Gorbachev's legacy
Many Russians blamed Gorbachev's policies for creating mass poverty and ultimately held him responsible for the breakup of the Soviet Union.
The current Russian President Vladimir Putin famously described the break-up as the greatest geo-political catastrophe of the 20th century.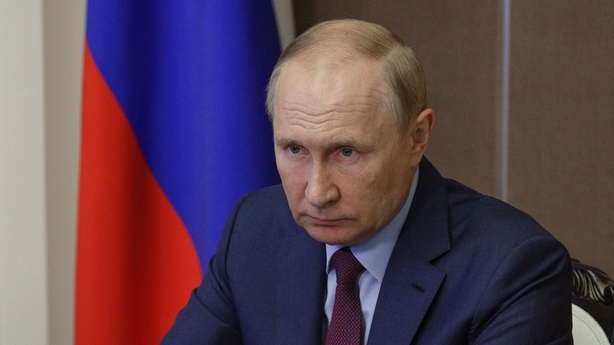 However, despite their political differences, on Gorbachev's 90th birthday, in a letter published by the Kremlin, Putin hailed him as "one of the most outstanding statesmen of modern times who made a considerable impact on the history of our nation and the world".
Since his resignation, Gorbachev has concentrated his efforts on founding and heading the Fund for Socio-Political Research, better known as the Gorbachev Foundation, and Green Cross International, a Geneva-based environmental organisation.
The death of his wife Raisa in September 1999 weighed heavily on him.
Whilst Putin has avoided personal criticism of Gorbachev, who he believed had placed too much trust in the West, for his part, Gorbachev has become one of Putin's most vocal critics.
In an interview at the Echo Moskvy radio station in December 2011, he said: "Do you remember I said once 'Actually, I would advise Vladimir Vladimirovich (then Russian Prime Minister Vladimir Putin) to go'? There were three terms: two terms as president, one as prime minister. Three terms. It's enough. It's enough because circles and clans are created around him. There's so much to root out."
He later said in a lecture in March 2013, that there was no going back from what had been achieved in Russia.
"We have now reached such a stage where we interrupted perestroika. But there'll be no turning back."
Referring to President Putin, he said: "Even if Vladimir Vladimirovich and others hope that they return to those old methods of force… and control with fear."
The increasingly authoritarian laws passed since Russia's invasion of Ukraine on 24 February this year are completely at odds with Gorbachev's policies of glasnost.
In an interview in October 2011 at the Lady Bird Johnson Auditorium, Gorbachev said that authoritarian measures as a policy for the future were wrong and said…"You see that where you have leaders that rule for 20 years or more you see what happens around them. The only thing that is important in such situations for those leaders and people around them is holding onto power. I believe that this is something that is happening now in our country."
He has also spoken out against the nuclear threat. When Donald Trump announced in 2018 that Washington would be pulling out of the Intermediate-Range Nuclear Forces (INF) Treaty that he had brokered with Reagan in 1987, the ex-Soviet leader was scathing.
"A great danger... now looms over all that we have achieved in the years since the end of the Cold War," he wrote in the Vedomosti newspaper, adding: "Politics, not weapons, is the key to solving security problems... We need... to take action to prevent the world from sliding into an arms race, confrontation and ultimately hostility. Despite everything, I believe it is still in our power."
What he thought more recently about the invasion has only been reported second-hand by his friends, including the prominent Kremlin critic and journalist Alexei Venidiktov who told Forbes Russia that Gorbachev believed Putin had undone his life's work.
"I think he'll be judged a as tragic figure. A tragic figure who had a very, very large vision of the future of his country but who in the course of 1985, 1986 and his years in power, came across obstacles which he hadn't reckoned with, and which he was unable to deal with," said Murphy.
His tragedy was that in trying to redesign an ossified, monolithic structure, to preserve the Soviet Union and save the Communist system, he ended up presiding over the demise of both.
The world, however, would never be the same.
Additional reporting: Reuters