Taoiseach Micheál Martin has said October's budget would be the most comprehensive way the Government will deal with rising inflation and cost of living increases.
It comes after the ESRI reported that the number of households in energy poverty in the State is estimated to be 29%.
This level exceeds the highest previous recorded level of energy poverty, which reached 23% in 1995.
Speaking in Cork, Mr Martin said today's ESRI report shows clearly that those on lower incomes are suffering to a far greater extent than those on higher incomes and "we have to take that on board in terms of policy that we develop in the budget".
Mr Martin added that further engagement will take place with the ESRI and around the cabinet table to get the right set of measures.
The October budget, he said, will be a cost of living budget.
He said they want to prioritise areas like childcare which is a huge cost for families, as is rent, and look at costs for key sectors of society who are really feeling it at the moment.
We need your consent to load this rte-player contentWe use rte-player to manage extra content that can set cookies on your device and collect data about your activity. Please review their details and accept them to load the content.Manage Preferences
The Taoiseach said any measures would need to be comprehensive and "to apply for this calendar year and in a meaningful way over the next 12 months".
Today's ESRI study defined energy poverty as households spending more than 10% of their net income on energy, excluding motor fuel.
Energy inflation from January last year to April this year increased the cost of household consumption by €21 per week and if motor fuel costs are included the weekly increase rises to nearly €39.
In the event of energy costs continuing to rise by another quarter, the report says the share of households in energy poverty would rise to 43%.
The report also finds energy price increases disproportionately impact those on lower incomes.
It suggests that measures targeted at the less well-off, such as welfare increases, lump sum payments or fuel allowance increases, would be more effective at tackling the issue, as opposed to cutting VAT, fuel duty or the carbon tax, which would benefit better-off households too.
We need your consent to load this rte-player contentWe use rte-player to manage extra content that can set cookies on your device and collect data about your activity. Please review their details and accept them to load the content.Manage Preferences
The future of fuel prices will depend on many factors, including the war in Ukraine, said Dr Barra Roantree, ESRI, and co-author of the report on energy poverty and deprivation.
By winter, the average household could be looking at a rise in energy costs of €37 per week, he said.
Speaking on RTÉ's Morning Ireland, Dr Roantree said that rural households, those people on lower incomes, as well as older people, are most adversely affected by the rising cost of energy as they spend a greater proportion of their income on fuel.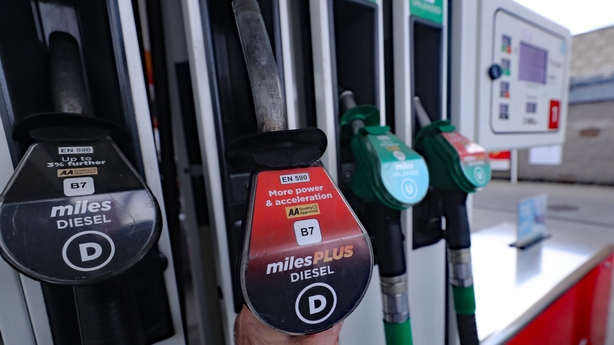 While the increases are at about 2.3% of net income, that equates to 3.8% for those on the lowest income, so households are being affected differentially, he explained.
"The Government can't really compensate everyone. If it was to try to do that, it could be costing upwards of €4bn a year," he said, which would risk fuelling inflation.
"Cutting excise duty on fuel, cutting VAT on electricity, electricity and gas, those kind of things aren't particularly well targeted.
"And the reason for that is simply that higher income households have been less affected, spend more in absolute terms.
"So therefore, by cutting indirect taxes, they're getting more of the gain. In fact, we estimate that in terms of, say, if you imagine having a pot of money to spend on compensating households, if you were to do it through things like indirect taxes, actually more than half of that gain goes towards the highest income households who again have been less affected than lower income households."
While lowering indirect taxes will not help those most affected by price rises, a Christmas bonus type of payment is an effective way to target those on lower incomes and in receipt of welfare payments, he said.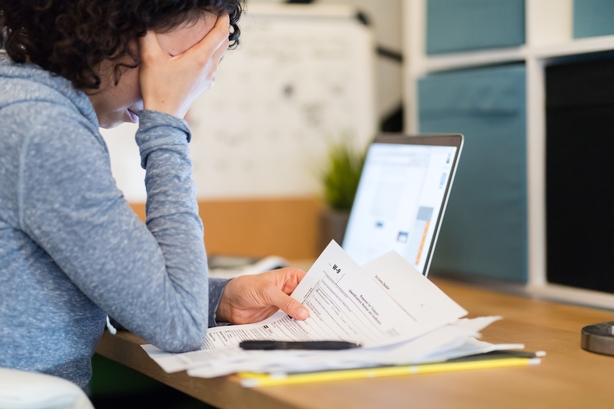 Dr Roantree said that the Government could also look at making changes to PRSI or increasing the PAYE income credit to help people in the middle-income bracket.
SVP receiving 'thousands of calls'
Reacting to the report, Head of Social Justice and Policy at St Vincent de Paul Tricia Keilthy said the findings are stark but they are not surprised as they have been receiving thousands of calls from people struggling to pay their bills.
"We received 78,000 requests for help this year, that's 20% up on previous years. Many of those households are making very difficult decisions between essentials, like food , like heating and we know groups like loan parents, people with disabilities and households in rural areas are really struggling the most. The ESRI report really shows the disproportionate impact of energy price increases on low income households. That's why it's so important resources in Budget 2023 are directed towards those who need it the most."
She said they are now receiving calls from households that never had struggled before, that were able to get by but are now looking for help.
She urged the Government to target resources at those who need them the most.
"The Government have it within their power to do the right thing and direct resources to households on the lowest incomes. From our point of view that would be increasing core social welfare rates, moving towards the living wage which the Government has committed to. We also want to see extra support through the fuel allowance and its extension to more households and targeted supports for lone parents and people with disabilities."
The report "screams loudly" that the Government needs to do more, Sinn Féin's Finance Spokesperson Pearse Doherty said.
Also speaking on RTÉ's Morning Ireland, he called for a "targeted" emergency budget and lump sum payments, which he said have been introduced in other jurisdictions to help those on low and middle incomes.
People on social welfare are feeling "the brunt of this cost of living crisis", Mr Doherty said. "We need core payments increased by €7.50 to keep in line with inflation."
His party wants more focus to be placed on helping those renting accommodation.
"Renters are feeling a major squeeze. It is unaffordable, that is why we want to see a month's rent being put back into renters' pockets," he said.
The Tánaiste has said that the findings of an ESRI report on the cost of living are not surprising but very stark.
Leo Varadkar said that it is clear to people each time they see their bills how much energy prices are increasing.
Mr Varadkar said that Government remains focused on delivering a package of measures for Budget day, which is "just over three months away".
He added that Government is not ruling out interim measures but for now the focus is Budget day.
Mr Varadkar said that there were no plans to scrap motor tax, despite calls from some politicians to do so.
Instead, he told reporters that Government was looking at welfare, pension and tax measures.
There has been a 15% increase in calls made to the Money Advisory and Budgeting Service (MABS) in May 2022 compared to May 2021, its spokesperson said.
Speaking on RTÉ's News at One, Michelle O'Hara said people "on a reasonable income" are also contacting the service, with the main areas of concern being personal debt, fear of mortgage arrears and utility disconnections.
"The cost of living is crippling people," she said.
Additional reporting Tommy Meskill, Joe Mag Raollaigh, Jennie O'Sullivan