Fishers who agree to stop fishing for two months will be paid to keep their vessels tied up in port under a scheme announced by the Minister for Agriculture Food and the Marine.
Vessel owners can apply for payments ranging from €4,600 per month for boats under 10 metres in length, up to €89,000 for vessels above 24 metres.
A condition of the scheme, which will be financed by the EU fund set up to reduce the economic impact of Brexit, is that owners must distribute one-third of the payments to crew.
The scheme is open to fishers targeting deep water species, including cod, haddock, monkfish whiting, megrim sole and plaice. It is the second such tie-up scheme from the department and is valued at €24 million.
Minister Charlie McConalogue said the scheme will help mitigate the impacts of quota cuts that followed the Brexit Trade and Co-operation Agreement.
"In light of the quota cuts taking place I have modified the scheme so that vessel owners can choose to tie up for two calendar months. This tie-up opportunity will free up additional quota for those (other) vessels continuing to fish," he said.
A further condition of the scheme is that participating boats must leave two months between their first monthly tie-up and their second.
This is to ensure supply of fish to processors and fish mongers. The scheme will operate from June to October but may be extended to include November.
Reacting to the news, Sean O'Donoghue, CEO of Killybegs Fishermen's Organisation, said the scheme is very welcome but does not solve fishers problems.
"Freeing up quota is fine but costs of fuel have doubled since the war in Ukraine. Diesel was 50c per litre, now its €1.
"We were looking for the scheme but it is only part of trying to resolve huge issues in fishing, making fishing uneconomic."
He said the break-even point on fuel is estimated to be 60c per litre.
"The price of fish has gone down or remained unchanged and costs have doubled. We really need emergency measures to cover additional costs."
He said the European Commission had said back in March that additional costs could be covered.
The tie-up scheme will be administered by Bord Iascaigh Mhara, and was recommended by the Seafood Task Force set up by the minister to examine the implications of Brexit for the fishing industry.
The new tie-up scheme has been welcomed in Greencastle in Donegal, where quota cuts due to Brexit have hit the industry badly.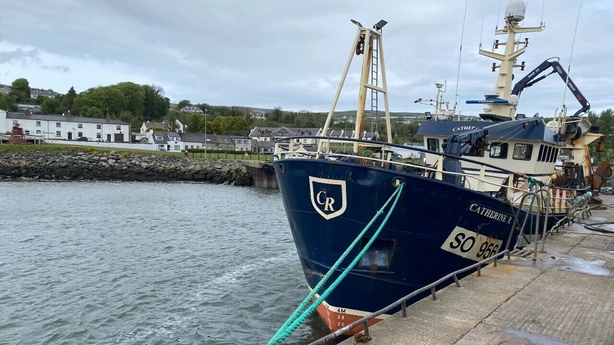 John D Kane, General Manager of the Foyle Fishermen's Co-op in the port, said they lost about 20% of their monkfish and other species and that was a huge blow to the area, which is very dependent on the fishing industry.
He said that co-operatives like his will now work with the Department for the Marine to ensure that the boats availing of the tie-up periods will be spread out to ensure there is a continuous supply of fish to the processing sector within Ireland
Fisherman Cara Rawdon is one vessel owner who will be looking at the scheme.
He said it is badly needed because of the "brutal" deal Ireland got as a result of Brexit.
Separately, Minister McConalogue announced that a €45m Brexit fund has been opened for seafood processors to develop their enterprises.
Also based on a recommendation from the Sea Food Task Force, processors can apply for grant aid for capital investment projects, especially those that add value to fish through processing, to improve environmental performance and achieve greater production efficiencies.
The funding will also come from the EU Brexit Adjustment Fund which gives Ireland €920m over three years. Ireland is the biggest beneficiary of the fund.
Before the pandemic struck the fish processing sector supported 4,355 jobs, paid €145m in wages and contributed €347m to the economy and is particularly important to some of Ireland's peripheral and rural areas according to the Department.