The Papal Nuncio is ending his six-year mission to Ireland following an announcement by the Vatican.
Pope Francis has stated that Archbishop Jude Thaddeus Okolo Martin will take up the role in Czechia, formerly the Czech Republic.
Archbishop Okolo, who was at the installation Mass for the Bishop of Galway Michael Duignan this afternoon, received well-wishes from colleagues.
Catholic Bishop Emeritus of Galway, Kilfenora & Kilmacduagh Brendan Kelly described Archbishop Okolo as an assuring and friendly presence over the past six years.
"We will miss you, but we assure you our prayers go with you as you assume your new mission in Prague," he said.
The apostolic nuncio is the papacy's diplomatic representative in Ireland.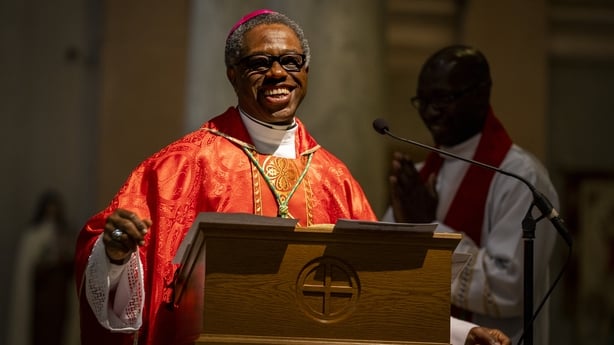 Archbishop Okolo has held the role in Ireland since 2017.
Born in Kano, Nigeria, he served as an apostolic nuncio to the Central African Republic and Chad in 2008, and then as the pope's diplomatic representative to the Dominican Republic in 2013.
Before becoming an apostolic nuncio, he had worked in the diplomatic service of the Holy See, where he was stationed in Sri Lanka, before going on to be a pontifical representative in Haiti, Switzerland, the Czech Republic, Australia and the Antilles.
In Galway, Archbishop Okolo thanked those gathered at the installation Mass for Bishop Duignan who will continue to minister as Bishop of Clonfert.
Due to his existing role, Bishop Duignan has been installed as Bishop of Galway rather than ordained at the ceremony.
Bishop Duignan described it as an historic development not just for the Church communities in parts of Galway, Clare, Roscommon and Offaly that comprise the two dioceses, but also for the Catholic Church on the island of Ireland.