As the Russian invasion continues in Ukraine, thousands of civilians have been hiding in basements trying to escape the violence.
In one town close to the second largest city Kharkiv, 450 people are crammed into a basement trying to escape the bombing.
As the war rages above ground in the town of Chuhuiv - men, women and children have been living below ground in a bunker.
They have been there since the beginning of the war six weeks ago.
Life is difficult with sporadic electricity and just two toilets for 450 people. They use candlelight when the electricity goes.
Volunteers have been delivering vital food, water and medicine.
One of the volunteers makes a dangerous journey every day amid frequent shelling, and says she is scared but feels she must help people in Chuhuiv who have been left with nothing.
She says: "It's very difficult, people are very scared, especially kids, they feel very uncomfortable living in the basement.
"They are scared to go out ... they live in the basement all the time. They don't go out, they say 'if we go out and they start bombing, what can we do'."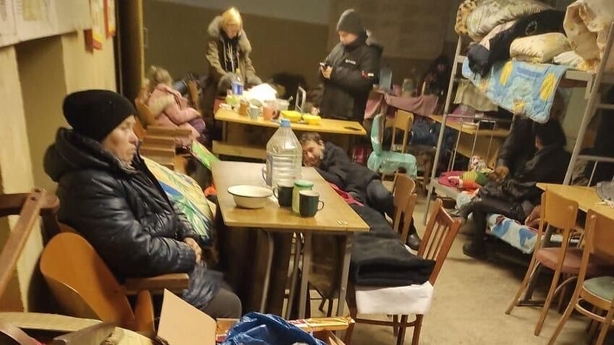 "We are scared too but what can we do, we want to help people. If we don't help people, who can help them."
Above ground the townspeople's homes have been left in ruins and the town is deserted.
The destruction caused by Russian missiles is everywhere and relentless bombing is continuing every day. Houses have been reduced to rubble by powerful blasts.
One of the men living in the basement said people there are terrified and they would love to go home but he said it is too dangerous.
Children draw, read and play cards to try to escape the horror they are living. Many have brought their pets which bring some comfort.
One girl explained that when the bombing attacks start she becomes very scared.
As the war rages on, thousands of Ukrainians like these people in Chuhuiv remain underground, waiting and hoping for the war to end.
---
Read more: All the latest from Ukraine
---