A water turbine installed to power a Co Clare hotel became a key source of income during pandemic-related closures.
The Falls Hotel, located on the fast-flowing River Inagh in Ennistymon, installed a new 220-kilowatt hydroelectric turbine to power its 140 bedrooms and other facilities in 2018.
However, when the family-run hotel was hit by Covid-19 closures, the turbine also became a source of money, as well as power.
General manager Michael McCarthy said: "Over the past two years, we've been opening and closing, opening and closing. So the turbine generated more power than we were using. And when we were closed, it was probably the only thing that was making money for the hotel."
Mr McCarthy estimates that the hotel received €20,000 through sales of its electricity back to the national grid last year.
The "huge success" of the turbine project has enabled the hotel to "dramatically reduce" its dependency on carbon fuels.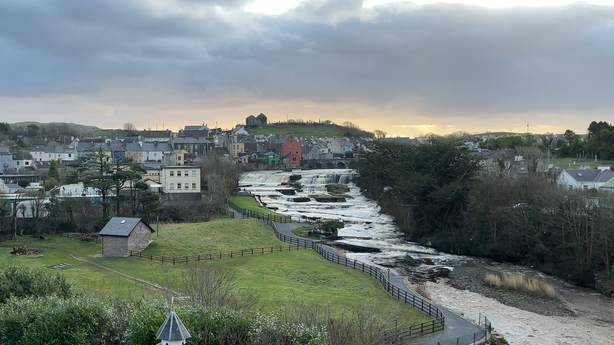 Mr McCarthy also believes it helped the hotel earn 'Carbon Neutral' certification from Green Hospitality Ireland - a status guests frequently comment on when they are checking in.
"It sways people for sure, it's a deciding factor," he said. "They feel they are doing their bit for the environment. Residents will often ask to get a tour of the turbine, and we've had students from different colleges doing projects on it. It generates huge interest."
The Falls Hotel is a member of the Burren Ecotourism Network, which aims to establish the Burren as an internationally recognised sustainable tourism region.
Mr McCarthy said: "We are doing our part. If everybody can improve year on year, it can make a real difference."
"The big one to get carbon neutral was the turbine," he said. "We also moved to Calor Bio Gas, which is a 100% renewable energy source.
"Then we have to plant 100 trees per year to offset the transport of our laundry. We actually planted 800 trees in the last two years which is more than what was needed. We've a new orchard planted as well and the plan is to plant more trees later this year for a community orchard that will be up by the turbine. In five to ten years it will be open to the public so they can come in and pick their fruit as they like."
In our 'Climate Heroes' series of reports, we shine a light the people who are stepping up to protect our environment and tackle climate change. While these people come from all walks of life, they share a common purpose to improve the world around us.