It's been a very difficult week for Germany's standing in the EU, NATO and in eastern Europe when it comes to Ukraine.
Despite the acclamations of European unity in the face of a possible Russian invasion, Berlin has increasingly been seen as the weakest link in the West's response.
Germany has held up Estonia's dispatch of East German-made howitzers to Kyiv and a German general was forced to resign after remarking that Crimea - invaded by Moscow in 2014 - was "Russian" (he also said Vladimir Putin deserved "respect").
When Germany sent 5,000 military helmets to the Ukrainian government instead of heavy weapons, Vitali Klitschko, the Mayor of Kyiv, called the offer a "joke".
Kyiv regarded the situation as serious enough to merit calling in the German ambassador following the general's remarks.
"The vast majority of Ukrainians even believe that this unwillingness of Germany to act preventively and not to put the Kremlin under extreme pressure is nothing else [than] pure appeasement politics," Ukraine's ambassador to Berlin told the Washington Post.
Analysts are trying to determine if Germany is correct to pursue a non-confrontational, diplomatic course to the bitter end, or if this is a misstep by a new coalition government, comprised of leaders whose views on Russia are not naturally in sync.
Critics have identified a longer term pivot away from the US, driven by a popular recoil from a post-Trump America, a lingering postwar aversion to military intervention, and self-serving economic and geopolitical interests.
"The Germans have a huge energy dependence on Russia. That explains an awful lot," says one EU diplomat.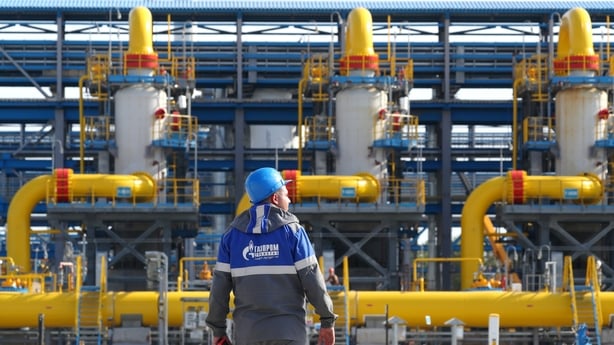 Germany relies on Russia for up to 75% of its gas imports, and that may well increase as the country phases out nuclear and coal.
Despite the outright opposition of several EU member states, Germany has long defended the construction of the Nord Stream 2 gas pipeline running directly from Russia to Germany's Baltic Sea coast, bypassing Ukraine, and which will double the volume of Russian gas into Germany.
Critics have said it heightens Germany's reliance on Russian gas (and deprives Ukraine of valuable transit costs). The pipeline is complete and awaiting certification, but it has divided the new coalition.
Washington has explicitly warned that if Russia invades then Nord Stream 2 should be frozen.
The current crisis has shone a harsh spotlight on Berlin's long-standing policy of engagement with Russia. It can be traced back to Willy Brandt's Ospolitik in the 1970s, which emphasised rapprochement with the Soviet Union through trade and mutual interests.
Brandt's Social Democrats (SPD) safeguarded that approach over the decades. The former Chancellor Gerhard Schröder even became a close confidante of Vladimir Putin and a director of the Russian state-run giant Gazprom.
Robert Habeck, Germany's new economy minister, has opposed including the SWIFT bank payments system in the repertoire of sanctions should Russia invade.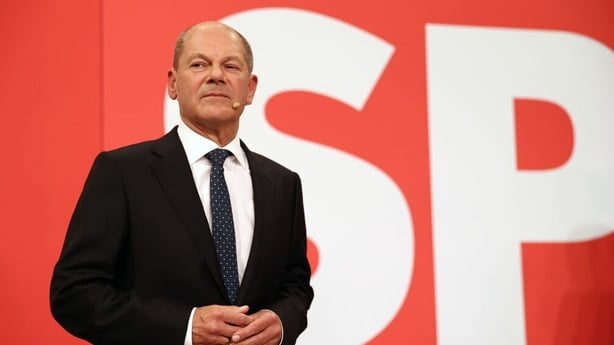 The problem for Chancellor Olaf Scholz is that public opinion remains, on balance, hostile to weapons being sent to Ukraine. A poll for Welt television on 21 January found that 47% were opposed, compared to 42% in favour.
Opposition remains highest among supporters of the far-left and far-right, a reflection of how Moscow has successfully courted both ends of the spectrum.
The damage to Germany's reputation is certainly palpable. Judy Dempsey at Carnegie Europe this week asked 18 leading foreign policy experts from across Europe if Germany had undermined the EU's position on Russia.
Only three were sympathetic, three were balanced, while 12 said Germany had clearly undermined its EU and NATO allies.
John Lough, Russia expert at Chatham House, said the blocking of weapons was a failure of leadership. Even Angela Merkel had managed, despite Germany's psychological scars and economic concerns, to take a tough line on Putin when Russia invaded Crimea in 2014.
"Berlin's failure so far to define the range of sanctions that it is prepared to contemplate is also undermining Western efforts to deter Russia," said Lough.
"Germany's decision to close its nuclear power plants and make itself more dependent on Russian gas has been a gift for the Kremlin. To make Putin think twice, Germany needs to signal that it will, if necessary, seek alternatives to Russian energy deliveries."
Martin Ehl, an analyst at the Czech think-tank Hospodářské Noviny, said: "If Germans would like to apply their historical guilt principle, there is no better place than Ukraine to do just that. It is a historical irony that Germany is shying away from helping a country that lost about a fifth of its pre-war population in the Second World War and which constituted about 40% of all USSR casualties."
German officials smart at the criticisms. On the question of the Cold War-era weapons, it's pointed out that for historical reasons Berlin has for decades pursued a strict policy of not sending weapons into conflict zones.
At EU level, Berlin insists it has not been an outlier in discussions about sanctions
Furthermore, the German government is still assessing the request. On the helmet question, Kyiv had asked for 100,000 helmets, and on the basis that the Bundeswehr did not have that number "sitting in a warehouse" Berlin was at least able to send 5,000 immediately.
Officials also point out that Germany has regularly evacuated Ukrainian soldiers during the conflict in eastern Ukraine, and treated them in German hospitals. Berlin and Tallinn will send a joint field hospital that will arrive in early February.
Germany's position on Nord Stream 2 is evolving. Foreign minister Annalena Baerbock told the Bundestag this week: "Renewed military action against Ukraine would have massive consequences for Russia. On this basis, we are working on a strong sanctions package… We have a range of responses at our disposal, including Nord Stream 2."
Chancellor Scholz confirmed that Nord Stream 2 was back on the table during a joint news conference with NATO secretary-general Jens Stoltenberg.
At EU level, Berlin insists it has not been an outlier in discussions about sanctions. Diplomats agree that there are many shades of opinion among member states; however, it's clear that Germany has been instrumental in keeping SWIFT off the table, although blocking Russian banks from using SWIFT is being considered.
Nor has Germany been alone in blocking EU military support for Ukraine.
Last year, the Baltic States raised the idea of the EU providing high level training for Ukrainian officers, an initiative which morphed into a request in writing from Kyiv to Josep Borrell, the EU's High Representative for Foreign Policy.
It's understood that not only Germany, but Italy and Greece were also "adamantly" opposed to such an initiative.
One source said it would be largely symbolic and risked a double-edged response from Russia, which would either use it as a pretext for a "nasty" response, or taunt the EU with "is that the best you can do?"
Germany restricted its preference to operating through the European Peace Facility (EPF), created to provide support to Ukraine, Georgia, Moldova, Belarus, Armenia and Azerbaijan, countries in Europe's neighbourhood, where the EU has been trying to shore up democracy and financial stability since 2009 through the so-called Eastern Partnership.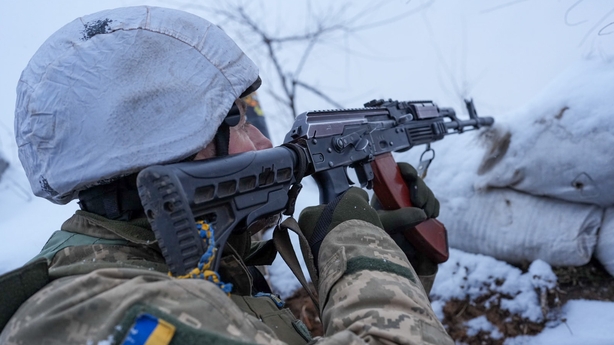 In December, EU leaders agreed €31 million in support for Ukraine under the EPF to "enhance the overall resilience of Ukraine and help strengthen the capacities of the Ukrainian Armed Forces, including their ability to provide their services to civilians in crises or emergency situations".
Again, this is on the softer end of the spectrum: the money will go to financing military medical units, field hospitals, engineering, mobility and logistics units, and support on cyber warfare.
German sources say it is no secret that Berlin favours a two-way strategy: keeping dialogue open and maintaining the threat of sanctions. The message is that if Russia sends in the tanks there will be no doubt about where Germany stands.
"This is something the Chancellor and the foreign minister have underlined and repeated numerous times. If Russia starts military aggression, this will have huge economic and financial consequences," says one source.
Officials also argue that the Ostpolitik of the 1970s was intrinsic to the Cold War at that moment, when Germany was divided in two, and where carving out a space in which very limited family reunifications could happen depended on keeping avenues of dialogue with the Soviet Union open.
That worked because the West was ultimately in a position of strength. Today, Russia is in a position of strength because it is using the threat of military force to upend the post-Soviet European order and that threat will not be matched by the West.
'This crisis has hit the new coalition government at a very early stage'
In Foreign Affairs magazine, Angela Stent describes the Putin doctrine as "getting the West to treat Russia as if it were the Soviet Union, a power to be respected and feared, with special rights in its neighborhood and a voice in every serious international matter. The doctrine holds that only a few states should have this kind of authority, along with complete sovereignty, and that others must bow to their wishes".
Critics say Germany has not fully internalised this threat.
Chancellor Scholz's SPD is currently split on contemporary Ostpolitik, with senior figures like Michael Roth, the influential head of the Bundestag Foreign Affairs Committee, taking a much harder line against Russia.
For today's MPs, Ostpolitik is no longer about Russia but about how Germany orients itself towards eastern European countries (which are increasingly recalcitrant members of the EU) and the eastern neighbourhood.
"In Germany's defense, this crisis has hit the new coalition government at a very early stage while it is still settling in," writes Ulrich Speck, visiting senior fellow at the German Marshall Fund.
"But history shows no mercy. A chancellor who has been very much oriented toward domestic issues for his whole career must now quickly get up to speed and play a role that is in line with Germany's power and responsibility in relations with Russia, where Berlin plays a crucial role. What is at risk is the peace order that was established in Europe after the Cold War, which is profoundly in Germany's interest."
EU discussions on sanctions have been highly secretive so as not to give the Kremlin an opening to divide member states. "Russia are past masters at picking people off," says one diplomat.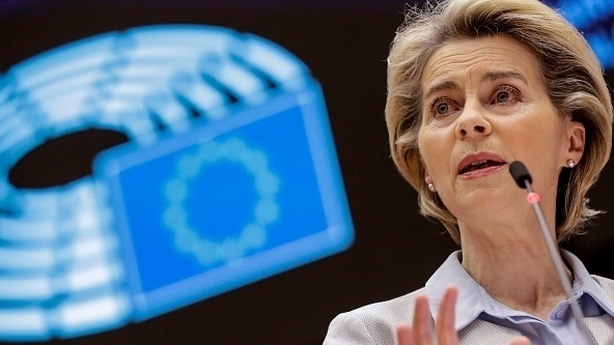 But capitals are keenly aware that severe sanctions will hurt EU companies as well, and not just German ones (whatever about Russia turning off the gas).
If an invasion happens, the EU will have to decide - and decide quickly - whether the reaction is full-blown or incremental, and what sectors of the Russian economy will be hit.
"That's where you're going to start to see cracks, because some member states will be hit harder than others," says one diplomat.
Increasingly, the talk in Brussels is of how those harder hit can be compensated with EU funds, but on a greater scale than after the invasion of Crimea in 2014 (back then Russia banned food imports from the EU).
The European Commission is coordinating sanctions preparations, with small groups of EU ambassadors meeting President von der Leyen privately to assess both options and impacts on domestic economies.
German diplomats are said to be working hard to "steady the ship". Chancellor Scholz will travel to Washington to meet President Biden on 7 February.
That is when Washington will get a clearer picture of German resolve over Ukraine.