Four men murdered by the UDA, including a Donegal Sinn Féin councillor, were not warned their details had been found in loyalist intelligence files, a report has revealed.
It is one of a number of findings following an investigation by the Police Ombudsman of Northern Ireland.
Marie Anderson looked into 19 murders and several attempted murders attributed to the group between 1989 and 1993.
A number of victims had links to the republican movement, but many others did not.
We need your consent to load this rte-player contentWe use rte-player to manage extra content that can set cookies on your device and collect data about your activity. Please review their details and accept them to load the content.Manage Preferences
She reviewed files on the murders of individuals and several multiple killings including the Greysteel Massacre in October 1993, which claimed eight victims.
Ms Anderson identified a number of "significant concerns" and said the victims' families' belief that there had been "collusive behaviours" were legitimate and justified.
She also said police did not have prior knowledge of any of the attacks which might have prevented them.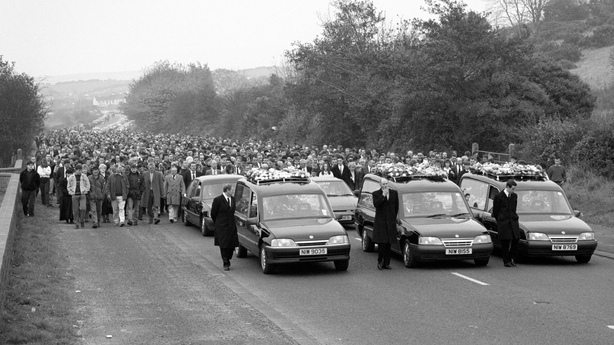 Buncrana Sinn Féin councillor Eddie Fullerton was among those murdered by the UDA based in the northwest.
He was shot dead in front of his wife in their home in May 1991.
Ms Anderson said he was one of several people who had not been warned that their details were in a loyalist intelligence cache uncovered by police.
"I cannot say whether the notification of threat warnings in itself would have been sufficient to protect these individuals from subsequent attack," she said.
"However a threat notification would have allowed the relevant individuals to review their personal security measures in light of the heightened risk."
His daughter Amanda told RTÉ News that establishing why her father had not been given a warning was the "crux of their case" which they would be continuing using other legal avenues.
"Justice for my family quite simply is getting to the truth. I'm motivated by the spirit of my father.
"For me it's about unveiling exactly what machinery, what forces were in play that collaborated to have him assassinated."
As well as the failure to alert the victims to the threat they faced, Ms Anderson said police had failed to deal adequately with UDR soldiers who were passing information to loyalist paramilitaries.
In one case, this included a soldier suspected of relaying information used to target a man murdered in Ballymoney, Co Antrim.
In several cases, she found that security force members suspected of links to loyalists were dismissed or transferred instead of being investigated.
She also found that police had destroyed files on informants who were suspected of having been involved in crime up to and including murder, though she also said that in some instances intelligence from informants may have saved lives.
In a statement, the PSNI said the report brought home once more "the horror and pain for all communities of Northern Ireland's past".
"These were appalling crimes carried out by those with evil intent," said Deputy Chief Constable Mark Hamilton.
"We are very aware of the hurt and anger felt by the families of those killed and those injured and we apologise to the families for the findings in this report."
The ombudsman found that in the early 1990s the UDA in the northwest was intent on increasing attacks.
Police had intelligence to that effect but did not initially match the risk with a proportionate policing response.
She said that in 2016 one of her senior investigating officers had compiled a report for the PSNI identifying evidential links connecting an individual to several murders and attempted murders which were covered in her report.
She said a number of queries had been raised with police since about the status of the file. The PSNI had said it was subject to their procedures for prioritising and sequencing historic investigations.
Victims' Group Relatives for Justice issued a statement on behalf of a number of the families.
They said the report provided "irrefutable evidence of collusion".
"We stand vindicated in our persistent claims of collusion in particular by the RUC and UDR in the murders of our loved ones."