A Co Galway schoolboy with cerebral palsy has discovered a love of art - by using the wheels of his wheelchair to apply the paint.
Joshua Whelan, a first year pupil at Clarin College in Athenry, received huge praise on social media last week after the school shared a picture of his first ever painting.
The large artwork is an abstract of the Athenry town map.
However, Joshua's route to producing the piece required some innovative teamwork.
When Joshua joined Serena Joyce's art class a few months ago, she was determined to find a way for him to make his mark.
"I felt art transcends all abilities and disabilities and it was important for him to be included in this," she said.
"We looked at other wheelchair artists, such as American artist Tom Hollenstein who uses his wheelchair too, so that provided inspiration."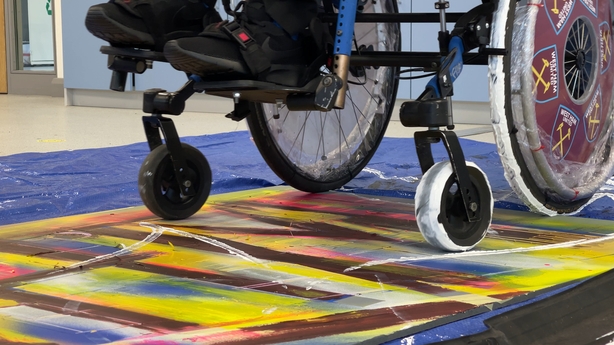 Serena worked with Martin O'Connell, Joshua's special needs assistant, to figure out how they could help Joshua realise his creative vision.
As soon as they settled on painting using his wheels, Serena 'borrowed' the boot mat from her husband's car to use as a palette, and Martin repurposed some old bicycle tyres to place over Joshua's wheelchair wheels to protect them during the painting.
Serena said: "Joshua has been very enthusiastic about it and the excitement of getting Martin covered in paint was also part of his humour!"
During the painting process, Joshua directs Martin on how he wants the wheelchair to move across the canvas.
"You know by his reaction, and if we're not doing what we should be doing he'll tell me, he's very good at communicating in that way," Martin said.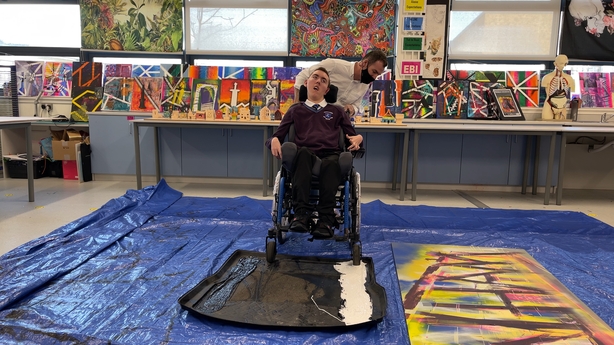 Joshua's abstract of the Athenry town map was completed as part of the school's end-of-year exhibition that will feature works from every year group.
The exhibition's aim is to draw links between the brand-new school and the medieval walled town it is situated in.
His painting is on display in the school and after it was hung, the Clarin College Twitter account shared a photo of it. The tweet received thousands of likes and retweets, with comments flooding in to congratulate him on his work.
Joshua's mother Ingrid said: "He's amazing. It's a credit to the school and Serena and Martin, and the support he's had to help realise his skills and abilities.
"People will look at it and think, 'Josh did that with West Ham wheels, maybe I could do it with something else'."