The Department of Education has repeated that there are no plans to change the school break at Christmas.
The Government has been insisting the schools will not be closing as a Christmas circuit breaker and the department has said schools will remain open next week.
In a statement to RTÉ's Morning Ireland, the department said there is no evidence to suggest extending school holidays has a public health rationale.
It added that there is a requirement for primary schools to do 183 school days and for post-primary schools to do 167 school days.
The department also said it will continue to engage with all stakeholders to ensure that schools reopen in January as scheduled.
Meanwhile, pre-Christmas Covid fears are seeing panicked parents pull their children from school ahead of Wednesday's closure.
The Irish Primary Principals' Network (IPPN) said it is not aware of any school closures but is aware of parents pulling their children out before the end of term.
I am going to let them finish today
"Schools will only close early if they are directed to so do. The position of public health, the minister and the department has been very clear and is clear. They will remain open until the end of term, which is next Wednesday," said IPPN Chief Executive Pairic Clerkin.
Speaking on RTE's Morning Ireland, he said: "I totally understand parents are nervous. They may decide not to send children in, especially if they have plans to spend Christmas with family and grandparents. But the position at the moment is clear and that is that the schools will remain open."
Parents at Holy Rosary School at Firhouse in Dublin remain nervous amid new public health measures on other sectors being proposed by the National Public Health Emergency Team.
Some parents at the school will not send their children to school next week.
We need your consent to load this rte-player contentWe use rte-player to manage extra content that can set cookies on your device and collect data about your activity. Please review their details and accept them to load the content.Manage Preferences
Amy Cahill has two children, aged 5 and 7, at the school. She said she is pulling her children from school from today because she is concerned about Covid.
"I am going to let them finish today. Christmas Eve is next Friday - so imagine one of them got a symptom on Tuesday or Wednesday. It's going to ruin Christmas for everybody," Ms Cahill said.
"It is definitely a deal breaker. I am not going to send them in on Monday. I think it is going to be safer for the kids, safer for us. To make our Christmas enjoyable for everyone, I think it is the best solution," she added.
Austin Smith, another parent at the Firhouse school, said he would watch Covid numbers at the weekend and make a decision whether to leave his two girls in school next week.
"It is a 50/50 call," he said.
"Personally, I would have thought it would have been a good idea to close the school next week. It would have been a natural circuit breaker," he added.
Mr Smith said that he has heard "on the grapevine" that there are "a good few parents" who are "toying with the idea" of taking their children out of school early.
Opinion among parents at the school is mixed. Some say schools should be closed already, while others say schools should start later in January after Christmas.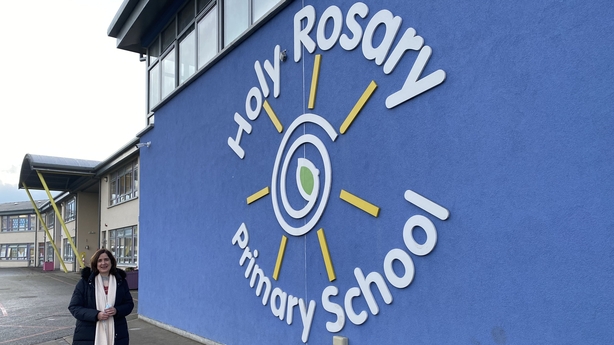 Holy Rosary School Principal Dolores Kelly said she expects some children will not be attending school next week as parents are concerned.
Ms Kelly said: "This has been a challenging time for everybody. They've been looking forward to Christmas. And now they're seeing case numbers rise; hearing about the Omicron variant; so naturally they're worried. They're worried about their Christmas. I do expect children will be absent from classes next week."
She said 20% of the 590 children at the school are currently out at the moment, which she said was coming off the back of a challenging few weeks.
"This has been a very challenging December for us here in Holy Rosary School. Over the past two weeks we've had 40 cases of Covid-19 among both students and staff members. We haven't had those numbers since the pandemic began," she said.
"On top of that, on a daily basis, we have had 20% of the [school] population out. That's three times higher than this time last year.
"It's due to children who are self-isolating; children who are vulnerable or maybe have vulnerable family members; and it's also due to people who are nervous. If there's a case in the class, parents sometimes keep their children out for a couple of days because they're nervous about Covid".
Meanwhile, Green Party leader Eamon Ryan said the latest advice is that incidence of Covid-19 infections happening in schools and childcare is low so people should consider that before taking children out early before Christmas.
The Cabinet is to meet today to consider the latest advice from the National Public Health Emergency Team in response to the rise of the Omicron variant of coronavirus.
NPHET has expressed "exceptional concern" about the impact of Covid-19 and the new variant in its latest advice to Government.
Among its recommendations are new restrictions on pubs and restaurants, as well as further limits on sports. theatre and cultural gatherings.
---
NPHET in new recommendations amid Omicron concern
Hospitality say proposed '5pm curfew' a 'lockdown for sector'
Live updates: Cabinet to consider new measures
All Covid-19 headlines