Taoiseach Micheál Martin has announced new restrictions to try to curb the spread of the Omicron Covid-19 variant as he warned of a "massive rise in infection" ahead.
The Cabinet agreed to implement an 8pm closing time for hospitality and live events, as well as other indoor venues such as cinemas and theatres over the Christmas period.
The National Public Health Emergency Team had recommended a closing time of 5pm.
Under the measures, which come into force from midnight on Sunday, all restaurants and bars excluding takeaways or delivery services, must close at 8pm and there should be no indoor events after this time.
However, there is an exception for weddings, which can take place after 8pm with a capacity limit of 100 guests. Religious service are also exempt, the Taoiseach has said.
For indoor events earlier in the day, attendance should be limited to 50% of venue capacity or 1,000 people, whichever is lower.
Attendance at outdoor events should be limited at 50%, or 5,000 people, whichever is lower.
There are no changes to the number allowed for household visits, which will remain set at four households.
There are also no changes to domestic travel for the Christmas period.
People who are close contacts of a Covid-19 positive case and have not received a booster vaccine are to restrict their movements for ten days.
Close contacts who have received a third dose at least a week previously, are to isolate for five days, as well as take three antigen tests.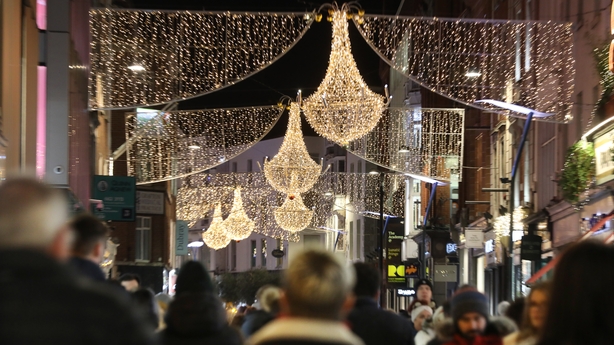 Cabinet has agreed that the measures stay in place until 30 January, but this date will be kept under review.
Taoiseach Micheál Martin said this evening that, left unchecked, the new Omicron variant represented "a significant threat" to the health system, and all of society.
Speaking during a national address following the agreement on the measures from Cabinet, Mr Martin said the variant was now "exploding throughout Europe", adding that "it is here, it is in our country… we are going to see a massive rise in infection".
"We are likely to see infections far in excess of anything we've seen to date. It is that serious," he said.
He added: "The challenge we face is how we slow the rise in infection, and how we prevent it from going out of control".
---
Read more:
Live updates
Latest Covid-19 headlines
---
"None of this is easy, we are all exhausted with Covid. The twists, turns and frustrations take a heavy toll on everyone, but it is the reality.
"We cannot wish it away and there is no silver bullet," he said, adding that living with Covid meant having to make changes, rather than going back to how things were before the pandemic.
The Taoiseach again called on people to get vaccinated and to get their booster dose, however he said vaccinations would not be enough to get through this wave safely, adding there needs to be a strong and immediate reduction in contacts to prevent Omicron overwhelming the country.
"This Christmas, please be safe, and look after each other," he concluded.
Responding to the measures, the Licensed Vintners Association said the 8pm closing time was "no use to anyone".
It said that some in the sector would "rather be officially closed than go with lockdown in camouflage"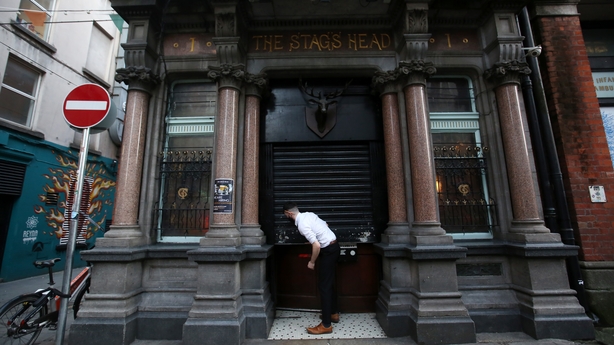 The Taoiseach also said it is his intention that schools will reopen in January.
"The advice we have is that schools are not drivers of the virus and the numbers have been improving in more recent times," Mr Martin said.
Tánaiste Leo Varadkar has said that Omicron is coming at a time when we are at our most vulnerable with winter, Christmas and the flu season.
He said that in other countries the Omicron wave is going to come hard and fast and cases will break all records as soon as next week.
That would result in hospitalisations rising again and ICU and critical care will be under real pressure, he said.
Sadly there will be increased deaths and there will be dark days in January again, Mr Varadkar added.
Senior Government sources had earlier expressed surprise at the scale of what had been recommended, as early closures for hospitality were not discussed on Tuesday when NPHET and the three party leaders met.
Several Fianna Fáil and Fine Gael backbenchers have reacted angrily to suggestions of further curbs for hospitality.
Some, including Barry Cowen, had called for a later closure of 9pm or 10pm. Former Fine Gael minister Michael Ring said it would be disastrous for the sector.
A group of Fianna Fáil senators, led by Lisa Chambers, have also said it is a step too far.
Leader of the Seanad and Fine Gael Senator Regina Doherty said she "cannot understand the logic" behind the recommendations.
Government accused of having no plan
Sinn Féin leader Mary Lou McDonald has said that while it is right for the Cabinet to heed public health advice, the Government appears to have no coherent plan to deal with the pandemic.
Speaking on RTÉ's Six One News, she said that this evening many people had just found out they have no work one week before Christmas.
This would result in stress and devastation for tens of thousands of workers across the country, she said.
Ms McDonald said hospital capacity remains the biggest vulnerability in the midst of this pandemic.
She called on the Taoiseach to deliver a plan that would enable people to go to work and go about their business in a way that reasonable people should expect in an open society.
Additional reporting: Mícheál Lehane