Dublin City Council has refused planning permission for a hotel to be built around the Cobblestone pub in Smithfield.
Marron Estates had applied to the council for permission to construct a nine-storey hotel at 77-80 North King Street.
The development would have meant the partial demolition of one of Dublin's most famous traditional music pubs.
Hundreds of objections were lodged with the council and demonstrations were held to save the pub.
We need your consent to load this rte-player contentWe use rte-player to manage extra content that can set cookies on your device and collect data about your activity. Please review their details and accept them to load the content.Manage Preferences
Refusing planning permission the council stated the development would be "overbearing and significantly out of scale and character with the prevailing architectural context".
It said it would represent "substantial over-development of a highly sensitive site" and some of the destruction needed for the project would cause "unacceptable loss of historic fabric".
It also said the proposed nine-storey development would be "unduly dominant" and "visually incongruous" in the current streetscape of three or four storey buildings.
The council also said the plans were contrary to the development plan policies for supporting culture because it would result in the loss of the existing Backroom venue.
It said this "has developed as a space for teaching, rehearsal and performance for traditional music to the rear of the Cobblestone public house, and which is considered to make an important contribution to the cultural offering in the area".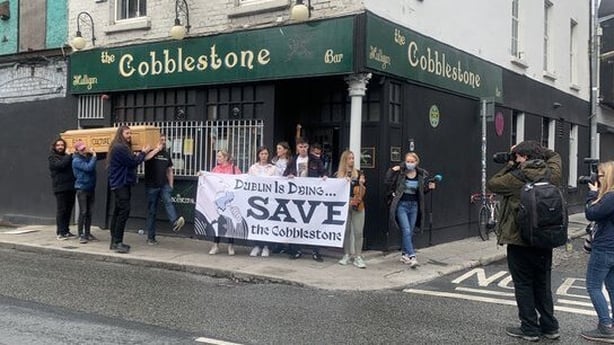 Dublin North Inner City councillor Nial Ring welcomed the decision.
He said: "The planners have really listened to the public on this one, with over 700 observations almost unanimously slating the proposed development."
"This is a great day for the Cobblestone, for Smithfield and for Dublin. It's also a great day for our rich musical culture, our language and our heritage. Let's hope An Bord Pleanála takes note if and when the proposal goes there and does the right thing," the Independent councillor added.
Sinn Féin president and TD for Dublin central, Mary Lou McDonald, also welcomed the decision, saying: "The Cobblestone is a key cultural space in the heart of Dublin.
"The announcement that Dublin City Council had refused planning permission for a hotel which would have effectively seen it destroyed, is hugely welcome news.
"It is a victory for The Cobblestone, for the thousands who campaigned to save it and for the local community."