A €25 million marine research vessel for Ireland has been successfully launched into the water for the first time.
The RV Tom Crean had its hull launch at a shipyard in north-western Spain this afternoon.
It is a significant step in the effort to build a state of the art craft, which will be used by the Marine Institute for a range of scientific, environmental and nautical research in the coming years.
The vessel is expected to go into service next summer.
In the meantime, work on fitting it out will continue at the Astilleros Armon Shipyard in Vigo.
Named after the famed explorer, the RV Tom Crean will replace the Celtic Voyager, which has been operating for almost a quarter of a century.
In that time, it has facilitated hundreds of research trips and contributed to a much deeper understanding of what goes on in Irish waters.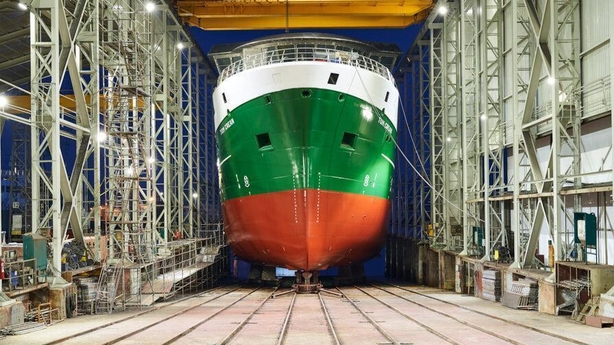 The Marine Institute also works with counterpart agencies around the world to collaborate on important climate and maritime research.
Aódhan Fitzgerald is overseeing the project.
A €25 million marine research vessel for Ireland has been successfully launched into the water for the first time | More: https://t.co/xyL4VoOyeN pic.twitter.com/cumNBLNWf8

— RTÉ News (@rtenews) November 19, 2021
He said the new craft has been designed to be extremely silent: "It will be a multi-purpose vessel capable of undertaking oceanographic surveys, sea bed surveys [and carrying out] fisheries research. It will also be able to support the emerging requirements of the offshore renewable energy sector."
The 52.8 metre long vessel is bigger than the Celtic Voyager. As a result it will be able to accommodate more scientists on board; remain at sea for longer durations; withstand higher sea conditions and carry out more in-depth research.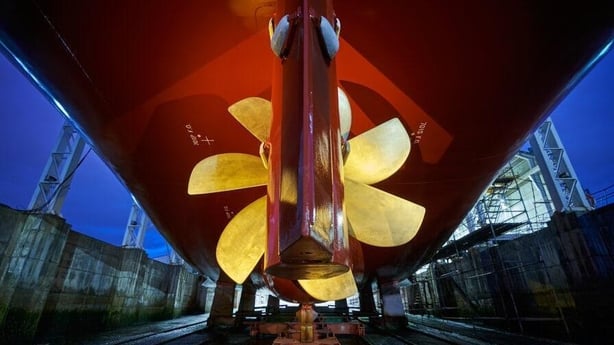 As well as performing those functions, it will be used to maintain and deploy weather buoys and as will serve as a base for the Institute's deep-sea Remotely Operated Vehicle (ROV) Holland I.
This allows researchers to explore thousands of metres below the sea surface and has played a significant part in gathering data and high resolution video footage in recent years.
Work on the construction of the new vessel commenced in early 2020. Steel was cut in August of last year, with the keel laid in November 2020.
A number of staff from the Institute travelled to Vigo to monitor today's launch. They were joined there by Irish Ambassador to Spain Frank Smyth.