Between 400 and 500 people could require intensive care beds in December and around 2,200 people might be in hospital with Covid in the worst case scenario, the Cabinet Covid Committee has heard.
This message was contained in the latest modelling from the National Public Health Emergency Team.
The best case scenario projected between 200 to 220 people needing ICU beds, with 1,100 to 1,200 requiring hospital care at a point next month.
The revised modelling says there is the potential for a large wave of infection, still peaking in late November, or early December, but higher than previous models due to waning immunity from vaccination.
While the peak could be at the end of December, large case numbers would last well into February.
In relation to vaccines it is expected that the National Immunisation Advisory Committee will also give the green light for booster vaccines for those aged under 50 with underlying health conditions.
NIAC is expected to issue additional advice, adding a significant number to those eligible to receive the booster.
It is understood there were repeated calls at the meeting to speed up the delivery of booster vaccines.
Two sources indicated that Minister for Foreign Affairs and Defence Simon Coveney suggested that the Defence Forces could be deployed to assist this work.
The Government is moving towards a recommendation that Digital Covid Certificates would soon be required in gyms, hairdressers and barbers.
A decision on the issue was expected to be made at the committee meeting, and if agreed it would go to Cabinet for approval tomorrow.
There is also set to be an antigen testing system introduced in schools and a subsidy provided to encourage people to use the tests generally.
Mask wearing in both indoor and outdoor crowded areas is also likely to be recommended.
---
Speaking ahead of tonight's meeting, the Minister for Health said modelling from NPHET suggests that the number of Covid-19 cases, hospitalisations, and ICU figures will continue to rise in the coming weeks.
Stephen Donnelly also said: "The evidence of the effectiveness of booster vaccines is incredibly strong".
---
---
An intensive care consultant has said that "it is not going to be possible to cater for 500 (in ICU) at the same time" as outlined in the worst case scenario from NPHET.
Dr Catherine Motherway said there are currently 300 ICU beds in the hospital system and reaching a figure of 500 "would be increasing our bed capacity by 200 over six weeks and that's not possible."
Speaking on RTÉ's Clare Byrne Live, she said: "The trouble with 200 (people) requiring critical care means we only have 100 beds left for the rest of the population with non-Covid care."
The burden that the coronavirus is placing on the hospital system must be controllled, Dr Motherway added, "to prevent our health system from being overwhelmed".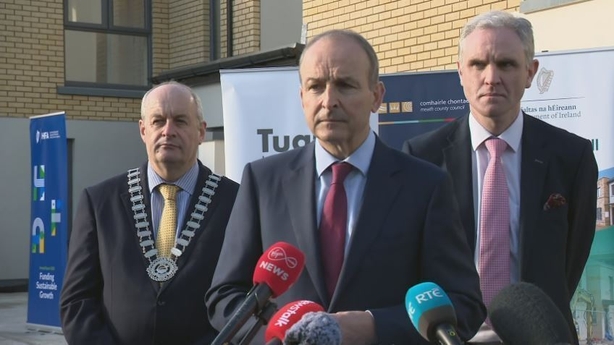 Meanwhile, the Taoiseach has said that Ireland is not looking at implementing a lockdown for those unvaccinated against Covid-19.
Speaking in Navan, Co Meath, Micheál Martin said he would look with interest at how Austria implements its lockdown for those who have not availed of a vaccine.
However, he said that Ireland has a vaccine rate of 93% of the adult population, which places the country is a very different position compared with Austria, where 65% of people are fully vaccinated.
Mr Martin reiterated that the situation was "serious", adding that vaccination levels meant the country was in a much different position than last year.
He also said the vaccine booster campaign was already showing promising results, with a reduction in serious illness among those in their 80s.
The Taoiseach said that there were three elements to efforts to contain the virus - those being vaccine boosters, antigen testing and behaviour - and added that he would support the subsidisation of antigen tests to make them more affordable for people.
The political charge from Opposition parties is that the Government has not acted promptly enough to the increase in Covid-19 numbers and is delivering mixed messaging that is confusing rather than helping the public.
Additional reporting: Paul Cunningham, Fergal Bowers