Gardaí say they have received new information in the investigation into the murder of Paul Quinn in Co Monaghan.
Today marks the 14th anniversary of his killing. The 21-year-old from Cullyhanna in south Armagh was lured to a shed in Castleblayney and beaten to death.
Gardaí say the new information relates to a potential witness who was in the area at the time of the murder.
"We have identified a potential witness who was in the area at the time and this line of inquiry is being pursued," said Superintendent Gary Walsh, from Carrickmacross Garda Station.
Gardaí say that following the Serious Crime Review of the case, more than 300 new lines of inquiry are being followed. They also say a number of exhibits are being re-examined by Forensic Science Ireland.
"With advances in DNA technology, we're looking at these exhibits again and they might provide us with more information," explained Superintendent Walsh.
Twenty-three people have been arrested and questioned about the murder. Fourteen were arrested by gardaí while nine were arrested the PSNI.
A joint police operation in August saw gardaí and the PSNI visit a number of homes in the south Armagh area.
A number of people central to the investigation were spoken to.
Garda Commissioner Drew Harris also visited the scene of the murder in August and met the investigating team.
Mr Harris also met Paul's mother, Breege Quinn, at Garda Headquarters earlier this year.
Gardaí say 14 years have now passed since the killing and they believe people in the community have information.
"We can't define how many people were there but we believe at least ten people were there that night. That's ten families, ten partners or girlfriends, extended family or a wider circle of people who might have information," said Superintendent Walsh.
"Loyalties change over the years, relationships change and someone out there may feel like they can come forward now with information, however small it is," he added.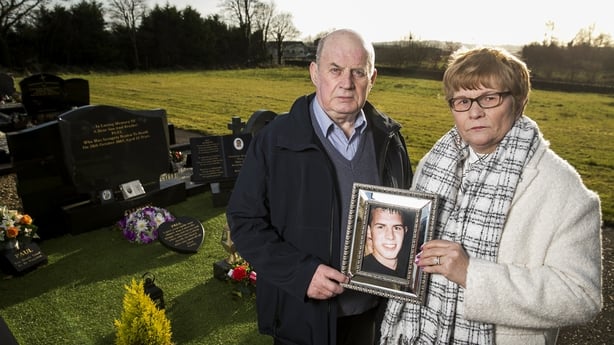 For the Quinn family, the anniversary of their son's killing will be marked by a visit to his graveside today and a mass will be said on Sunday.
"I just ask those with information to come forward and tell the truth. They must lie down at night and think about what happened," said Mrs Quinn.
She has also thanked people for their support, not just today but all year round.
"There's people from all over Ireland who send us letters and cards and we're so grateful. They'll send them out of the blue and it just gives us such a lift," she said.