The Department of Health has been notified of 2,180 new cases of Covid-19, the highest daily figure since late January.
There are 406 people being treated in hospital, down seven since yesterday.
The number of people in intensive care units is 71, down two.
Today's Covid-19 daily figure of 2,180 cases is the highest since late January.

— Fergal Bowers (@FergalBowers) October 16, 2021
In Northern Ireland today, a further 1,218 cases were reported along with four deaths.
Earlier, Health Service Executive Chief Clinical Officer Dr Colm Henry said while there is an "uncomfortably high level of cases" of Covid recorded each day, they are not converting "as badly as they previously did" into hospitalisations.
Speaking on RTÉ's Brendan O'Connor, he said the risk of Covid-19 cases translating into hospitalisations has "greatly weakened".
"The link between cases and harm has been severely weakened, not completely broken. And that is down to the vaccine programme," he said.
He thinks there will be a continuous weakened link between cases and harm.
"We saw a steady decline in hospitalisations rising again. I don't think we are going to see wild surges."
Dr Henry said Ireland is in a much better position in the fight against Covid now than in previous surges of the virus because of what he described as a "vaccine floodwall".
He said the "extraordinary" vaccine uptake across all age groups has helped put the country in a better position and has given huge protection against serious illness.
However, Dr Henry also warned there is a sense of "drift from some basic measures" and reminded people the virus has not gone away.
He said they have seen cases rise in all age groups except in the under 18s where it has dropped.
He admitted it will be a "difficult winter" ahead in the health system as he described how hospitals are still operating a Covid-configured service while also carrying out acute care and trying to restore normal service.
We need your consent to load this rte-player contentWe use rte-player to manage extra content that can set cookies on your device and collect data about your activity. Please review their details and accept them to load the content.Manage Preferences
Regarding the final stage of lifting Covid restrictions, he said decisions do not necessarily have to be binary and the vaccine has given choices.
Dr Henry said there is always a fine calibration on how tight and robust that vaccine floodwall is versus "the need and desire to restore everything".
He said a vaccine cert is worthwhile as it is "working" but added it is ultimately a question for Government to decide upon.
He also addressed the concern of how Ireland is faring worse than other countries in Europe when the vaccine uptake is so high.
He explained that people are interacting more recently and also they have been given a signal that in some cases breaches of the public health guidelines are occurring.
"The other possible factors is that Delta did come to us a little bit earlier than other countries."
Dr Henry said the vaccine uptake has always been by choice and not by coercion.
---
Read more:
Latest coronavirus stories
Covid-19 case surge: Pause for thought, but not panic
Why are Ireland's Covid numbers on the rise again?
---
"Our strategy is to explain and re explain and to give the best advice and that has done well in this country without coercion like in other countries," he said.
Regarding antigen testing he said it is used in selected areas but they are in the fortunate position of oversupply of PCR tests which is most sensitive at picking up infections.
He also said that there is "a big interest" in the booster vaccine programme and that the HSE is ready to go in terms of a roll-out.
He said the National Immunisation Advisory Committee (NIAC) is aware of their concerns and along with the evidence they are collating, they are listening to the voices of the frontline.
He said no decision has been made yet on a further roll-out of the booster vaccine programme but said discussion documents are always going around.
He said NIAC is meeting on Monday, and added: "I expect if there is a decision we will hear about it soon enough."
Speaking on RTÉ's Saturday with Katie Hannon, immunologist Kingston Mills said any decision on a further reopening of society should include extending the use of Covid vaccine certs.
He said the scientific reasons are clear and if you allow unvaccinated people to mingle in large groups "you are asking for trouble".
He believes they should be used at all large events and certain work settings also to reduce the risks.
He also believes there is a strong argument for giving booster vaccines to people now.
Professor Mills does not see a scientific reason to wait for six months after the second dose and said Israel was a good example where efficacy went up to 90% when a third dose was given.
He said breakthrough cases are happening and healthcare workers are a "high priority" for booster vaccines now.
Professor Mills said he believes the reason the cases are currently so high is down to several factors including Ireland's proximity to Northern Ireland and the UK where he described the virus as being "out of control".
He said scientists there are tearing their hair out as he said the UK's efforts to contain the pandemic has been very poor and numbers are out of control.
"We are paying, slightly, the penalty for that."
On the same programme, Social Democrats co-leader Róisín Shortall accused the Government and NPHET of mixed messaging on the issue of home working and said they need to get the message clear for the public.
She also argued that the vaccination alone is not going to control the virus and mitigating measures must be put in place.
"I can't understand why so little emphasis is being put on ventilation," she said.
She said it is an afterthought in health service information..
"If Covid was a water-borne infection everything would be done to ensure we have clean water. We have known for a long time it is airborne and why are we not taking steps to ensure clean air where people congregate?"
Separately, Sinn Fein's Eoin Ó Broin said speculation by the Gvernment on the final stage of reopening without formal NPHET advice is unhelpful.
He said a huge amount of uncertainty has been created by Government figures and individual members of NPHET, giving their own opinions in recent days.
"Uncertainty is really unhelpful. What we want to see is society open up as quickly and safely as possible."
He also said issues like ventilation should be more central in the discussions and highlighted his concern with Covid vaccine certs continuing, stating they can create divisions in society.
"The sooner we can see the end of the Covid certs, the better." Instead he argued there should be a greater focus on ventilation indoors and supplementing PCR tests.
Green Party TD Neasa Hourigan said she is broadly supportive of the vaccine cert and holding onto it is one of the "low impact things" that could continue.
She said in light of rising cases it could be one thing to be considered.
With regard to booster shots, she said there is logic in supporting those in vulnerable groups having a third booster shot.
She said very quickly "we will be talking about a third vaccine for everyone" but that it is in everyone's interests there is vaccine equity and distributing vaccines globally.
Vaccinations on college campuses to continue
Meanwhile, a push to vaccinate students and staff on college campuses will continue this Monday, Minister for Further and Higher Education Simon Harris has said.
Pop-up Covid-19 vaccination centres were established at 15 higher education sites two weeks ago, where over 3,000 students received a vaccine. Of these, 53% received a first dose.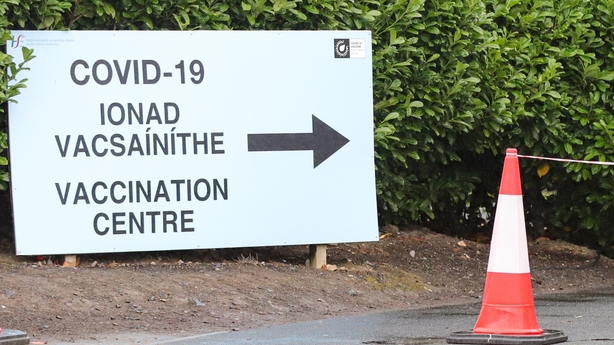 Mr Harris said there will be a push at 12 of those sites from Monday to ensure those who received a first dose can receive a second.
The clinics will be held in:
Maynooth University
TU Dublin – Blanchardstown, Grangegorman and Tallaght;
Dublin City University;
Trinity College Dublin;
University of Limerick;
NUI Galway;
Munster Technological University;
University College Cork;
Technological University of the Shannon Limerick Campus; and
Mary Immaculate College
Vaccination centres at Sligo, Letterkenny, UCD, Carlow, Tralee, Dundalk and Moate will also remain open for students to access.
Mr Harris said: "Importantly, these sites will be open for people to receive their first dose too. We know there are just 8.8% of the adult population who have not been vaccinated, and we know 28% of those are between 17 and 29.
"We have to ensure we do everything we can to offer students the opportunity to get vaccinated, protect themselves and protect their college communities."
He also said that a rapid antigen testing pilot would be extended to seven campuses this autumn.
The call for students to get vaccinated comes amid a worsening situation with Covid-19 in Ireland.